The season starts with an oddity: Walter Jones in training camp!
Having reached an agreement he's signed and back in town! That move left Shaun Alexander with the franchise tag, who signed a one-year agreement just in the nick of time to show up for camp, had it not been for the birth of his second daughter, Trinity. While he's catching plenty of flack in the media for putting his family first, I think it's terrific that he stayed with his wife for the birth of their baby. He'll be back to camp soon enough.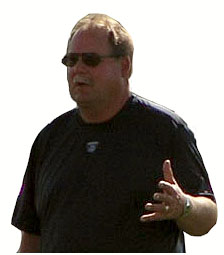 Meanwhile, Darrell Jackson has come to camp with a chip on his shoulder due to an unsettled contract dispute. No one's eager to give out details of the discrepancies but his contract's been written and signed so I hope we can move on and find our way back to some harmony in the receiving corps.
Of course by now everyone knows that Koren Robinson was ousted following more trouble with alcohol, including showing up at jail to serve his one day sentence for a DUI violation with alcohol on his breath. That's a lot of talent down the drain.
And we're heading into camp a bit shy in the quarterback department. With Dilfer wanting a starting role, Hasselbeck is on his own without his dear friend. Reports are that Seneca Wallace is progressing nicely, although we are certainly without experience in the back-up QB role.
First things first though. It's training camp time and Karyn and Craig want to tell us about it! They're back with some awesome photos. It was a gorgeous day in Cheney and I'm so jealous that I'm not there!
From Karyn and Craig, Day 1:
Training Camp!! It seemed pretty laid back. Maybe 100 people or so, and every photographer in town!! It wasn't too hot (we went to the morning session); there was a nice breeze going on. (One of the players, when asked how camp went, said "It was hot!." That elicited a big laugh from the crowd. You ain't seen nothing yet, we said!) Later, Karyn
Photos of Day 1

From Karyn and Craig, Monday, August 1, 2005:
We went out to the morning session. It's cooler. It actually wanted to rain ... dark clouds and wind. It was a really small crowd, probably less than 100 people.
See the Labelled Guys? Last week I had said I liked having them labelled because I have trouble knowing positions. Today that was the first thing Craig said, "there's your Labelled Guys." It is handy, don't you think?
We also really enjoyed the hand-to-hand exercise. It was like watching some kind of martial art. He goes up, you go down. It was fascinating.
There were some remarkable catches, most notably by Jerramy Stevens. There were some drops, most notably by Darrell Jackson!!
My favorite quote ... Holmgren, "Don't touch the Quarterback. Do NOT touch the quarterback."
Craig's favorite ... after the defense swarmed the offense. Holmgren, "Did you hear the play?" Kacyvenski, "No, I didn't hear it." Holmgren, "I don't believe you."
Today it actually felt like we were watching real football!! It was fun!
Photos of Monday, August 1, 2005

I went out to the Scrimmage today. Craig had to go to Moses Lake so couldn't join me. I actually enjoyed wandering around by myself ... As usual, I knew the security people and vendors!! There seemed to be a pretty good crowd in the courtyard, seeing Blitz (which I'd brought my picture to be signed!!) and the Seagals signing autographs. Before things got started at the field, there was a hawk zooming around behind us. I took it as a good omen. It was pretty hot, but the crowd showed up anyway!! They were remarkably subdued ... when they were announcing the groups coming on to the field, there was no cheering at all! It surprised me. Once the scrimmage started, they seemed to wake up some. I sat behind 3 young boys, maybe 12 or so, and they were SO knowledgeable about football!! They were "explaining" it to their grandfather. It was pretty funny to listen to! (Their take on Wallace, "He's not that bad.")
It was great to watch "real" football!! They did some individual drills and then would match the first team (offensive or defensive) against the 2nd team. Wistrom got two sacks. There were a few td's. We heard Pathon's name called alot ... in a good way!! Darrell had a few catches. I didn't notice many drops ... Jurevicius had one ... oh, and Kluwe had some killer punts!
And Holmgren thanked us for being there and being fans. He said how disappointing last year was, how close we'd come. He feels good about this team ... okay, that deserves a DUH! But he was very gracious.
So, a good day.
- Karyn
Photos of Saturday, August 6, 2005
To search this site, enter keywords and press search.
As always, your comments are welcome!
Send them to me and I'll post them here!