Wayne Baker was there!
I'm not sure why the Seahawks thought this quote was memorable enough for inclusion in the 1976 Media Guide, but it's there, and it made the Seahawks book as well!
The Seattle Seahawks
by James R. Rothaus
"My daddy helped me get in shape for this season," snarled Seahawk Wayne Baker, a 6'6", 269 pound tackle. "I'd pull trees out of the ground and he'd cut them up."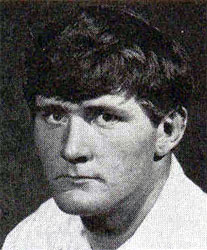 Source: Unknown
Wayne Baker, the starting defensive tackle on the first BYU team to go to a bowl (1974 Fiesta Bowl), came from the small town of Plains, Mont. -- Population: 992. Baker, who played eight-man football in high school, was recruited and signed by LaVell Edwards without coach Edwards seeing any film, scouting reports or receiving a personal visit from Baker. Baker's hometown of Plains, near Missoula, was so small that Edwards had to call Baker's neighbor to extend a scholarship offer to him because the Bakers didn't have a phone.
Seahawks Media Guide
Pro:
Played in 14 games with San Francisco in 1975 after being the 49ers' third round draft choice in the 1975 draft.
College:
Was a three-year starter at Brigham Young and earned All-Western Athletic Conference honors as a senior. Second team All-America as selected by NEA.
Personal:
One of seven children in lumberjacking family in Plains, Montana (pop 1300). His three brothers are all football players. Played eight-man football at Plains, Mont. High and also competed in basketball and track (6-2 high jumper).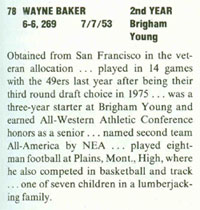 First Cut of Seahawks' Roster May Come Today
By Don Fair
P-I Sports Writer
On the defensive side of this drill, Patera remembered rookie end Jeff Lloyd plus expansion pickup Wayne Baker. "Lloyd is strong, but just doesn't know what to do with it yet. We just have to teach him. Baker is awfully strong."
Pro Football 1976
by Larry Felser and Dave Klein
Secondary? Patera has Dave Brown and Eddie McMillan on the corners, with Al Matthews, Rondy Colbert and Lyle Blackwood competing for the safety jobs. And rookie Don Dufek of Michigan will hit hard enough to make the club. He's a former Wolverine linebacker now projected as a strong safety.
There were even some plums for the front four. Like Carl Barisich, who can play end or tackle. Like Wayne Baker at tackle, all 6-6 and 269 pounds of him. And Patera spent his first-round draft choice for monstrous Steve Niehaus of Notre Dame, an instant starter. "He reminds me of Merlin Olsen," said Patera, "but he's stronger."
Owens, a bit short, is strong and has some speed. Barisich is the find among the drafted vets; he can play. Niehaus is Coach Patera's mine, a huge tackle with quickness and inordinate strength. Baker, somewhat slow, has marvelous size. Lloyd has the size and quickness to win a job as soon as he adapts to the pros. Dixon, a lower draftee is green but talented.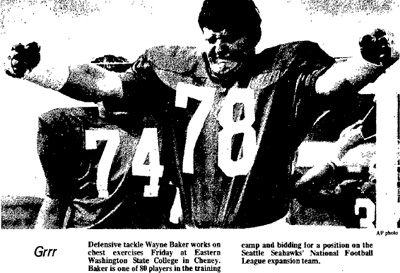 The Pocket Book of Pro Football 1976
Edited by Herbert M. Furlow
It might mean a rush line of Tipton, Owens, and Woods, but camp most likely will decide. No bargains were available in the expansIon draft. Woods was a backup with the Jets, and Tipton an occasional starter with San Diego; Owens used to start with the Saints, but he didn't in 1975. He's a pretty fair pass rusher, but he can be beat on the run. O'Neal might be a sleeper. He comes from Grambling and the Saskatoon Roughriders of the CFL, and he's a rush line end who likes to annoy quarterbacks. Baker and Barisich are possibles.
Collecting Wayne Baker?
1976 Post-Intelligencer mini poster, #21
1984 Brigham Young All-Time Greats