Rondy Colbert was there!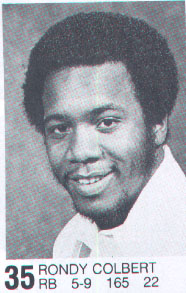 Pre-76
All-Southland Conference selection 3 years
Drafted 1975 (Giants)


Cardinal Hall of Honor
Rondy Colbert, Football (2002)
Pro Football 1976
by Larry Felser and Dave Klein
Secondary? Patera has Dave Brown and Eddie McMillan on the corners, with Al Matthews, Rondy Colbert and Lyle Blackwood competing for the safety jobs. And rookie Don Dufek of Michigan will hit hard enough to make the club. He's a former Wolverine linebacker now projected as a strong safety.
Matthews can be a regular if he minds his mouth, which Patera will encourage. Colbert has the ability if not the size; he's a return specialist, too. Blackwood may have to play somewhere. Dufek was outstanding at Michigan as a roving linebacker.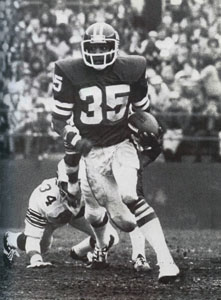 Seahawk Diary
Seattle Post-Intelligencer
By Steve Raible
Sunday, August 29, 1976
When we returned to the dorm, we kept answering telephone calls from the NY Jets. They kept trying to reach Rondy Colbert, the defensive back who was released today. He was a darn good punt return man, too. The Jets never did get Rondy. Either he was out or has already headed home.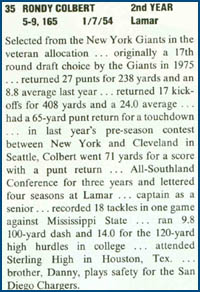 Rolly Woolsey's now a Seahawk after expansion
The Idaho Free Press
March 1976
"Overall, we were a little surprised at some of the players available to us " said Patera, who swiped an excellent crop of linebackers in
Mike Curtis
,
Ken Geddes
, and
Ken Hutcherson
. "We may not have drafted 39 good football players but we have overall a very good nucleus."
The Seahawks not only drafted the nucleus of a good linebacking unit, but also Eddie McMillan from Los Angeles – former starters with their respective teams - plus Rondy Colbert from the New York Giants, Dwayne Crump from St. Louis and Dave Brown from Pittsburgh.
"The defensive backs and linebackers we came up with are very impressive " said Patera. "To have a good defensive you have to have experience and the only way to gel that is to get guys who have played. In Curtis, Geddes, Hutcherson Matthews and McMillan, we have guys which have played."
Collecting Rondy Colbert?
1976 Post-Intelligencer mini poster, #46