Most of my life I didn't know what Colour & Oomph was. Imagine that, living 40+ years and not being able to recognize C&O! It's what Leigh does best! It's the little surprises we encounter along the way that make the journey so much fun!

When Leigh sent me my first Michael Leunig book, I wasn't sure what to make of it. It seemed a little silly and I wasn't even sure I understood it. It's funny how quickly it grew on me and I admit, almost to my surprise, that I've become attached to his work. I can't get enough Leunig! I love the illustrations, and his poems and prayers are so expressive. Here's one I'd like to share: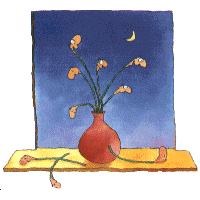 Let it go. Let it out.
Let it all unravel.
Let it free and it can be
A path on which to travel.
I invite you to take a look at Leunig...then pause and take a second look at Leunig.
And then take a look at yourself.
(And then when you've done all that, have some fun with these links!)
Ken Duncan
I cannot describe the beauty found in these unique pictures of Australia. You've got to see it to believe it!
Waverley College
Because.
Colellis Artwork
Welcome to Col Ellis art photo. The image is to introduce myself, and show you my beautiful old 1951 Bedford motorhome, which I travel around Australia in looking for new photos.
Tina Arena
I love her music!
Midnight Oil
"The hardest years, the darkest years, the roarin' years, the fallen years, these should not be forgotten years."
Canberra Southern Cross Club
Welcome to Canberra Southern Cross Club! Come and join us for some fun, food and entertainment
ABC
The Australian Broadcasting Corporation
Aboriginal Art
For 40 000 years this area has been a traditional "meeting place" for the trading of Aboriginal artifacts, knowledge, Aboriginal art and Aboriginal culture. You can now experience our vibrant living culture today through our website.
Look! Look!
It's Yowie.Com! I love yowies!!!!
Outback Heritage
The Outback - remote, remorseless and magnificent in its magnitude - the heart of Australia. It was conquered by pioneers who gave up the comfort of coastal settlement to carve a new life in the unknown interior of this vast continent. The Australian Stockman's Hall of Fame and Outback Heritage Centre is dedicated to the story of these unsung heroes, the men and women who opened up outback Australia.
It's Show Time!!
What do you mean you've never heard of a show bag?!?! GET REAL!!! You haven't lived till you've had a show bag!!
Bowral. * sigh! *
Here, you are in another world, that helps you focus exclusively on the purpose of your visit. Yet you are only two hours from the central business districts of both Sydney and Canberra. Lush and green with English woodlands, native bird life, and loads of charm, Bowral is a country retreat for the rich and famous and has that special difference that makes it an outstanding choice.
Real Estate, anyone?
Elders Real Estate Maroubra is proudly part of the largest Franchise organisation in Australia. Elders Maroubra is renowned for its high standards and achievements which has propelled the office into a position of leadership.
Kate Ceberano
More of that Aussie music!
Barefoot Springs
Barefoot Springs rests high upon a 40 acre plateau on Cambewarra Mountain, where you can feel the fresh mountain air and enjoy the panoramic views across the river, ocean and mountains.
Surprise!
I told you! We're taking some turns! That's what Colour & Oomph is all about!
Welcome to the Paris Pages - a collection of everything regarding the City of Light.
Surprise! Surprise!
Are we having fun yet?! You bet! Just brushing up on our English heritage!!
The Museum of London Group represents a quarter of a million years of history and over seven million modern Londoners. Our collections include over a million items. Discover many of them in our galleries or on this website.
Baby Blues.com
Use your favorite Baby Blues character to link to us from your site.
Tahiti!!!
'cause you never know where the journey may take you.
Ready to go to Tahiti? Well then, congratulations on your decision! We know you will have a wonderful time and we're glad you've chosen Tahiti Explorer and TravelNet to plan your perfect Tahitian adventure.
Paris.cx
The Channels offers a virtual tour on Paris with hundreds of images and links to all Paris has to offer.
Chatsworth
Chatsworth is one of Britain's most celebrated historic houses and estates, offering something for everyone to enjoy, from world famous works of art and spectacular fountains to elegant shops and more than a hundred miles of free walks. The home of the Duke and Duchess of Devonshire is set in the heart of England, in Derbyshire's Peak District National Park, surrounded by one of the most magnificent landscapes in the country.
Windsor Castle
Over 900 years ago William the Conqueror, with the help of his victorious armies commenced construction of the castle. The site was chosen with great care; high above the river Thames on the edge of the Saxon hunting grounds. The castle was a days march from London and guarded the western approaches.