Ned Deane was there!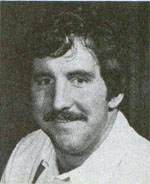 Ned Deane was there!
Pre-76
College Division All-America selection
Free agent
SCOREBOARD
Walla Walla Union-Bulletin
Tuesday, July 13, 1976
SEATTLE SEAHAWKS — Eddie Ray. running back, signed.
Mark Wahl, Dan Shepherd, Brad Kramer, Al Knapp and Keith Muehr, kickers; Herb Singleton and Scott Christman, quarterbacks; Dwaine Copeland and Clifton Marcus, running backs: Bob Cason, defensive back, and Ned Deane, linebacker, cut.
Football Banquet Set For May 7
Former UMass stars to present awards to 2003 team.
AMHERST, Mass. - The University of Massachusetts football team will hold its annual banquet on May 7, 2004, to honor the 2003 Atlantic 10 Conference champions. A new tradition will begin this year, as former UMass stars and members of the Friends of UMass Football will be on hand to present awards to members of the 2003 team.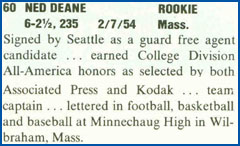 Among the award presenters will be a number of former All-Americans, former National Football League standouts and UMass Athletic Hall of Fame members. This list includes Ned Deane, Bill DeFlavio, Bob Foote, Dennis Keating, Bruce Kimball, Joe McLaughlin, Bob Meers, Robert Pena and Phil Vandersea.
Deane (Class of 1976) was a co-captain, team MVP and All-New England selection. He was named All-America at the guard position and went on to play professional football in Canada. Deane has had a most successful career as an executive in the financial services industry and presently serves as First Vice President of Investments at Smith Barney in Boston.