Don Dufek was there!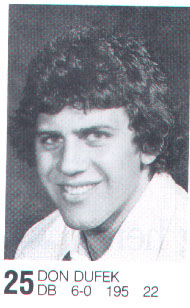 Pre-76
First team All-America selection on some votes
Second team All-America selection on other votes
Drafted by Seahawks (5th round)


1981 Season Summary
Team Captains: WR Steve Largent (Offense), CB Keith Simpson (Defense), S Don Dufek (Special Teams)
Team MVP: WR Steve Largent
Pro Bowl Selections: WR Steve Largent (3)
National Honors: LS Kenny Easley (AFC Defensive Rookie of the Year)


1982 Season Summary
Team Captains: WR Steve Largent (Offense), CB Keith Simpson (Defense), S Don Dufek (Special Teams)
Team MVP: LS Kenny Easley
Pro Bowl Selections: LS Kenny Easley (1)
All-NFL Selections: LS Kenny Easley (PFW, NEA, Football Digest)
Notes: Coach Patera was fired on October 13 after 2 games; Mike McCormack took over for the remainder of the season. Season shortened to 9 games because of player's strike. Top 8 in AFC and NFC made playoffs.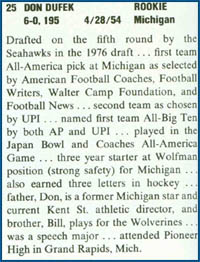 Sidelines: Behind the Scenes of America's Favorite Sport
by Richard Kucner
Don Dufek was the kind of guy who just won't take "No" for an answer. He was released in training camp four times during his eight-year Seahawks career. But each time, Seattle had a change of heart, bringing him back. Today, he is remembered as one of the best special teams performers the team has had.
Pro Football 1976
by Larry Felser and Dave Klein
Secondary? Patera has Dave Brown and Eddie McMillan on the corners, with Al Matthews, Rondy Colbert and Lyle Blackwood competing for the safety jobs. And rookie Don Dufek of Michigan will hit hard enough to make the club. He's a former Wolverine linebacker now projected as a strong safety.
Matthews can be a regular if he minds his mouth, which Patera will encourage. Colbert has the ability if not the size; he's a return specialist, too. Blackwood may have to play somewhere. Dufek was outstanding at Michigan as a roving linebacker.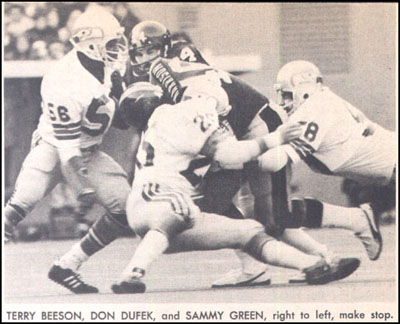 Vikings slip past Seahawks 27-21
Source: Minneapolis Tribune
Nov. 15, 1976
By Allan Holbert
Early in the fourth quarter, a Neil Clabo punt, partially blocked by Don Dufek, went three yards to give Seattle the ball on the Vikings' 27. Capitalizing quickly on the break, Zorn threw a short pass to McCullum, who went in standing up from 4 yards out.
Street and Smith's Pro Football 1977
Right corner should be a battle between Rolly Woolsey, who started 11 games, and pro sophomore Ernie Jones who started the other three. The subs are ex-Bengal Lyle Blackwood and Don Dufek, the ace of the special teams in his rookie season.
Brothers playing in the NFL
Dufek **
Don - LB - 1976-84 Seattle Seahawks (injured - 1978)
Joe - QB - 1983-85 Buffalo Bills, 1985 San Diego Chargers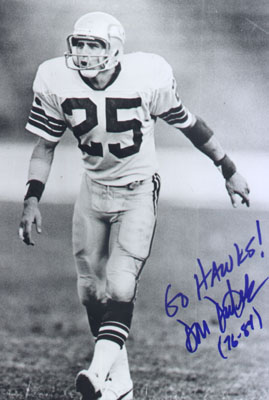 Seahawks History
By Bob Pruitt
Source: Inside the Seahawks
Vol. 1, No. 14
November 7, 1986-November 13, 1986
Atlanta scored first, an 18-yard field goal, after Seattle quarterback Jim Zorn fumbled on the Seahawk 9 yard line. Then Seattle made its one "unassisted" scoring drive on the following kick-off. Sherman Smith capped the 80 yard drive by hauling in a 21 yard TD strike from Zorn. Zorn passed for another touchdown to John McMakin only seconds later, after John Leypoldt's kick-off was fumbled by Rick Byas on the Falcon 26.
The third quarter began with a Seahawk drive being stalled near mid-field. Rick Engles punted the ball to the Falcon 6, where Rolland Lawrence took it in and was forced to run for his life by the exceptional Seahawk coverage. With Don Dufek immediately in his face, he retreated laterally back near the end zone where he was caught by a pursuing Dave Brown, who nailed him for the safety.
The next two Seahawk touchdowns were results of great play by the defensive secondary. The first was the Matthews' interception return for 6 points. The other was a Sherman Smith breakaway touchdown run of 53 yards following Brown's second interception.
Seahawks 30-Falcons 13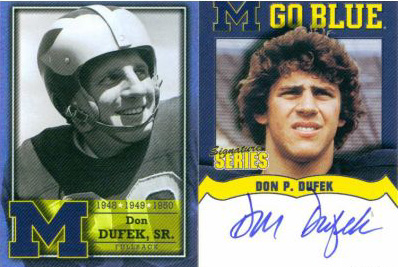 Seahawks Stop Fouts, Chargers, 24-0
From News Services, Washington Post
October 30, 1984
SAN DIEGO, Oct. 29, 1984 -- Dave Krieg passed for 282 yards, Steve Largent caught three touchdown passes, Kenny Easley had three interceptions and the Seattle Seahawks easily beat the San Diego Chargers, 24-0, tonight.
Seattle and San Diego both were limping. The Seahawks, who lost running back Curt Warner in the season opener, have seen wide receiver Paul Johns, defensive back Don Dufek, tight end Pete Metzelaars and linebacker Michael Jackson go down with injuries.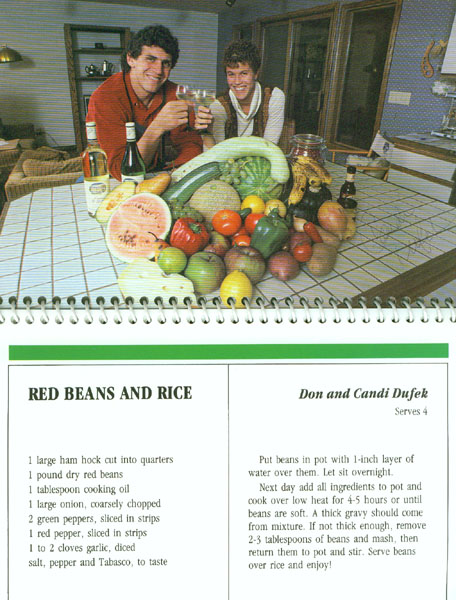 The Specialist: Deceptive and dangerous
Wednesday, September 8, 2004
By CLARE FARNSWORTH
SEATTLE POST-INTELLIGENCER REPORTER
Don Dufek. Eric Lane. Fredd Young. Sam Merriman. Rufus Porter. Michael Bates. Mack Strong. Jay Bellamy. Fabien Bownes. Isaiah Kacyvenski.
Alex Bannister can't tell you what each of these players has meant to the history of the Seahawks, but he does know he's carrying on a special tradition.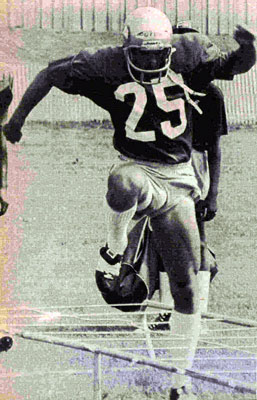 "I don't really know the legacy or the history of the special teams here, but I definitely want to put an emphasis on special teams," said Bannister, who last season was voted the special teams player on the NFC Pro Bowl squad.
"I want to let it be known around the league how important it is, because it doesn't get much attention."
That's never been the case in Seattle. The Seahawks' special teams have been extra special -- that blooper-reel '97 season notwithstanding.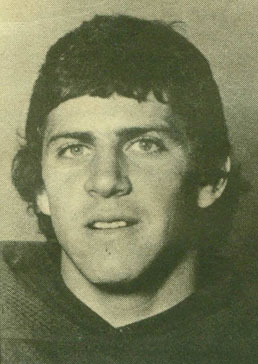 A Seahawk Blueprint: from expansion to contention
By Gary Huff
Source: Norm Evans' Seahawk Report
Oct. 29 – Nov. 4, 1979
The bulk of the Seahawks first team in 1976 came, of course, from the veteran allocations draft. Many of those drafted merely filled positions until the college draft could provide quality replacements. Only four of those expansion draftees, Nick Bebout, Art Kuehn, Sam McCullum and Dave Brown remain today.
The Hawks' first-year college draft, while tainted with a few drafting errors, added five quality players. The selection of Steve Niehaus, the team's initial first-rounder, must now be regarded as one of the team's larger draft mistakes. In the third and fourth rounds, where a team should come up with some fine down-the-road players, the Hawks bombed. Jeff Lloyd (DL) and Randy Johnson (OG) didn't survive training camp. Rick Engles (P), Don Bitterlich (K) and Andrew Bolton (RB) didn't last much longer. All of these players have had shots with other teams, but their careers are essentially over.
Despite these shortcomings, the `76 draft did produce some important members of the `79 team: Sammy Green, Sherman Smith, Steve Raible (all in the second round), Steve Myer (4th) and Don Dufek (5th).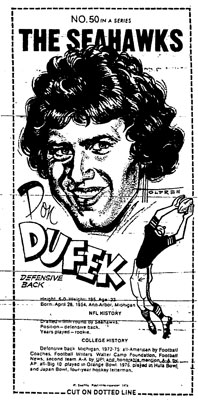 Collecting Don Dufek?
Michigan TK Legacy card set.
Mini-poster from the Seattle Post-Intelligencer, #50.