Norm Evans was there!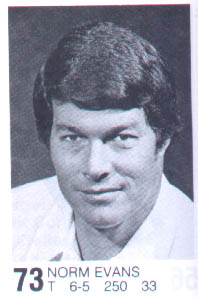 You will see some signs of Norm Evans' tremendous faith on this page, but if you want to read his story in detail we invite you to visit this page. Evans writes with honesty and humor, and we enjoyed his story very much. We hope you will, too.
Pre-76
All-Southwest Conference selection
Drafted 1965 (Oilers)
Went to Dolphins in expansion draft 1966
Held Dolphins' games record (138) in 1976
Pro Bowl 1973 and 1975
Wrote book On God's Squad
New Hawks Welcome Move
By Don Fair
Seattle P-I Sports Writer
"Sure, I can get you a title ... if I can play long enough."
The speaker was offensive tackle Norm Evans, 33, who has completed 12 National Football League seasons -- the last 10 with the Miami Dolphins, who have a championship history.
He's Seahawk property now, following yesterday's expansion draft. That, incidentally, marked the second time he's changed addresses via veterans expansions.
"I learned my rookie year," he said, "not to be surprised at anything. When I was originally drafted by the Oilers, I thought I'd be in Houston for 20 years. That was December of 1965 and in January I found myself on the way to Miami.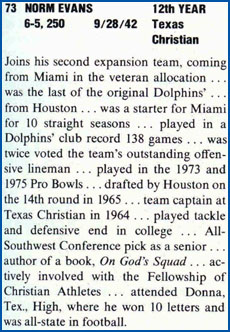 "Well, I'd say I've gotten more telephone calls tonight than I've had since that other expansion draft."
He was the last of Miami's original expansion choices, until that changed Monday. At Miami, he had started all 10 years at right tackle, played in a club-record 138 games and twice was voted the team's most valuable player.
"Seattle is a great place," Evans continued. "I was out there the year before for Athletes in Action week. I spoke at schools and civic clubs and I'm looking forward to getting reacquainted with some of my buddies."
"When I was out there I constantly heard you had nothing but sunshine. That's why you have a domed stadium, right?"
"How have the tickets gone? What, 59,000! Wow, did they save any for players' wives?"
"Let me tell you how it was when I went to Miami in that expansion draft (1966). We had to let in a few thousand kids at several games that year to get the attendance up to 18,000."
As he listened to the names of the players picked by Seattle, Evans commented, "Don Hansen (Atlanta linebacker), is that right? Son of a gun, how about that. Ken Hutcherson (Green Bay linebacker). Oh, he is a jewel. You'll love him."
Evans concluded, "A capsule of my attitude is that I really believe that my life's committed to God, that He knows what's best for me and my family. So that's why I'm coming to Seattle to see what He has in mind for me."
Then his wife Bobbie inquired mischievously, "What's the weather doing there?"
Pro!, the Official Magazine of the NFL
December 3, 1978
1976
The Seahawks selected 39 NFL Veterans in the allocation draft on March 30. Among the top veterans chosen were tackle Norm Evans of Miami and linebacker Mike Curtis of Baltimore, both former members of Super Bowl champions and all-pro selections.
1976 Season Summary
Team Captains:
T Norm Evans (Offense), LB Mike Curtis (Defense), LB Ed Bradley (Special Teams)
Team MVP:
QB Jim Zorn
National Honors:
QB Jim Zorn, NFC Offensive Rookie of the Year; DT Steve Niehaus, NFC Defensive Rookie of the Year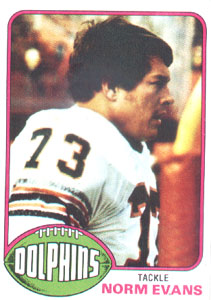 1977 Season Summary
Team Captains:
T Norm Evans (Offense), S Eddie McMillan (Defense), S Steve Preece (Special Teams)
Team MVP
WR Steve Largent
Notes:
Set record for wins by 2nd year expansion team.
1978 Season Summary
Team Captains:
T Norm Evans and WR Steve Largent (Offense), DT Dennis Boyd (Defense), S Autry Beamon (Special Teams)
Team MVP:
QB Jim Zorn
Pro Bowl Selections:
WR Steve Largent (1)
National Honors:
Jack Patera (Coach of the Year), GM John Thompson (Executive of the Year)
All-NFL Selections:
QB Jim Zorn (NEA)
Seahawks 10 Year Anniversary book
The Seahawk Report
, a tabloid published by retired Seahawk Norm Evans, once ran two pages of irate letters calling for the mass "firing" of management and coaches and even members of the media.
Seizing on three early failures to violate the enemy end zone after first downs inside the five-yard line, the Seattle Post-Intelligencer invited its readers to submit goal-line plays. Jerry Rhome, who had been suspected of genius tendencies as an offensive coordinator, abruptly was unmasked as a scapegoat. The newspaper reported receiving 451 reader suggestions.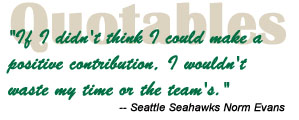 Todd Peterson:
In Seattle, I was exposed to such amazing Christian guys, like Ken Hutcherson (former NFL player, now pastor in Seattle), Norm Evans (former NFL player, now head of Professional Athletes Outreach, in Seattle) and Karl Payne (pastor in Seattle). I realized then, 'With all this accountability and encouragement God has given me, He expects me to share my faith with others.'
Mike Kolen:
The Dolphins of the early mid-70's were a very close-knit organization. I think especially our championship years, we had a lot of inspiration. Sundays before our games, most of the players attended either chapel service or Catholic mass that was held before the pre-game meal. My mentor in those days was Norm Evans who was an All-Pro offensive lineman. I first met Norm at a Fellowship of Christian Athletes weekend at Jacksonville, FL. before our first season under Shula. Inspiration and teamwork are vital for any championship endeavor. I try to create an atmosphere of inspiration and teamwork within my family and business. I have a very close-knit family, beautiful wife of 32 years, 2 great children, and 2 wonderful grandchildren. The Lord has truly blessed my life through my family.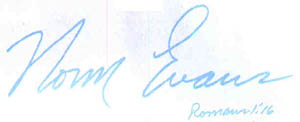 Football's Most Wanted: the top 10 book of the great game's outrageous characters, fortunate fumbles and other oddities
Tackle Norm Evans played for Houston, Miami and Seattle from 1965 to 1978. This 250-pound lineman said that the hardest part of training camp was getting used to wearing the helmet. Evans had trouble holding his head up. The weight of the helmet caused his head to tilt to one side or the other. He had to do exercises to strengthen his neck.
Street and Smith's Pro Football 1977
The oldest man in the line is Norm Evans, the ex-Miami tackle, but he should be useful to the Seahawks for another year or so. Miami sure could use him this year.
Street and Smith's Pro Football 1978
Norm Evans, the durable old ex-Dolphin, still contributes at 36, but he has to be replaced soon. Nick Bebout is the other vet on the roster, but the eventual successor probably will be someone like the rookies drafted this season, Louis Bullard of Jackson State or Rich Grimmett of Illinois.
Former Dolphins' star visits camp
Former Miami Dolphins All-Pro offensive tackle Norm Evans was a visitor to the Colts' training camp earlier in the week. Evans played for Miami from 1966-75 and Seattle from 1976-78. While with the Seahawks, he was coached for one season by Indianapolis offensive line coach Howard Mudd. The former Texas Christian standout is now associated with the Fellowship of Christian Athletes.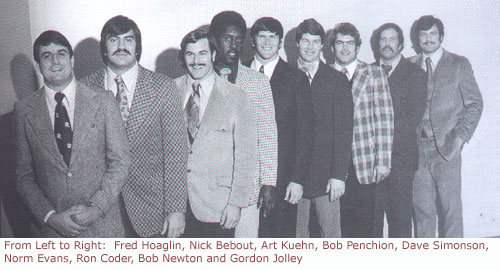 Pro!, The Official Magazine of the National Football League
Seahawks Edition
Aug. 1, 1976
(Reprinted from Winning, A Pro Athletes Outreach Publication)
On the evening of March 30, Norm Evans and his family bowed their heads for prayer before eating dinner.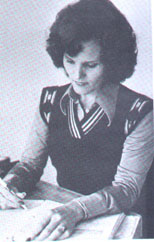 "Lord, thank you that we can trust you to be in control of our lives, to do what's best for us whether we're in Miami or Seattle or Tampa," Norm prayed.
No sooner had he finished the blessing and started to eat than the phone rang. It was Miami Coach Don Shula informing the 10-year Dolphins veteran that he was now a member of the Seattle Seahawks.
It was a rather ironic position for Norm to be in, as he was the last of the original Dolphins picked in that team's expansion draft in 1966. And he had suffered through those dismal early seasons until the team achieved respectability under Shula and finally rose to the heights of Super Bowl Champions.
Now with an expansion team, he is again starting on the bottom, and this time it is doubtful he will be around long enough to see the franchise gain a winning tradition.
Considering all these factors, observers have been surprised at Evans' genuine enthusiasm for the move. But he explains that God had been preparing him.
"I was already familiar with Seattle because I'd participated in an Athletes in Action week there. Perhaps if it had taken me cold -- but that's the way the Lord does things with His children -- He prepares you.
"We have not asked 'why,' though it's natural to wonder why God is doing this. Instead we've tried to focus on the positive aspects -- the beauty of the country, the nice people, the opportunity to contribute to a new franchise, the adventure of taking the family to a new area."
This has been an eventful off season for Evans. In addition to joining a new team, he and his wife Bobbie, spent eight days in Germany speaking on various Fifth Army bases. The trip was organized by Norm's pastor Tommy Watson in conjunction with the Army's Department of Chaplains, and he was accompanied by Dolphins teammate Mike Kolen.
In addition to giving his Christian testimony during the more than 30 speaking engagements, Evans told the soldiers, "I appreciate you and thank you for giving your lives so the rest of us can live in peace."
"I discovered that many of these men feel alone," said Norm. "They felt nobody cared, that they were forgotten Americans."
As the new NFL season gets underway this summer, Evans and his family will miss Florida.
"It will be hard to leave our friends, and that includes our church, to leave a winning tradition, and to leave our home."
But rather than look back, Norm is enthusiastic for the 1976 Seahawks' season.
"If I didn't think I could make a positive contribution, I wouldn't waste their time or mine. I plan to go out there and be the best tackle I can be."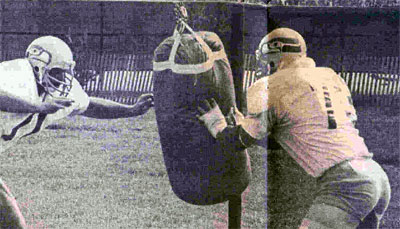 Seahawks' Evans Is an Original Again
28 November 1976
The New York Times -- by Michael Katz
Norm Evans, an original Miami Dolphin in 1966 and an original Seattle Seahawk in 1976, has written a book, "On the Line", trying "to show people what it's like inside the head of the average offensive lineman."
Norm Evans says that he's having fun starting all over again with an expansion team only 2,740 miles from his insurance business and home in Miami. Obviously, there's more inside Norm Evans' head that just won-lost records.
The 34-year-old tackle, one of the reasons the Dolphins were twice Super Bowl champions, is here with the Seahawks, who play the Giants today in East Rutherford NJ. It is a measure of the Seahawks' ability that they are 9-point underdogs to a team with a 1-10 record.
A Familiar Circumstance
Life on a losing team is familiar to Evans, who suffered through the Dolphins' growing pains and who has emerged as one of the team leaders on the 2-9 Seahawks. Evans went to the Dolphins from the Houston Oilers in the 1966 expansion draft, then was not protected in the 1976 expansion draft by Miami, for whom he started for 10 seasons.
"A lot of guys leave angry and bitter," the last of the original Dolphins said. "But my family and I decided that I would continue to play and we would come to Seattle and just enjoy ourselves. It's been an adventure for the kids."
His family has enjoyed Seattle so much, Evans is considering moving there permanently. "The pace here is much easier," he said by phone from Seattle last week. "You don't get five honk-honks every time the light changes. It's much more suitable to an outdoors life, too. There are mountains to hike in and ski in. In Florida, outdoor life consists of lying by the pool.
"The cool weather just has been fantastic for my old body. In Florida, all that heat and humidity is a constant strain on the heart. I'd find myself falling home after practice."
Hit With an Injury
Evans, twice a Pro Bowl representative for the Dolphins, has had a good season, although he missed four games with an injured knee, "more games than I missed in my first 11 seasons."
National Football League expansion teams have evidently improved in 10 years, in some respects at least. Evans said the facilities at the Seahawks' training camp at Washington State University in Cheyney" were 89 percent better than those at the Dolphins' first camp as St Petersburg, Fla, where barking seals kept the players awake at night.
"We were staying at a motel next door to Ocean World, or whatever it is in St Petersburg," Evans said. "The seals barked day and night. The field was awful, too. They sodded it on an old oyster-shell bed just days before we reported. There was no training room and we had to get dressed and taped in the motel, which was filled with the odor of sweaty, wet uniforms all the time. Other than that, it was fine."
The Dolphins, of course, were a losing team at first. "I remember George Williams, the coach, telling us after our first game I think with San Diego, who ran up the score on us. He got up on a table and said, 'We may not win the next game, but I promise you one thing: our coaching staff can beat their coaching staff.'
"I think we're far ahead of what Miami was. We have Jim Zorn, a quarterback who could be another Bob Griese, Steve Largent, Sam McCullum and Steve Raible are pretty good receivers. We have real offensive potential.
"At Miami, I remember one time we made two first downs in a row and got a standing ovation."
Fans of Good Cheers
That's another thing Evans appreciates about Seattle: the fans. The Seahawks, with 59,000 season ticketholders from all over the Pacific Northwest (including about 300 from Alaska), have averaged more than 60,000 fans a game at home. "Sometimes at Miami, I'd look up in that huge Orange Bowl and there couldn't have been more than 15,000 people there," says Evans.
"The support here has been phenomenal," he said. "The fans are very good. By that, I guess I mean they don't expect too much from us right away, although they were booing last week (when Seattle was losing to New Orleans, 51-27). I was booing myself."
He knows the feeling. One thing he said "On the Line" tried to show "what you feel like when your man, the one you were supposed to block, has just broken the quarterback's leg."
Norm Evans has written a good one
The Spokesman-Review
1976
Now comes Norm Evans, offensive tackle with the Miami Dolphins in their championship years and now with the Seattle Seahawks - currently on the injured reserve list.
Evans' book is written with Edwin Pope, a sports columnist for the Miami Herald. Pope has organized and edited excellently. He stays in the background and lets Evans tell it, which is why he's a winning sports columnist.
Evans discusses the vast personality and psychological differences between the offensive lineman and the defensive lineman.
He quotes Stan Jones, a defensive coach who played for the Chicago Bears.
"The defensive line is in a room waiting for a meeting with a coach; the coach is late in showing up and the chairs start coming out of the windows. But if you pass by the room where the offensive line is waiting for the coach, those fellows will be poring over their playbooks. Geez, when I was with the Bears, old Clark Shaughnessy was coaching our defense, and he was afraid to leave the meeting room for 30 seconds because when he came back the room would be a junk pile."
The offensive lineman is a builder, creator, plodding planner. The defensive lineman or linebacker is by vocation and disposition a destroyer.
The offensive guy tries to play cool and with technique. The defensive guy is better when he's hot and reckless.
Rolly Woolsey's now a Seahawk after expansion
The Idaho Free Press
March 1976
Two of the biggest surprises in the draft both came out of Miami when Tampa Bay landed linebacker Doug Swill and Seattle claimed former all-pro tackle
Norm Evans
.
Collecting Norm Evans?
1976 Topps #492
I'd like to alert viewers to a great website with vintage football cards. You won't want to miss this Norm Evans vintage card!
Thanks to Michael Thomas for providing these links to us and inviting us to share them. Please visit his site for more terrific cards.