Allen Haigler was there!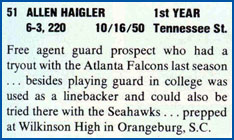 Pre-76
None
Free agent

First Cut of Seahawks' Roster May Come Today
By Don Fair
P-I Sports Writer
Linebacker Allen Haigler was the first casualty, suffering a slight left shoulder separation and is thus limited to running drills.
TSU Football Legend Injured In House Fire
Posted: Dec 19, 2007 10:39 PM CST
Source: newschannel5.com
NASHVILLE, Tenn. - Firefighters rescued a Nashville man from a house fire Wednesday night.
Flames ripped through a home on Wilmoth Court in the Dickerson Road area.
The fire started around 8:15 p.m. in the northeast Davidson County community.
Firefighters arrived to heavy smoke and flames.
When they entered the home, they found homeowner Allen Haigler sitting on his couch.
Haigler was a member of Tennessee State University's 1973 undefeated football team.
He was transported to Vanderbilt University Medical Center for severe burns.
"Once they did find him, they brought him out on the side of the house," said Tyler Smith, a witness. "He appeared to be breathing, but he was burned pretty badly. But I think he will be okay."
Haigler's condition at the hospital's burn unit was not released Wednesday night.
From: Kesha Reser
Sent: Tuesday, January 08, 2008 4:20 PM
Subject: Allen Haigler
Allen Haigler was killed December 26, 2007 in a house fire.
He was currently working at Baptist Hopital, Nashville, TN, for Nutrition and Food Services. Allen is sadly missed by coworkers and friends
Kesha M. Reser
System Training Manager
St Thomas Health Systems