You all know my other love is Aussie Rules Football. An AFL friend of mine had the idea to follow one player throughout an entire season, highlighting his successes and critiquing his weaknesses each and every week. I thought it was great fun so I've decided to give it a shot this year on a Seahawk player. After watching the first game of the regular season, the player choice seemed obvious. Ken Hamlin. He's tough! He's fierce! I think he's going to have an awesome year in 2004!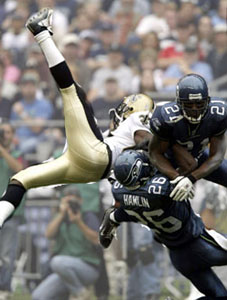 Week 1: Seahawks 21 - Saints 7
We kicked off to New Orleans. Don't ask me what happened but the Saints found a seam and ran it back 47 yards until Ken Hamlin got the hit and brought him down! That is the play that made me decide Ken Hamlin was the guy to follow this season! Right after that he put another hard hit on a Saint that brought me to my feet with fists in the air!!
Seahawks.com shows Hamlin leading the defense with 5 solo tackles.
Week 2: Seahawks 10 - Bucs 6
Another solid performance by Hamlin to complement a solid performance by our entire defense! Personally I think it's the defense that won this game for us, as they set up the only touchdown we managed.
It was off camera, but apparently Hamlin did "the sprinkler" after a terrific tackle! What I wouldn't give to see that!!! I love it when our boys have fun on the field!
Seahawks.com shows Hamlin with 4 solo tackles, 2 assists. Even so he was 7th from the top of the list in tackles. That tells you how hard our defense worked this week!
Week 3: Seahawks 34 - 49ers 0
Ken got an interception this week!! The 49ers put together a nice drive that looked for sure like they'd finally get a fourth quarter touchdown, but Hamlin jumped ahead of the ball and downed it in the end zone for a touchback!! GREAT PLAY to save a touchdown!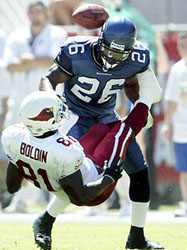 Seahawks.com has Hamlin with 0 solo tackles, 2 assists, and of course, the one interception!
I can assure you that the boys were feeling good after this defensive stance! I'm SO proud of them!
Bye Week
Source: Seattle Times

Notebook: Hawks take 4 days off
By José Miguel Romero

KIRKLAND — Ken Hamlin, Brandon Mitchell and Antonio Cochran are usually the first three Seahawks off the practice field each day, barring an extended position group huddle.

The Seahawks' free safety and defensive ends like to race each other to the berm leading up to the locker room at team headquarters. But yesterday was different. The group of players leaving the field in a hurry was substantially larger and more animated, like kids running for the school doors the day before spring break begins.
The players deserve a week off! I hope they get rested up, healed up, and come back charged up and ready to roll!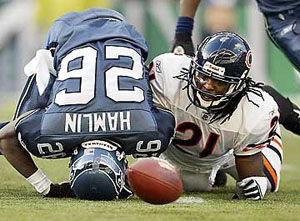 Week 4: Seahawks 27 - Rams 33 (O/T)
I don't know that it gets any more painful than this. We had a 27/10 lead for a while and ended up giving the game to the Rams in the final quarter. Prior to that time our defense, and Ken Hamlin, had played brilliantly. At the end of the game we just weren't able to make the plays.
Seahawks.com has Ken listed at 4 solo tackles and 2 assists.
Week 5: Seahawks 20 - New England 30
Earlier in the week, Hamlin was listed on the injury list as "probable" due to a toe injury. The News Tribune reported that he returned to practice Thursday and remains probable.
He did indeed play in the game, with 4 solo tackles and 2 assists credited to him.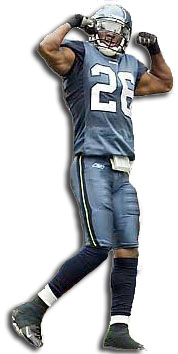 Week 6: Seahawks 17 - Cardinals 25
With Anthony Simmons out with an injury, Ken Hamlin served as a captain in the game in Arizona. I'm not sure this is the game he wants to his credit, though. Our offense was horrific; our defense hot and cold. Seahawks.com credits Hamlin with 2 solo tackles.
Week 7: Seahawks 23 - Panthers 17
Finally we got another win under our belt! Ken Hamlin had a great game today. He's only credited with 2 solo tackles but I thought he had great presence on the field.
Week 8: Seahawks 42 - San Francisco 27
Hamlin had a great game this week and as is proven by the fact that he's listed #2 in the stat charts for highest number of tackles. He finished the game with 5 solo tackles!
Week 9: Seahawks 12 - St. Louis 23
Were there any bright spots in this game? Yes. Ken Hamlin! Hamlin was credited with 6 solo tackles, his high of the season! This, after missing practice this week due to soreness in his knee. Up until Saturday he was still regarded as questionable as to whether or not he'd be able to play. Way to go, Ken!
Week 10: Seahawks 24 - Miami 17
In a game that was much too close for comfort, Hamlin was credited for 2 solo tackles and 2 assists. Once again I thought he had good presence on the field despite missing practices due to a sore toe. This has been a year of ups and downs but Hamlin has remained consistent. I really like what I'm seeing from him, even though he's not getting much (if any!) press.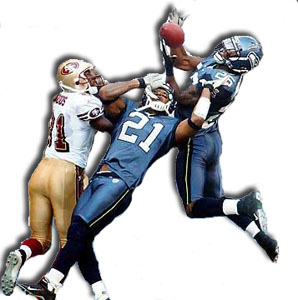 Week 11: Seahawks 9 - Buffalo 38
Ken Hamlin was the shining star in a game that desperately needed a star! He snagged two interceptions and then ran them back with the fierce desire to make something BIG happen. Unfortunately on one play we were flagged with a penalty that brought the run back, and both times our offense couldn't do anything with his efforts. Hamlin has to be feeling disappointed that we weren't able to capitalize on the turnover but I hope he feels good about the way he played.
Seahawks.com has him credited with 4 solo tackles and 2 assists, along with his 2 interceptions.
In mid-week news,the Seattle Times reports:
Seahawks defensive tackle Rashad Moore apologized to coaches and teammates yesterday for a shouting incident involving himself, teammates and Holmgren in Sunday's game.

Moore was not in on a second-and-goal play near the end of the first half, replaced by Marcus Tubbs. Buffalo scored on a 3-yard pass, and Moore had to be restrained by teammates Ken Hamlin and Brandon Mitchell from getting in Holmgren's face.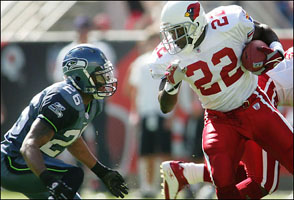 Week 12: Seahawks 39 - Cowboys 43
I thought Ken Hamlin had the play of the game. Late in the fourth quarter when the Cowboys were moving downfield, Hamlin snagged an interception! We had about 3 minutes in which to hang on to the ball to win the game! I definitely thought Hamlin was a candidate for Madden's horse trailer as the player of the game!!
Unfortunately it wasn't meant to be. After a series of blunders the Cowboys regained the lead and went on to win.
I still think Hamlin's interception was sensational. He also had an incredible tackle to prevent Jones from an early touchdown. As it was Jones gained 53 yards on the running play. He'd still be running if not for Hamlin's speed. He chased him from behind and laid out a perfect tackle! I can't say enough about his performance this week! WAY TO GO, KEN!
Seahawks.com has him credited with 2 solo tackles, 1 assist and 1 interception this week.
Week 13: Seahawks 27 - Minnesota 23
Once again Hamlin put in a good game! He's credited with 4 solo tackles, but he also had a terrific pass knock-down that wiped out any thought of good yardage for the Vikings!

Week 14: Seahawks 14 - Jets 37
"Nobody has a give-up attitude around here. We're not sitting here saying that the season's over with. We're saying that today we didn't play good."
Actually I didn't think Hamlin played bad at all. Yes, the defense is taking a lot of flack for being among the lowest rated defenses in the league but the fact that Hamlin picked up a fumble and ran it in for a touchdown, despite the bad call from the official that ruled the play dead, shows that he's on his game.
"I think we weren't lined up in the right places at certain times. They executed, and we didn't. They came out ready to play, and they came out and executed their offense, and we didn't execute our defense."
There you have it, straight from Hamlin himself, who put in a season high with 7 solo tackles!
In an article by the Tacoma News Tribune about Ray Rhodes, defensive coordinator, these things were said about Hamlin:
The development of rookie strong safety Michael Boulware has given Rhodes reason for optimism. Second-year free safety Ken Hamlin has become more of a leader, Rhodes said, and now rookie middle linebacker Niko Koutouvides will get a crack at the starting lineup.

Hamlin has called out teammates in practice. Hamlin also noted that too many players have been out of position.

"Right now, Hamlin is emerging as the leader on our football team," Rhodes said. "He is one of the young guys that vents some of his frustrations on the field.

"We have some young guys emerging. We need more of it, but you take what you can get."
The Seattle Times takes it even further:
The player emerging as the most promising candidate to lead, say a few coaches and players, is second-year free safety Ken Hamlin. He's a hard hitter on the field who is quick to speak his mind in games, be it constructive criticism or something more like trash talk.

"He will be able to be that guy in the secondary," Holmgren said. "All of our linebackers are just trying to figure out how to line up and stuff, you know? Hamlin is the one that jumps out on defense."

Hamlin said he hasn't been approached to take on that kind of role. He has yet to become a dominant presence in the locker room, but he doesn't deny being vocal.

"I don't think I sit there and just try to go out of my way to be a leader," he said. "I go out there and play hard, and whatever happens, happens. I think we have a lot of great leaders out there, but some aren't as vocal as others. I'm going to hold you accountable, and the coaches, and all the other players should hold everybody else accountable as well."

Defensive coordinator Ray Rhodes also named Hamlin as an emerging leader.

"He's one of the young guys that I've noticed personally vent his frustrations out on the field," Rhodes said. "And that's good. We need more of it, but you have to take what you can get right now.

"He's playing very disciplined football, and he's busting his rear end on the field. I'd say overall he's playing a lot better than he played last year."
Ken is finally getting the recognition and respect he deserves!
Week 15: Seahawks 24 - Cardinals 21
This was another huge game for Ken Hamlin! I'm so proud of him! Yes, he dropped what could have been an interception but he was crucial on so many plays!
He had a season high 10 tackles! 7 solo tackles and 3 assists. He also got a sack and forced a fumble! You could just see his leadership on the field! I can't say enough about how he's grown throughout this season. I'm so proud of him, despite what he says about himself!
Notebook: Lost opportunities disappoint Hamlin
By Greg Bishop and José Miguel Romero
Seattle Times staff reporters
After 10 tackles and one sack, after three pass breakups and one forced fumble, Ken Hamlin used one word to describe his performance yesterday.

Disappointed.

That's what happens when your personality falls under perfectionist. And while defensive backs around his locker praised the second-year free safety for his play, Hamlin was more disappointed with the two potential interceptions that he dropped.


Week 16: Seahawks 28 - Atlanta 26
WE DID IT!!! WE WON THE DIVISION!!! WOOOOO HOOOOO!!!
Hamlin had another terrific game, coming up with 6 solo tackles, 1 assist and 1 sack! Time and time again he'd be smack dab in the middle of the play! And he's FAST!! When he's chasing down a receiver, he pours it on! I can't say enough about how exciting he is to watch on the field!
Post Season: Seahawks 20 - Rams 27
Ken Hamlin had a terrific game to cap a terrific season! I think the most outstanding play of his was when he came from the outside on a blitz, although it was certainly exciting when he snagged an interception as well! He's credited with 2 solo tackles but don't kid yourself, he was instrumental in today's game! GOOOOOO SEAHAWKS!!!

From the NFLPLAYERS.com archives
Radio
11/18/03
Around about 8 o'clock I got up on Sunday and ended up going to chapel at 8:30. After that, I came back and got everything together. I got ready to go to the stadium. Me and Marcus Trufant ride together. It was pretty much a dominant game. Our offense did a great job of coming out and establishing themselves. They came out and played off them a little bit. We held their offense, especially in running the ball. I could always correct some things, but overall I think I did a pretty good job. After the game, I just went home and turned the TV on and watched SportsCenter. I popped in some movies. I watched Terminator 3 and it was pretty good. Monday, I came into office early, lifted weights, and watched film and see what type of stuff needs to be corrected. After that, I came home and went to the Fox Sports Restaurant. It just opened. I watched the Monday night game there. It was interesting. It thought it would be closer than it was. San Francisco did a good job. Today, I did not do much. I have been relaxing. Then I gotta go to a radio station, 93.3 FM. Every week, Marcus and I take over the radio station for an hour or an hour and a half, we just play around with it. We are getting ready for a tough game at Baltimore. We know that they are going to try to establish the run. They have a good back. Hopefully our offense does good and puts points on board and gives us help like they did this past week and we will have a better opportunity.