Brad Kramer was there!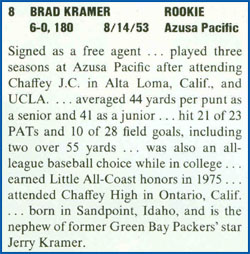 SCOREBOARD
Walla Walla Union-Bulletin
Tuesday, July 13, 1976
SEATTLE SEAHAWKS — Eddie Ray. running back, signed.
Mark Wahl, Dan Shepherd, Brad Kramer, Al Knapp and Keith Muehr, kickers; Herb Singleton and Scott Christman, quarterbacks; Dwaine Copeland and Clifton Marcus, running backs: Bob Cason, defensive back, and Ned Deane, linebacker, cut.
We are looking for more information about Al Knapp. If you have stories to share, please email us with details. Thank you!