John Leypoldt was there!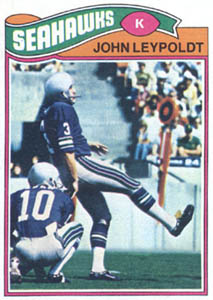 Oct. 17, 1976 – Seattle 13, TAMPA BAY 10
Jim Zorn's 15-yard TD pass to Sam McCullum and a pair of field goals by John Leypoldt in the first half were enough to earn Seattle its first ever win. Seahawks' linebacker Mike Curtis blocked a field goal with 42 seconds left after the Bucs pulled to within three points of Seattle.
Inside the Seahawks
Vol 1, No 24
March 13-April 16, 1987
John Leypoldt, Seattle Seahawks' placekicker from 1976-78, died at age 40 of a heart attack February 7 at a Cheekatowaga, NY hospital.
Leypoldt was a walk-on placekicker with no collegiate experience. He successfully kicked 52 of 59 extra point tries and 17 of 30 field-goal attempts with the Hawks. Entering the 1986 season he held the No. 10 spot on the Seattle career scoring list.
Leypoldt became the No. 2 scorer in the history of the Buffalo Bills prior to that, second only to running back O.J. Simpson.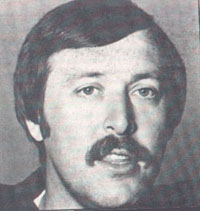 Following high school, the Washington, D.C. native had played semi-pro football in Maryland and Virginia. He was working in the credit department of a gas and power company in 1971 when he got the opportunity to try out as a kicker with the Bills.
Buffalo coaches were impressed enough to sign him as a free agent. From 1971-76 he kicked 147 conversions and 74 field goals for 369 points, a Bills total topped only by Simpson's 420 points.
After he misfired on three field goal attempts against Miami in the 1976 opener, Couch Lou Saban cut the man who, one year earlier, had led the NFL in conversions with 51.
Leypoldt was claimed off the waiver list in 1976 by Seattle. He went to New Orleans to kick in 1978, but he returned to Seattle later that season. He tried a comeback with Buffalo in 1979, but wasn't resigned.
He held Buffalo team records for most consecutive games scored in (33), most conversions (147), most PATs in a season and most field goals in a career.
Leypoldt's NFL career totals were 427 points - 91 field goals and 199 conversions.
Leypoldt had a career in real estate development in the Cheektowaga, NY area.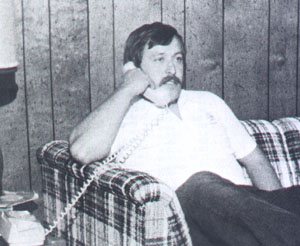 Seahawks History
Source: Inside the Seahawks
Vol. 1, No. 14
November 7, 1986-November 13, 1986
By Bob Pruitt
Atlanta scored first, an 18-yard field goal, after Seattle quarterback Jim Zorn fumbled on the Seahawk 9 yard line. Then Seattle made its one "unassisted" scoring drive on the following kick-off. Sherman Smith capped the 80 yard drive by hauling in a 21 yard TD strike from Zorn. Zorn passed for another touchdown to John McMakin only seconds later, after John Leypoldt's kick-off was fumbled by Rick Byas on the Falcon 26.
The third quarter began with a Seahawk drive being stalled near mid-field. Rick Engles punted the ball to the Falcon 6, where Rolland Lawrence took it in and was forced to run for his life by the exceptional Seahawk coverage. With Don Dufek immediately in his face, he retreated laterally back near the end zone where he was caught by a pursuing Dave Brown, who nailed him for the safety.
The next two Seahawk touchdowns were results of great play by the defensive secondary. The first was the Matthews' interception return for 6 points. The other was a Sherman Smith breakaway touchdown run of 53 yards following Brown's second interception.
Seahawks 30-Falcons 13
Seahawks History, November 20, 1977
Source: Inside the Seahawks
Vol 1 No. 12
October 24, 1986-October 30, 1986
By Bob Pruitt
After a scoreless first quarter, the Seahawks got on the board first in the second quarter on a 5l-yard field goal by John Leypoldt. The lead was short-lived though as the Oilers took advantage of a Sherman Smith fumble and tied it with a 27-yard Tom Dempsey field goal.
14 September 1976: news
The Buffalo Bills today waived veteran kicker John Leypoldt after his disappointing performance in a 31-20 loss to the Miami Dolphins today.
Web Author's Note: And when they released him, the Seahawks signed him, playing for Seattle in 1976 and 1977, and one game in 1978.
Street and Smith's Pro Football 1977
John Leypoldt, acquired as a free agent after Buffalo released him, connected on 8 of 12 field goals. He is a solid specialist.
Street and Smith's Pro Football 1978
John Leypoldt, the ex-Bill, was successful on half his 18 field-goal tries, but his 5-for-9 performance from within the 39 made him suspect.
Street and Smith's Pro Football 1977
1976 Leaders and AFC Ratings
Scoring - Leypoldt, 43 points on 19 XP, 8 field goals - 23rd
Rushing - Smith, 119 carries for 537 yards, 4.5 Avg, 4 TDs - 19th
Passing - Zorn, 208 of 439 attempts for 2571 yards, 12 TDs - 15th
Receiving - Largent, 54 for 705 yards, 4 TDs - 3rd
Interceptions - Brown, 4 for 70 yds, 17.5 Avg - 14th
Punting - Engles, 80 punts, 38.3 Avg., longest 55 yards - 10th
Punt Returns - Blackwood, 19 for 132 yds, 6.9 Avg - 13th
Kickoff Returns - Ross, 30 for 655 yds, 21.8 Avg - 11th
Street and Smith's Pro Football 1978
1977 Leaders and AFC Ratings
Scoring - Leypoldt, 60 points on 33 XP, 9 field goals - T. 13th
Largent, 60 points on 10 touchdown passes - T. 13th
Rushing - Smith, 163 carries for 763 yards, 4.7 Avg, 4 TDs - 7th
Passing - Zorn, 104 of 251 attempts for 1687 yards, 16 TDs - 14th
Receiving - Largent, 33 for 643 yards, 19.4 Avg, 10 TDs - 24th
Interceptions - Beamon, 6 for 36 yds, 6.0 Avg - 9th
Punting - Weaver, 58 punts, 39.5 Avg., longest 59 yards - 5th
Punt Returns - Packer, 20 for 131 yds, 6.5 Avg - 17th
Kickoff Returns - Hunter, 36 for 820 yds, 22.8 Avg - 9th
Field Goal Wins for Saints
September 25, 1978
John Leypoldt kicked a 27-yard field goal that hit the left upright and bounced through the goal post on the final play of the game yesterday to lift the New Orleans Saints to a 20-18 victory over the winless Cincinnati Bengals. The Saints, trailing 18-17, called their final timeout with three seconds left to set up Leypoldt's do-or-die field goal attempt. Leypoldt's kick glanced off the side of the left upright and barely bounced over for the deciding points.

From: Chuck
Sent: Tuesday, October 28, 2003 7:07 AM
Subject: John Leypoldt-kicker
Believe it or not, I used to love to watch John Leypoldt kick. I miss the straight on approach. I was surprised to see your page about him on the net.
Long live the Seahawks!
From: Doug Bercu
Sent: Thursday, November 06, 2003 10:10 PM
Subject: John Leypoldt
Believe it or not, I would get heart murmurs every time he lined up for a kick.
I grew up in Erie, PA-so u either like the Browns-Steelers or Bills. I always liked the Bills-they were tough in The old AFL- and in the 70's they were up and down. Spike Jones-the punter was a friend of mine at the time and I met Leypoldt a few times through Spike. I was on the net surfing and came across your web page. As u know Leypoldt was a journeyman kicker. Annapolis Sailors-Bills-Seahawks and I believe the Saints for a short time. Every time he went on the field to kick, my heart would murmur. His fg percentage was not that great and he was always banging kicks off the post-missing wide on kicks-getting kicks blocked. It was a mess when he tried a field goal. Obviously the kickers today are " automatic"-but watching Leypoldt kick was like being on a roller coaster. Your web page was a great tribute to the man; obviously there must be plenty of John Leypoldt fans-do u get many hits on this web page? I assume the picture of him on the phone talking was probably the kicking coach telling him to pack his bags-that is the life of a kicker-hope all is well in Seattle.
Strickland
PRO CHARTS
By Murray Olderman
The Albuquerque Tribune
Saturday, September 17, 1977
Seattle Seahawks Prospectus
In second year of existence, Seahawks opted for draft choices instead of chance at Tony Dorsett, who probably wouldn't have signed with them. Coach Jack Patera actually did good guiding expansion team to two victories in '76. Whole concentration is building on youth.
Had some pleasant surprises on offense. Now they need more bodies to weld the defense.
Kicking,Secondary: Just so-so with Rick Engles punting and John Leypoldt, who was dropped by Buffalo, doing the field goal booting. Lyle Blackwood and Oliver Ross, couple of journeymen have been handling the kick returns, Newly acquired Walter Packer, the third-leading runner In Southeast Conference history. Need some excitement. Rating-C
Prediction
The Seahawks have been settled into the AFC's Western Division, where the competition is exceedingly tough. Based on Jim Zorn's debut, they will be able to move the ball. But they'll be doing well if they can double the victory output. Fifth in AFC Western.
Collecting John Leypoldt?
1976 Topps #113
1977 Topps #387