Jeff Lloyd was there!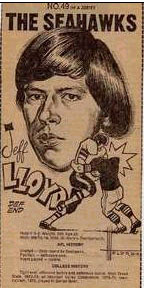 And so was the Seattle P-I with this early football card-style newspaper cut-out!
Source:
Seahawks
by Doug Thiel
Sunrise Publishing Inc.
In the 1976 college draft we also got Jeff Lloyd in the third round plus two third round bonus choices, Rick Engles and Don Bitterlich. In the fourth round Seattle chose Steve Meyer at quarterback; Randy Johnson, an offensive guard, was a bonus choice as was Andrew Bolton. In the fifth round Don Dufek, Ernie Jones and Larry Bates came to the Seahawks.
The other collegians drafted were Alvis Darby, Lodie Dixon, Larry Shipp, Bob Bos, and Randy Coffield.
First Cut of Seahawks' Roster May Come Today
By Don Fair
P-I Sports Writer

On the defensive side of this drill, Patera remembered rookie end Jeff Lloyd plus expansion pickup Wayne Baker. "Lloyd is strong, but just doesn't know what to do with it yet. We just have to teach him. Baker is awfully strong."
Pro Football 1976
by Larry Felser and Dave Klein
Secondary? Patera has Dave Brown and Eddie McMillan on the corners, with Al Matthews, Rondy Colbert and Lyle Blackwood competing for the safety jobs. And rookie Don Dufek of Michigan will hit hard enough to make the club. He's a former Wolverine linebacker now projected as a strong safety.
There were even some plums for the front four. Like Carl Barisich, who can play end or tackle. Like Wayne Baker at tackle, all 6-6 and 269 pounds of him. And Patera spent his first-round draft choice for monstrous Steve Niehaus of Notre Dame, an instant starter. "He reminds me of Merlin Olsen," said Patera, "but he's stronger."
Owens, a bit short, is strong and has some speed. Barisich is the find among the drafted vets; he can play. Niehaus is Coach Patera's mine, a huge tackle with quickness and inordinate strength. Baker, somewhat slow, has marvelous size. Lloyd has the size and quickness to win a job as soon as he adapts to the pros. Dixon, a lower draftee is green but talented.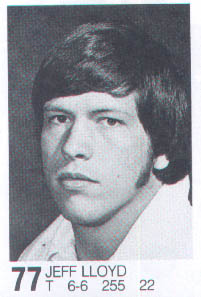 Source: Norm Evans' Seahawk Report, Oct. 29 – Nov. 4, 1979
A Seahawk Blueprint: from expansion to contention
By Gary Huff
The bulk of the Seahawks first team in 1976 came, of course, from the veteran allocations draft. Many of those drafted merely filled positions until the college draft could provide quality replacements. Only four of those expansion draftees, Nick Bebout, Art Kuehn, Sam McCullum and Dave Brown remain today.
The Hawks' first-year college draft, while tainted with a few drafting errors, added five quality players. The selection of Steve Niehaus, the team's initial first-rounder, must now be regarded as one of the team's larger draft mistakes. In the third and fourth rounds, where a team should come up with some fine down-the-road players, the Hawks bombed. Jeff Lloyd (DL) and Randy Johnson (OG) didn't survive training camp. Rick Engles (P), Don Bitterlich (K) and Andrew Bolton (RB) didn't last much longer. All of these players have had shots with other teams, but their careers are essentially over.
Despite these shortcomings, the `76 draft did produce some important members of the `79 team: Sammy Green, Sherman Smith, Steve Raible (all in the second round), Steve Myer (4th) and Don Dufek (5th).
From the Coshocton Tribune
The Seahawks have made 27 separate player movements since Monday.
Player Movement Is Common For Organizing Seattle Seahawks
BY RICK GOSSELIN
UPI Sports Writer
The Coshocton Tribune
Wednesday, Sept.8, 1976
The printers in Seattle must be making a mint on playbooks for the National Football League Seahawks. The first year Seattle franchise, which makes its NFL debut Sunday, has had better than a 20 per cent turnover on its roster the past two days, taking advantage of the wealth of talent with which the 26 established teams are cluttering up the waiver list in getting down to their 43-man rosters.
The Seahawks also released rookie wide receiver Cornelius Greene and veteran defensive end Bob Martin, while placing on waivers running backs Gary Hayman and James Ford, wide receiver Bob Picard and defensive tackle Jeff Lloyd. Seattle placed linebacker Ken Hutcherson on the injured reserve list and fullback Eddie Ray on injured waivers.
Collecting Jeff Lloyd?
1976 Post-Intelligencer mini poster, #49