Kerry Marbury was there!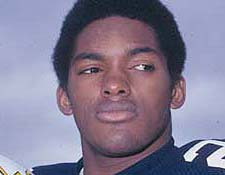 Source: Seattle PI

Seattle Draft: 'Good Job'
By Don Fair
Seattle players choices were sent "welcome" telegrams from Patera yesterday. Later, all will receive personal telephone calls from the appropriate Seahawk assistant coach.
As a group, the newest Seahawks did not express disappointment or disgust at joining an expansion franchise.
Kerry Marbury, running back, New England -- "I'm really excited. All I needed was the break, and this is it I really do believe. I've never been to Seattle, but I've heard about it and they tell me it's a nice place."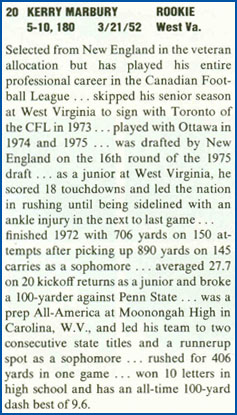 Kerry Marbury was referred to as the team "sleeper" after playing in Canada in 1973 and 1974!
Profile: Kerry Marbury
Kerry Marbury was Warrick Dunn years before there even was a Warrick Dunn.
Tampa Bay's miniature 5-9, 180-pound running back has had five productive seasons in the NFL, topping the 1,000-yard mark twice for the Buccaneers. Dunn became nationally known in college playing for Bobby Bowden at Florida State, where he was the first FSU back ever to rush for 1,000 yards three straight seasons.
Bowden convinced Dunn to become a Seminole in 1992 after a prolific high school career in Baton Rouge, La. His brilliant speed, maneuverability and elusiveness probably reminded the coach of a similar runner he had at West Virginia University in the early 1970s.
That ballcarrier was Kerry Marbury, who grew up in tiny Carolina, W.Va. -- a coal town located not far from Fairmont. As a youngster Marbury was always one of the smallest players on the field. To play Pop Warner football he once had to stuff his stomach with bananas and drink enough water just to make the minimum 76-pound weight.
Marbury would bribe his mother Lizella by doing some work around the house before sneaking off to the football field, where he perfected his game under the watchful eye of Nick Saban, Sr.
By the time he was a junior at Monongah High School in 1968, Marbury had developed an impressive reputation in West Virginia prep football circles. Playing alongside quarterback Nick Saban, Marbury helped Monongah to two consecutive state titles and finished his career with more than 6,000 yards rushing. He once gained 402 yards in a game against Kingwood High.
"I would have to say that Marbury is easily one of the ten best running backs to ever play high school football in West Virginia," said retired Wheeling Intelligencer editor Doug Huff, who today keeps track of national high school records. "He had a lot of ability."
Marbury was recruited by just about every major college in the country but he decided to sign with nearby West Virginia University. Jim Carlen was the coach at the time but Marbury never had the chance to play for Carlen, who left to take the Texas Tech job after the Mountaineers defeated South Carolina, 14-3 in the Peach Bowl.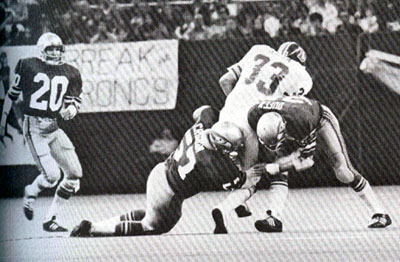 "I really didn't consider playing anywhere else because I hadn't gone anywhere. I never left the state so I was a little apprehensive about leaving home," said Marbury.
He instead played at West Virginia for Bobby Bowden, Carlen's offensive coordinator who took the job just days after Carlen left.
The running back teamed with Harry "Snake" Blake, Bernie Kirchner and Dave Jadgmann to lead the WVU freshman team to a 3-1 record in 1970. Longtime Mountianeer assistant coach Donnie Young was Marbury's freshman coach that season.
"I always felt that Kerry had more natural God-given ability than any other running back at West Virginia University," said Young, who personally witnessed the school's top five all-time runners Amos Zereoue, Avon Cobourne, Artie Owens, Robert Walker and Robert Alexander.
Marbury weighed 165 pounds at the most, but he possessed world class speed and was once clocked at 9.6 seconds in the 100-yard dash.
"Kerry could go from a standstill to a full sprint quicker than anyone I'd ever seen," said Young.
In 1971 Marbury teamed with Pete Wood in the backfield to give West Virginia a formidable rushing duo. Marbury produced his first 100-yard game against Richmond in the third game of the season, and added a 144-yard effort against William & Mary two weeks later.
Against Temple on Oct. 23, 1971, he had the finest rushing performance in school history. Kerry scored on touchdown runs of three, 83 and four yards and finished the afternoon with 291 yards rushing on just 22 carries. He had 200 yards by halftime and if not for suffering a leg injury that forced him to miss part of the third quarter, he would have easily had more than 300 yards. Some think he might have gotten 400 that day.
Marbury had five runs covering more than 30 yards -- all on trap plays.
"I always felt like I could run the trap well," said Marbury. "If you could get past the line of scrimmage and you had any speed at all you had an opportunity to gain a good deal of yards."
He finished the 1971 season with a team-best 890 yards and a 6.1 average per carry to go along with six touchdowns.
In 1972, Marbury and Blake teamed with Danny Buggs to give West Virginia one of the nation's fastest teams. The Mountaineers were loaded at all of the skill positions and had a quarterback in Bernie Galiffa who could deliver the ball downfield. West Virginia's only weakness on offense was an inexperienced line.
"We didn't have the offensive line that they have today," Marbury admitted. "I think a lot of the success we had was due to our speed. We probably had some of the smallest linemen that I had ever seen play college football."
Marbury again led the Mountaineers with 775 yards rushing and 16 touchdowns despite missing parts of three games with an ankle injury. His 16 rushing TDs ranked second in the country to Ohio State's Harold Henson (20). Marbury produced a season-high 175 yards in a 28-7 victory over Richmond in the second game of the year.
West Virginia earned a bid to face North Carolina State in the 1972 Peach Bowl but the Mountaineers were humiliated, 49-13 by the Wolfpack. Marbury managed 69 yards on 13 carries, but WVU was only able to generate 91 yards on the ground for the game. Marbury missed the team's final regular season game against Syracuse because of a severely sprained ankle and wasn't 100 percent for the bowl game.
"We were expected to win that game and we ended up losing," said Marbury.
Bowden was criticized for his lack of discipline down at Atlanta before the bowl game, so the coach instituted a get-tough approach afterward. Disciplinary suspensions and team meetings followed.
"When we got back he immediately started changing the rules on everything," said Marbury. "I think he may have overreacted a little bit to the loss."
In defense to Bowden, he was a young coach who was still feeling his way around the program. Two years earlier in 1970 his team blew a 35-0 halftime lead at Pitt that ultimately cost WVU a bowl game. In just three short seasons Bowden had developed lofty expectations and fans were demanding more than just winning seasons.
Bowden was a committed Christian and criticism of his team's misbehavior stung him. Therefore he decided to institute more stringent rules and regulations for his players to abide by.
Marbury took exception to one of his friends being kicked off the team, and decided that he no longer wanted to play at West Virginia. His disagreement with Bowden snowballed into something neither party completely comprehended and Marbury decided to skip his senior season and signed a professional contract to play for the Toronto Argonauts of the Canadian Football League.
Marbury was heavily criticized by all of the state's newspapers for his decision to leave. Some reporters referred to him as the state's "most famous drop out."
"I didn't have the foresight to see all of the politics involved in sports, especially at the college level," he says. "I was just going about it like I did when I first started when I was five years old. Gradually I began to see all of the politics and I didn't see where it was all that necessary. When I left I was pretty much blackballed." At the time, the NFL did not accept underclassmen so the CFL was Marbury's only alternative. It proved to be a big mistake.
"It was very confusing for me at the time. If I had known, or had had better guidance, I would have stayed and finished school," he admitted. Injuries limited Marbury to 153 yards on 42 carries in just three games during his rookie season in Canada. A year later with the Ottawa Roughriders in 1974, Marbury had only 94 yards in four games. Though he didn't experience a great deal of success playing in the CFL, his time in Canada was enlightening.
"The people in Canada were fantastic, I thought it was just utopia," he said. "They didn't break it down into African-Canadians or Italian-Canadians, they were all Canadians."
He returned to the United States in 1975 and played briefly with the Birmingham Vulcans of the World Football League before it folded.
"That was awful," Marbury remarked. "My appendix burst during one practice and they made me scrimmage anyway. I almost died because of that."
He was selected by the New England Patriots in the 16th round of the NFL draft the following spring. Because Seattle and Tampa Bay were added to the league that year, Marbury was picked in the expansion draft by the Cleveland Browns. He was cut during training camp. His football career was over at age 24.
"I don't regret it because even if I had played 10 years, you're just a number in the NFL," Marbury said. "The most important thing to me is that people are treated like human beings."
Disappointed and discouraged, Marbury drifted down a path of drug use that eventually led to a short period in prison. It was at that point that he decided to quit blaming others for his problems and make something of his life.
"Being in prison was a result of me not being able to come to terms with everything that was going on in my life," he admitted. "I tended to lean toward drugs and eventually ended up in jail because of it. That was a great experience for me because I was able to determine that I am somebody and there is hope for me."
Once he got out Marbury made the most of his second chance. He returned to West Virginia and received his bachelor's degree in 1990. A year later he earned his master's degree.
Today Marbury is a full-time professor at Fairmont State College, where he is teaching a class in race, gender and sexuality. He has decided to make an example of his life in order to help others avoid making the same mistakes.
"I give them the benefit of studying my life, both the good and the bad to help them make better choices in their life," he said. "This has been self-satisfying for me. I don't leave anything out."
An important part of Marbury's life has been his athletic career. Despite playing just 20 games at WVU, he managed to score 22 touchdowns and rush for 1,665 yards. His 5.6 yards per carry average still ranks among the best in school history.
For many years Marbury harbored ill feelings toward West Virginia University, Bowden, and his assistant coaches. He couldn't bring himself to watch West Virginia games on television and had virtually no contact with anyone from the football program.
His position toward his alma mater has since mellowed.
"I was more excited this year than I have ever been because Rich (Rodriguez) is the coach," Marbury said. "I was so happy because I think Rich made it the good, old-fashioned way. He was not given something. He worked very hard to get to where he's at. I admire that in anybody."
Next March Marbury turns 50. His daughter Trevia has a son Cameron, which provides this grandpa with a great deal of joy. Time has healed some of his wounds -- many of which were self-inflicted.
Marbury also has some unfinished business with Bowden. At some point he would like to see if they could repair their relationship.
"I would like for us to come to terms," he said. "It's sad because I think in the back of my mind I hated him for not talking to me and trying to steer me in the right direction."
Thirty years ago Kerry Marbury was probably ahead of his time. The passing game wasn't quite as sophisticated then and running backs only ran the football, catching very few passes.
For those of you who watched Marbury play at WVU, can you imagine him today catching a screen pass out of the backfield, taking a shovel pass from the wing, or going one-on-one with a linebacker down the middle of the field?
He would be, well, just like Warrick Dunn.
Pro!, The Official Magazine of the National Football League,
Seahawks Edition, Aug. 14, 1976
Two players waived by the Seahawks have been picked up by other clubs. Running back Kerry Marbury was claimed by Cleveland and tight end Greg Den Boer signed with the NY Jets.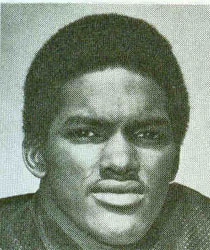 Pro Football 1976
by Larry Felser and Dave Klein
Had the Seahawks done as well offensively, Atlanta and New Orleans might have filed suit for damages. But they won't have to, since the offense will be Patera's major source of headaches.
The quarterbacks are abysmal—Gary Keithely, Neil Graff and rookies Steve Myer of New Mexico, a fourth- round draft choice, and free agent Jim Zorn, either of whom could wind up with the job.
There are no running backs, unless you count Bill Olds, Gary Hayman and Kerry Marbury. The draftees are better, especially fullback Larry Bates of Miami, Fla.
The Seahawks can't go into the season with this collection. The only experienced hand is Olds, and his forte is blocking, not ground gaining. Hayman has size and speed, but rarely played for the Bills. Marbury played a couple of years in Canada. Bolton has to make the transition from a small school. Bates could be a find.

The Pocket Book of Pro Football 1976
Edited by Herbert M. Furlow
Former Colt Bill Olds is a great blocker. But Joe Thomas doesn't make many mistakes at Baltimore, and he undoubtedly was turned off by Olds's meager production of 281 yards plus 30 pass catches for only 194 yards. Not fast, he's still tough, and if Seattle can get a big runner, Olds will be a help. He should start. Gary Hayman was a wide receiver in college, but was switched to kickoff and punt returns by Lou Saban at Buffalo and was used sparingly behind 0. J. He's questionable. Kerry Marbury has had two years in the league plus a sensational junior year at West Virginia. He was leading the nation in college rushing when he got hurt. A possible starter but at five-ten and 180 pounds is really too small and too light.
Collecting Ken Marbury?
1976 Post-Intelligencer mini poster, #37