Sam McCullum was there!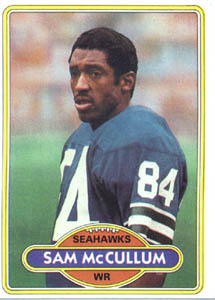 Sam McCullum's Seahawk story is not a Cinderella story; it's not a story we are proud of. But if you want to know whether or not Sam McCullum was a success, read the words of his son, Justin McCullum.
Then you'll know.
Getting to Know: Justin McCullum
Nickname: Juice
The reason I chose Stanford University is: My Brother along with the academic opportunities.
The athlete I admire most is: Sam McCullum, my dad
The person I admire most is: Jamien McCullum, my brother
The person who had the greatest influence on my life: My Mother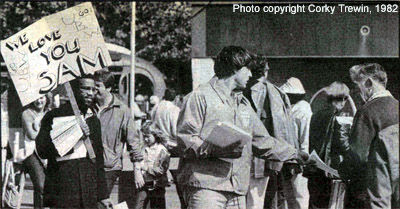 Pro Football 1976
by Larry Felser and Dave Klein
Wide receivers aren't bad. The starters figure to be Alamad Rashad and Sam McCullum, but two rookie picks, Sherman Smith and Steve Raible, and veteran Don Clune will fight for steady work. John McMakin and Ron Howard will battle young Charles Waddell for the tight end spot.
Rashad, obtained via the option-playout route, is a tried and true star. McCullum is experienced and could be a top receiver. McMakin, also experienced, is a strong blocker. Clune was a mystery with the Giants. Scouts and teammates say he should have played more; the coach didn't agree. Picard never realized his potential and will get his chance. Howard, another of Dallas' basketball players, showed promise. High draft picks Smith and Raible have enormous potential; one of them might even start. Waddell may be a find, too. The Chargers gamble leaving him unprotected.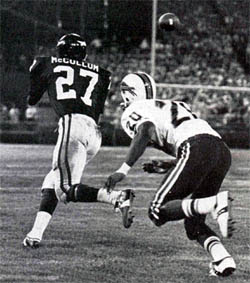 Oct. 17, 1976 – Seattle 13, TAMPA BAY 10
Jim Zorn's 15-yard TD pass to Sam McCullum and a pair of field goals by John Leypoldt in the first half were enough to earn Seattle its first ever win. Seahawks' linebacker Mike Curtis blocked a field goal with 42 seconds left after the Bucs pulled to within three points of Seattle.
Street and Smith's Pro Football 1977
When he wasn't throwing to Largent, Zorn looked for tight end Ron Howard, the ex-Seattle U. basketball player, most often. The ex-Cowboy caught 37 passes in his first role as a starting tight end. The other wide receiver, Sam McCullum, caught 32 balls. He and Largent caught four touchdown passes. The experienced subs are tight end John McMakin and wide receiver Steve Raible.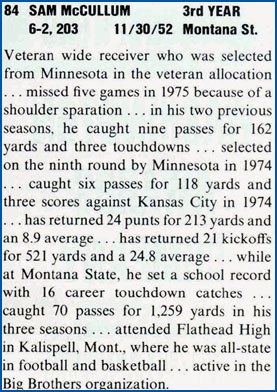 Vikings slip past Seahawks 27-21
Minneapolis Tribune
Nov. 15, 1976
By Allan Holbert
Just a few seconds after Minnesota had come from behind to establish the final score, Seattle moved to the Vikings 7-yard line on a 53-yard pass play as former Viking Sam McCullum ran 17 yards after catching a bomb from Jim Zorn.
Early in the fourth quarter, a Neil Clabo punt, partially blocked by Don Dufek, went three yards to give Seattle the ball on the Vikings' 27. Capitalizing quickly on the break, Zorn threw a short pass to McCullum, who went in standing up from 4 yards out.
Dec 16, 1979
The Seahawks close out their second straight 9-7 season with a 29-24 win over Oakland. Sam McCullum sets a club record with 173 yards receiving on eight catches.
Oct 5, 1980
Sam McCullum catches two touchdown passes and Efren Herrera kicks four field goals in 26-7 win over Houston at the Astrodome. The win would prove to be Seattle's last of the season.
1980 Season Summary
Team Captains:
WR Steve Largent (Offense), S Keith Simpson (Defense)
Team MVP:
WR Sam McCullum
Source:
Seahawks 10 Year Anniversary book
Seahawk management shot itself in the foot a second time by waiving Sam McCullum, the team's No. 2 receiver behind Largent. Voted Most Valuable Player by his teammates in 1980, McCullum was the Seahawks' player representative to the Players Association. Netiher Sam nor a large segment of the public swallowed the official explanation that the Hawks did not need McCullum because they had more promisng young receivers than the eight-year veteran acquired from Minnesota in the 1976 expansion draft.
Father, like son: The second generation sons of ex-Seahawks
Sons of former Seahawks playing high-school ball in the Seattle area:

FATHER

SON

Sam Adkins, QB

Ryan Adkins, Inglemoor, WR/DB

Tony Benjamin, FB

Evan Benjamin, Redmond, RB/DB

Dave Brown, CB

Sterling Brown, Woodinville, SE/CB

Nesby Glasgow, DB

Brandon Glasgow, Lake Washington, WR/DB

Ken Geddes, LB

Ryan Geddes, Lake Washington, RB/DB

Michael Jackson, LB

Justin Jackson, Kentridge, TE/DE

Kerry Justin, CB

Marcellus Justin, Lake Washington, WR/DB

Sam McCullum, WR

Justin McCullum, Mercer Island, FS/SB

Alonzo Mitz, DE

*Alonzo Mitz, Kentwood, OL/DL

Manu Tuiasosopo, DT

Zach Tuiasosopo, Woodinvlle, RB/DL

Jim Whitesel, trainer

Mike Whitesel, Lake Washington, OL/DL

John Yarno, C

Brian Yarno, Redmond, TE

* Transfer from Florida; eligibility pending.

.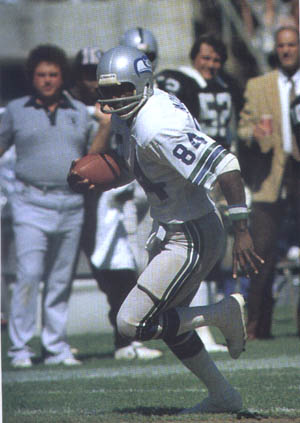 '82 Strike had high costs
By Bill Ferren, Inside the Seahawks
A handshake at midfield by Sam McCullum and his Seahawk teammates in 1982 symbolized the solidarity of NFL players and was one of the first visible acts leading to a 57-day strike by the National Football League Players Association. The strike was the first regular-season walkout in the history of professional football.
The handshake that helped bond the Seattle players, and aided in uniting all of the league's players was a "solidarity handshake," with players from opposing teams gathering at midfield before the start of a game and shaking hands in a demonstration supporting the player's union.
Management reacted strongly to the handshakes, labeling the action as "belligerent" and as "inappropriate" conduct for NFL players.
Seahawk management, following an August 13 handshake of players preceding a Seattle-St. Louis preseason match up, levied a fine of one-half the game salary of each player, the stiffest fine in the league.
Following a protest from the Players Association, the fines for the Seahawks, and all other players participating in "solidarity handshakes", were rescinded.
The main sticking point in 1982 was the wage-scale proposal offered by the Players Association and rejected by the Management Council.
The Players Association proposed that the NFL wage scale be tied to a central fund, from which money could be drawn and applied to player contracts on the basis of seniority. The Management Council, however, rejected the central fund concept and sought to continue the practice of individual wage negotiations with players.
Among the most memorable events of the 1982 strike was the firing of Seahawk player representative and wide receiver Sam McCullum by former coach Jack Patera and general manager John Thompson.
Patera and Thompson both insisted that McCullum's firing was a "football decision," based, they said, primarily upon the talents of then-rookie wide receiver Bryon Walker. The Players Association protested and filed an unfair labor practices action with the National Labor Relations Board, stating that McCullum was fired because of his "union activities," and that Seahawk management had attempted a "union busting."
The NLRB rules in favor of McCullum. The case is still under appeal from the NFL Management Council.
"There was never any doubt that my situation (getting cut) was based upon my activities as a player representative," said McCullum, who now works for the state in Olympia. "It was a political action.
"The only effective way of making certain that players' rights are maintained is going to have to be some sort of antitrust legislation from Congress," said McCullum.
"I don't think management's position has softened at all. When you're up against a monopoly, one of your strengths as players is to show unity. Striking is a good way of accomplishing that. Nobody wants a strike because it threatens the sport as a whole."
"I feel the possibility for a strike this season is very likely," he said. "The issues of severance and medical benefits are too important to let pass by."
Dave Brown, Seahawk cornerback, was elected to take over the player representative spot previously held by McCullum.
"It was very unfortunate," said Brown of McCullum's firing. "We were very shocked but we also knew that it was because of Sam's involvement with our union. It served to bring us together."
Bryon Walker, six-year Hawk wide receiver, says of the McCullum incident: "I feel like I was put in the middle of something that, of course, I had no control over, and that I didn't feel like I belonged in. Sam, he helped me a lot in camp, he showed me how to run routes. I don't feel that it was between Sam and myself; there were a lot of things that were going on. What ended up happening to him (McCullum) ultimately proved his case - that union activities were involved in his situation."
Walker believes that although McCullum may have been released for union activities, "I made the team on my own abilities, even with the other things that were involved."
As a result of McCullum's firing, members of the local Teamsters, service trades and other Seattle-area labor unions participated in "informational picketing" at the Kingdome to demonstrate support for the player union position.
The Teamsters passed out leaflets in the Kingdome parking lots, stating: "Support Sam McCullum and the Seahawk players. Seattle has been the test team for the NFL owner/promoters in their attempt to destroy the NFL Players Association."
After being released from the Hawks, McCullum was offered a spot with Bud Grant's Minnesota Vikings; an offer that he initially declined, opting instead to try the free agency route. McCullum eventually signed with the Vikings, however, and played in Minnesota with Ahman Rashad and Sammy White.
Seahawks Steve Largent and Jim Zorn both refused to participate in the strike, stating religious principles. Don Doornick also refused to participate citing "personal and professional reasons."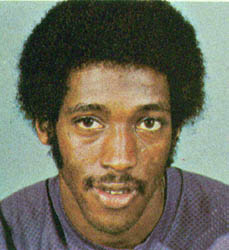 McCullum Says He Knew Union Role Marked Him Focus
By Bart Barnes
Washington Post Staff Writer
September 11, 1982
It was early Tuesday afternoon in the Seattle Seahawks' locker room, and wide receiver Sam McCullum had just climbed onto a table to have his ankles taped for practice when Rick Thompson, the son of Seahawks General Manager John Thompson, walked up to him. "Coach wants to see you and bring your playbook," McCullum recalled Thompson saying, and McCullum knew at that moment he was about to be cut from the team.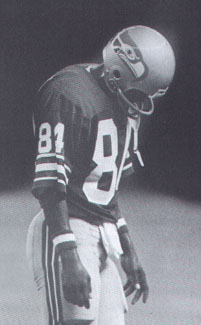 Rhome Pushed McCullum Cut
By Byron Rosen
the Washington Post
September 15, 1982
"I'm the one who started this whole thing," says Jerry Rhome. "I made the decision that Sam McCullum wasn't good enough to play on our football team." McCullum, the Seahawks' player representative and four-year starter cut last week, was on his way to Minnesota yesterday -- he signed with the Vikings, the only club to claim him off waivers -- when Rhome, coordinator of the Seattle offense and coach of receivers, spoke up.
Judge Tells Seahawks To Repay McCullum
From news services and staff reports
the Washington Post
November 26, 1983
A federal law judge has held that the NFL's Seattle Seahawks unlawfully cut wide receiver Sam McCullum in September 1982 because of his union activities. Bernard Ries, a National Labor Relations Board administrative law judge, ordered the team to reinstate McCullum at full back pay. Noting that McCullum subsequently signed with the Minnesota Vikings, the judge ordered Seattle to reimburse the player for any costs he incurred in moving to Minneapolis.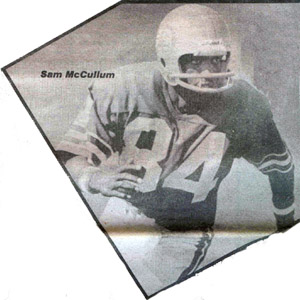 Stanford's McCullum looks to continue last week's magic
By Jay Maebori For The Sun
Source: The Sun
10/26/2000
Jamien McCullum was swamped in celebration, mobbed in the end zone by Stanford teammates after catching a 20-yard touchdown pass from his former roommate Chris Lewis on the game's final play. The catch lifted the Cardinal over USC, 32-30, and ended a three-game losing skid.
"It hurt," Mercer Island's McCullum told the San Francisco Chronicle afterward about being under the red-and-white pile. "I couldn't breathe under there."
Seconds earlier, McCullum's parents - former Seattle Seahawks receiver Sam McCullum and his wife, Kathy, - were holding their collective breath in the Stanford Stadium stands. When the ball came down in his son's hands, Sam McCullum joined his son in a black-and-blue jubilation.
"I stay calm and eat peanuts because I've been there," Sam McCullum said. "But Kathy, she drives me crazy sometimes. We need to put someone between us because she hits me and bruises my arm."
But for both Jamien and his dad, the Stanford junior's biggest football moment never hurt so good.
"My eyes just got big," Jamien said. "I've seen it a couple of times (on tape), but it still hasn't set in. I don't think it ever will. I've never had a thrill like that. Nothing even close."
Truth is, Jamien McCullum didn't have too many competitive memories to draw upon before earning a scholarship to Stanford. His dad didn't let him play football until he went to Mercer Island High.
Upon arriving in Palo Alto in 1997, McCullum redshirted, then was moved to free safety the following year. Though he started the first two games of 1998 and played in all 11 games, the former All-Kingco Conference standout wasn't passionate about defense.
It wasn't in his genes. Sam McCullum was a receiver for 10 years in the NFL out of Montana State University and spent 1976-81 with the Seahawks, starting 78 of the 91 games he played for Seattle.
McCullum's brother, Justin, already has committed to Stanford and the two hope to share time at receiver during Jamien's final college season.
"I'm a receiver at heart," Jamien said. "I knew I came here to Stanford to play receiver."
McCullum's good friend from high school, UW's Ben Mahdavi, knows just how the Stanford receiver feels. He walked on at Washington and was moved to fullback before earning both a starting spot at inside linebacker and a scholarship this season.
"I told the coaching staff I'm a linebacker," Mahdavi said in the offseason. "When spring started, I was on the bottom of the depth chart. I wasn't satisfied with that. You can't be satisfied with that."
Now, the pair of Mercer Island graduates are starting for their respective new schools and will square off against each other. No. 9 Washington travels to Stanford for a 2 p.m. kickoff Saturday (no TV).
McCullum also grew up knowing UW quarterback Marques Tuiasosopo, whose father, Manu played for the Seahawks from 1979-83.
But Mahdavi still is close to McCullum. They speak weekly over the phone, and compared notes after both Stanford and Washington escaped with dramatic fourth-quarter victories last week.
The 6-foot-2, 235-pound Mahdavi jokingly has said he wants to lay a lick on the 6-foot, 190-pound McCullum since neither got to face each other much in high school.
"He said he would take off my head, but he would help me back up," McCullum said. "If I can blindside him on a crackback, I'm going to do the same."
Before moving up as a starter, McCullum had to get over the disappointment of waiting his turn. Several receivers were ahead of McCullum, who was eager to show what he could do.
"I would second guess myself and confidence was a problem," he said. "That makes it all that much sweeter. I never gave up and I never lost hope."
Neither did Sam McCullum, who had been through all the same emotions with which his son was wrestling.
"We talk all the time about those things, to keep things in perspective," Sam said. I said to Jamien, 'You have two things going for you: You know what you're doing, and you know what you're capable of. What is luck? It's when preparation meets opportunity.'"
The two joined forces in 2000 for Jamien, who has started the past three games and has 14 catches for 250 yards and three touchdowns so far.
None was bigger than his grab Saturday - a catch Sam McCullum said reminded him of Zorn-to-Largent.
Jamien hopes his last-second heroics recalls the kind of play that helped win Stanford the Pac-10 title last year.
"I don't know. I guess I'll find out this week after we play Washington," he said. "I'd like to think it will be a turning point."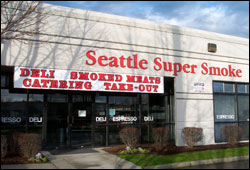 Meat Mojo
If you're a carnivore, you're at home sweet home.
Source: Seattle Weekly.com
February 11 - 17, 2004
by Zana Bugaighis
FORMER SEATTLE SEAHAWKS player Sam McCullum may have had Super Bowl Sunday in mind when he took over the previously established Seattle Super Smoke two years ago. Serving good barbecue-tangy and not too sweet-is no small accomplishment. Yet barbecue's not all this eatery and smokehouse has to offer. The focal point is a deli with old-fashioned butcher-style counter service. Black chalkboards hanging overhead dictate the menu and daily specials. Nearly all the meat at SSS is smoked onsite.
Seattle Super Smoke
2454 Occidental Ave. S.,
206-625-1339
SODO
7 a.m.-5 p.m. Mon.-Fri.
PRO CHARTS
By Murray Olderman
The Albuquerque Tribune
Saturday, September 17, 1977
Seattle Seahawks Prospectus
In second year of existence, Seahawks opted for draft choices instead of chance at Tony Dorsett, who probably wouldn't have signed with them. Coach Jack Patera actually did good guiding expansion team to two victories in '76. Whole concentration is building on youth.
Had some pleasant surprises on offense. Now they need more bodies to weld the defense.
OFFENSE
Quarterback: On porous team, a QB needs to run for life. Southpaw Jim Zorn can do that, and then some. He had valuable year of experience. Nice to have Steve Myer behind him. Rating—B.
Receiving: Steve Largent proved to be brilliant pickup (from Houston). He's precise pattern receiver. Sam McCullum is other wide threat. Ex-Cowboy Ron Howard blossomed as tight end with 37 catches. Larry Seivers is rookie. Rating —B.
Collecting Sam McCullum?
1980 Topps #147