Peter Miskov was there!
HUSKIE All-Pro Huskie in DeKalb --- Northern Illinois Athletics Hall of Famer Tim Tyrrell, the QB of the fabled 10-2 TWO- California Bowl unit in 1983 and a former National Football League special teams All-Pro pick, will be on MINUTE campus for the spring game. Speaking of the NFL --- Get those VCRs warmed up for the 2004 NFL Draft DRILL and "Turner the Burner" sightings April 24-25. Ex-NIU PK Steve Azar was called "a sleeper" for the upcom- (Notes): ing draft by the Chicago Tribune's Don Pierson and Terry Bannon. Speaking of Kickers --- If current Huskie soph walk-on PK Aleks Miskov (Hales Corners, WI / Greenfield Whitnall) sounds familiar, he should. His dad, Pete Miskov, led Northern Illinois in kick-scoring (47 points) for coach Jerry Ippoliti in 1975.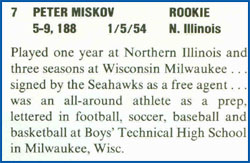 We are looking for more information on Peter Miskov. If you have any information, please drop us a line!
From: Tommymo19
Sent: Friday, February 16, 2007 3:33 PM
Subject: Peter Miskov
Hi there. I work with the wife of Peter Miskov. I don't know much about Peter other than these few bits of information. They live in Hales Corners, Wisconsin. And have three children. The oldest son I believe attended the same college as Peter, and was also a kicker there for a short time. Not sure if Peter's son started or was on the active roster during his time at college.