Steve Myer was there!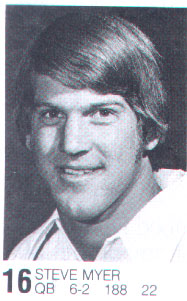 Street and Smith's Pro Football 1977
Ex-Detroit starter Bill Munson is the backup for Zorn, but he's no one to be running a rollout offense at his age, 36. Maybe he can be used in a trade before the deadline. The third quarterback is Steve Myer. The draft brings Sam Adkins of Wichita State.
Smith 'A Pleasure to Watch' All five quarterbacks had their chance to run the offense during the 51-play scrimmage. Unfortunately, Chris Rowland, the ex-Husky, did not have, for him, a good showing.

He was at the controls for 14 plays, completed two of eight passes for 24 yards, had one intercepted and was "sacked" (although no one was allowed to tackle the QB in the live session) twice.

Then came the other rookie, Steve Myer of New Mexico, who took the second unit on an 11-play, 60-yard drive into the end zone. Myer completed five of nine throws for 51 yards, and ex-Washington Slater Vaughn Williams ran the final seven for the score.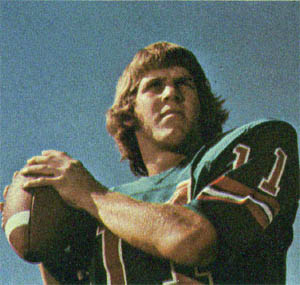 Veteran Neil Graff was four-for-six and 48 yards with one interception. He engineered a 50-yard TD march, capped by Alan Dixon's one-yard plunge.

The other veteran, Gary Keithley, also moved his club 50 yards for a score and the final play was a four-yard pitch to Smith, who neatly caught the ball off a defensive lineman deflect. Keithley was a hot six-for-eight and 93 yards.

Lefthander Jim Zorn finished it off, but failed to put any points on the board, which didn't bother Patera who said, "He did better than anybody in quickness. When the blocking breaks down, it looks as if Zorn can move."

Patera's other QB analyses: "Today was the first practice in which there was any difference between Myer and Rowland. Of course Rowland went first and faces much fresher defensive people. Myer and Keithley appeared to have things more under control than anybody."
Street and Smith's Pro Football 1978
The Seahawks have a bright backup for Zorn. When Jim was hurt last October, Steve Myer stepped in and threw four touchdown passes as Seattle defeated Tampa Bay, 30-23, in the Expansion Bowl. Myer completed a club record 8 straight that day. Myer, who didn't get into a game as a rookie the year before, had a completion record 12 points higher than Zorn's 53.8-41.4.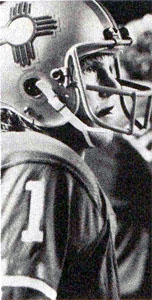 Seahawks History, November 20, 1977
Inside the Seahawks
Vol 1 No. 12
October 24, 1986-October 30, 1986
By Bob Pruitt
In the fourth quarter, Pastorini continued to dominate the passing game and led a 76-yard drive that ended in a 1-yard TD run by Ron Coleman. Half-way through the quarter, Seattle finally hit pay dirt on a two-yard dive by Sherman Smith. Smith's TD was set up by a 25-yard Steve Myer pass to Don Testerman. It was 20-10 Oilers, with only minutes remaining.

Defensively, the Oilers really put a head-lock on the usually high-powered Seahawk passing attack. In the first half, quarterback Jim Zorn was riddled by the Houston defense, completing only 2 passes in l5 attempts for 19 yards. Coach Jack Patera decided to go with 2nd string quarterback Steve Myer in the third quarter, but he did little more than Zorn, going 3 for 8 and 36 yards. Each Seahawk quarterback was sacked twice and each threw an interception. One of the sacks accounted for Houston's final points, as defensive lineman Ken Kennard dropped Myer in the end-zone for a safety. Bum had said that the game was a must win for the Oilers and the whole team played like they believed him. Oilers 22, Seahawks 10.
Pro!, the Official Magazine of the NFL
December 3, 1978
1977
The Seahawks finished with a 5-9 record, best ever by a second-year NFL team. They lost their first four games but then went 5-5, starting with a 30-23 win over Tampa Bay in the "Expansion Bowl II." The explosive passing attack, engineered by Zorn and Steve Myer, led the league in touchdown passes with 23 and the offensive output in a 56-17 romp over Buffalo was the most points scored in a game during the season. The other wins came over the Jets, Kansas City, and Cleveland, the latter two coming at season's end. Smith led the team in rushing with 763 yards.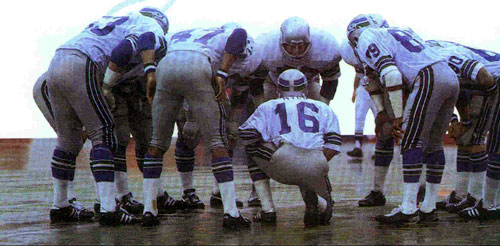 Seahawks 10 Year Anniversary book
1980...But that was the training camp when Jim Zorn chipped a kneecap. Steve Myer, his backup, suffered a career-ending back injury.

In the annual public scrimmage, Myer was hit by Robert Hardy, knocked into Bill Gregory and was removed by ambulance to a Spokane hospital.

Myer never played again, but his injury served to introduce to the public the name of a free agent rookie from obscure Milton College in Wisconsin, Dave Krieg. Replaying Myer in the scrimmage, Krieg conducted a 65-yard scoring drive in six plays.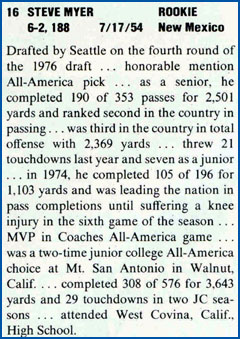 Seahawks' Myer ready to play
The Spokesman-Review
3 November 1976
Rookie Steve Myer is not, he confesses, a scrambling quarterback.

The Seattle Seahawks fourth round draft pick from New Mexico says that's probably one reason he has yet to throw a pass in the first half of his first season in the National Football League.

Left-handed first-year quarterback Jim Zorn, who not only can scramble but can run as well, is another.

And Seattle coach Jack Patera apparently has settled on veteran Bill Munson as his No. 2 signal caller.

"I don't consider myself a runner. I never have been and, who knows, I probably never will be," said the 6-foot-2, soft-spoken Myer.

"Jim's got a lot of ability," Myer said of Zorn, who has guided the expansion Seahawks throughout their first season.

Need that style

"He sets up in the pocket pretty well. He's a good thrower, but he's also a good runner. That makes him that much better."

The 22 year old Myer, a dropback passer who completed over 53 percent of his passes for nearly 7,300 yards and 57 touchdowns in his collegiate career at Mt. San Antonio (Calif) College and later at New Mexico, says his primary asset "is throwing the ball, setting up in the pocket.

"I think Jim's biggest asset is that he can scramble. Right now with our ball club, I think we need a quarterback like that. We're an expansion team and we've been through a lot of mistakes and letdowns.

"You need to have somebody who can make the big play."

Says Myer, whose only action has been a fourth-quarter appearance in Seattle's 52-7 loss to Denver in the preseason: "It really is frustrating. I'd sure like to be playing a lot more."

"You go out to practice every day, not doing much even in practice. But you have to look at it kind of philosophically.

"You say, ' Well, I'm a rookie and I've got a lot to learn.' I feel I'm getting ready to play. You can't have any lapses. You have to know what you're doing, too, knowing your offense and knowing how to read coverages. Once you get that down, a lot just comes from experience. You have to be doing it all the time."

Myer, the most valuable player in the 1976 Coaches' All America game at Lubbock, Tex., last summer, says both he and Zorn are taking lessons from Munson, the wily 13-year pro obtained from Detroit early in the regular season.

Actually, Myer says, he feels fortunate to still be wearing a Seattle uniform.

"When we got Munson and had four quarterbacks again, I was worried," recalled Myer, one of the nine quarterbacks who reported to training camp last July.

"I was thinking, 'Oh, gee, what are they thinking. They want a veteran to come in; they don't like the rookies." But third year quarterback Neil Graff was cut, and Myer stayed.

"I'm glad I made it. That's the important thing."

"I think if something happens to Zorn or Munson, I'll be ready. Hopefully, nobody gets hurt. I feel I've worked hard enough to deserve a spot on the team, and I'm glad the coaches feel that way too."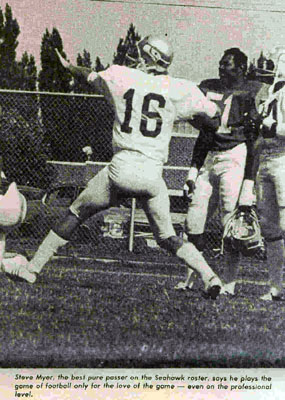 The Pride of Z-eattle
By Jim Natal
Suddenly Zorn exhales sharply and bends to the 175-pound barbell at his feet. Grunting with each repetition, he completes his workout. Training camp is still nearly a month away but this year he knows he will be hard-pressed for his job. Besides backups Steve Myer and Sam Adkins, there will be three first-year quarterbacks to contend with. No one ever said it was going to be easy. And it certainly hasn't been.

By the end of the 1977 season, Zorn had led the wide-open Seattle offense to a second-year expansion team scoring record of 282 points. He also combined with teammates Myer and David Sims to throw an NFL team-high 23 touchdown passes (16 were Zorn's). Unfortunately, the team also led the NFL in most points allowed (272) and most touchdowns given up (43) - hence the 5-9 overall record in spite of the crackling offense.
Pro Football 1976
by Larry Felser and Dave Klein
Had the Seahawks done as well offensively, Atlanta and New Orleans might have filed suit for damages. But they won't have to, since the offense will be Patera's major source of headaches.

The quarterbacks are abysmal—Gary Keithely, Neil Graff and rookies Steve Myer of New Mexico, a fourth- round draft choice, and free agent Jim Zorn, either of whom could wind up with the job.

Keithley, who didn't play a down with the Cards last year, has some potential. Graff played more, but seems shaky. Myer is a fairly well regarded collegian. Southpaw Zorn, a free agent, was the Cowboys' last cut in 1975.
Record-setting quarterback won't miss Cole Classic
By Gary Herron
Observer sports editor Source: Observer online
You can't say former Pittsburgh Steelers linebacker Robin Cole doesn't know how to throw a party.

The 52-year-old former University of New Mexico standout, drafted by the Steelers in the first round of the 1975 draft, is holing his third annual Celebrity Classic this weekend at Chamisa Hills Country Club.

Cole's formula for success? Invite a slew of former Lobos and Steelers teammates, add a dash of other celebs, make sure the accommodations and golf course are plush, and be sure that everyone has a good time.

So far, they have. And the New Mexico Boys and Girls Ranches, along with the Sportz Camp program of the Rio Rancho's parks and recreation department, have been the beneficiaries.

Among Cole's former UNM teammates coming in is Steve Myer

You would have a hard time keeping the former Lobos quarterback away from the tourney. He's played the first two years and loves coming back to the Albuquerque area.

A three-sport star at West Covina (Calif.) High School, Myer went on to become an All-American and the all-time leading passer at Mt. San Antonio College in 1972-73, throwing for 3,643 yards and 29 touchdowns.

With UNM changing from a Wishbone attack to a pro set offense, Myer saw a great opportunity to continue his throwing.

Although he suffered a knee injury in the Lobos' sixth game of 1974, then-offensive coordinator Bill Conty described him, "without a doubt, (as) one of the two or three finest pro-style quarterbacks in the country."

After the Lobos had gone 4-6-1 in his sophomore season - the Lobos were 2-3 after Myer went out - he led them and second-year head coach Bill Mondt to their first winning season since 1971, going 6-5, which included a memorable 44-34 victory at then-No. 22 Arizona.

As a senior, Myer was 190 of 353 passing for 2,501 yards and a school-record 21 TDs. When he departed, he owned 13 school records outright and was tied for another, leaving UNM as the third-leading passer in NCAA history. (Going into the 2005 season, Myer's still in the UNM record book as the fifth-leading passer for completions in a season (190) and fourth in TD passes for a season (21), while fifth in career completions (295) and completion percentage (54.7%). He remains seventh on the all-time career yardage list (3,604), behind QBs who played three or four seasons with the Lobos.

Preston Dennard was the Lobos' top receiver from 1974-78, hauling in 59 passes and scoring six times as a sophomore, Myer's second and final season as a Lobo signal-caller.

Like Myer, Dennard advanced to the NFL. The tandem credited each other for helping pave the way for future earnings.

"Steve just had a knack for feeling the defense," Dennard recalled. "I could come out of a break and turn my head and the ball would be there. (Former Rams teammate Vince) Ferragamo had the same thing but Steve was more consistent. I always played the weak side, so if the weak side was to his backside, it wasn't a problem for him to drop back and look for me.

"He just had the ability to find me; he would put it in the right spot," Dennard said.

"That's very gracious; he's that kind of a man anyway, to deflect when the credit should go elsewhere."

Myer said Dennard almost immediately became his "go-to guy" as a freshman.

"I saw that my senior year, he had like 997 (962 officially) and I noticed that and told him, 'Preston, why didn't you tell me you had 997 yards - in the last game against New Mexico State we could have got it for you. That was kind of a milestone."

As it was, the Lobos buried the Aggies 52-28 in Las Cruces, Myer's last game as a Lobo. He completed 24 of his 37 passes, covering 263 yards, and three TDs (none to Dennard).

Myer enjoyed his days at UNM and said he knew Cole, like Dennard a teammate for two years, would play on Sundays, too.

"I always knew Robin was going to be a player of some significance," Myer said. "Going against the defense in scrimmages, you run plays accordingly. Even in practice, I always focused on where he was in the field. Lawrence Taylor was like that."

It'll be fun for Myer to spend some time with Dennard, Cole and a few other teammates, like Bruce Herron, Andy Frederick and Randy Rich, this week at CHCC.

When he was in Albuquerque in June to play in Dennard's annual golf tournament, Myer said he found some time to visit UNM's south campus and University Stadium.

"I went back to the facility and saw how nice the facilities are now," Myer said. "When we played, it was nothing like that. I saw the new weight room facility: It's elaborate, a beautiful set-up, state of the art ... It would have been nice to have those types of facilities when we were there. (The Lobos') success really helps."

Myer was drafted in the fourth round of the 1976 draft by the new Seattle Seahawks, an NFL expansion team. He played two seasons in Seattle,

As the backup to Jim Zorn, he completed 70 of 139 passes for 729 yards and six TDs in 1977. He played sparingly the next two seasons, seeing limited time as Zorn stayed healthy both years.

Life as an NFL backup wasn't easy, Myer said, although he enjoyed throwing the ball, when on the field, to Hall of Fame receiver Steve Largent and "being a part of his records.

"I spent most of my time as a backup," he said. "(But) I wasn't the one that held the clipboard because that went to the third-team quarterback. I was the one standing next to the coach. I'd say being the back-up quarterback, for me, was a lot tougher - a lot tougher. There were games you didn't play and you prepared harder than the starter, and that, my friend, was frustrating. And it'll wear on you, game after game after game. But you have to stay at it each week.

"If you don't prepare, guess what'll happen? That'll be the week the starter will go down," he said. "I took pride in being ready every week."

Like many who live in the Valley of the Sun, Myer finds it hard to watch the lowly Cardinals.

"I basically just watch the teams, follow them, track them on television," he said. "I've been to one Cardinals game in two years and that's when they played the Seahawks. I can't get into the Cardinals too much."

Myer had some advice for high school players in the area.

"Have a good work ethic and be coachable," he advised. "Take what the coaches give to you and work on it. Take your strengths and really develop them. It really is all about hard work and dedication."

Myer, who recently moved his family from Seattle to Phoenix - "We pretty much just left Seattle for the lifestyle; I love the sun, I'm a California guy. To me, it's kind of like coming home," he says - is a financial planner who works primarily with teachers.

Not surprisingly, that work ethic from his gridiron days has morphed into the working world.

"I do the one-on-one thing," he explained. "I take it the extra mile; I go into the schools, do the analysis with them. It's a hands-on, look-see thing. Once you see something, you develop the picture. That's like football too, when you look at film, see yourself, the things that are working, things that will work better, defense, get a visual picture.

"That's how I work my business; show and tell," he said.
Norm Evans' Seahawk Report
Vol. 4, No. 11
Sept. 13-19, 1982
Five former Seahawks last week filed a lawsuit against Seahawk owners, accusing the club of unfair insurance practices, breachs of contractual obligations and unfair medical practices. Former quarter- back Steve Myer, original No. 1 pick Steve Niehaus, three-year starting tight end Ron Howard, lineman Richard Harris and waived Ruben Hodges claim, among other things, that the Seahawks required them "to accept medication and injections by intimidation, duress, misrepresentation and fraud." General Manager John Thompson, questioned the day of the filing, said there'd be no official comment until the suit had been examined.
A Seahawk Blueprint: from expansion to contention
Norm Evans' Seahawk Report
Oct. 29 – Nov. 4, 1979
By Gary Huff
The bulk of the Seahawks first team in 1976 came, of course, from the veteran allocations draft. Many of those drafted merely filled positions until the college draft could provide quality replacements. Only four of those expansion draftees, Nick Bebout, Art Kuehn, Sam McCullum and Dave Brown remain today.

The Hawks' first-year college draft, while tainted with a few drafting errors, added five quality players. The selection of Steve Niehaus, the team's initial first-rounder, must now be regarded as one of the team's larger draft mistakes. In the third and fourth rounds, where a team should come up with some fine down-the-road players, the Hawks bombed. Jeff Lloyd (DL) and Randy Johnson (OG) didn't survive training camp. Rick Engles (P), Don Bitterlich (K) and Andrew Bolton (RB) didn't last much longer. All of these players have had shots with other teams, but their careers are essentially over.

Despite these shortcomings, the `76 draft did produce some important members of the `79 team: Sammy Green, Sherman Smith, Steve Raible (all in the second round), Steve Myer (4th) and Don Dufek (5th).
1981 SEAHAWK HIGHLIGHTS AND LOWLIGHTS
Norm Evans' Seahawk Report
Vol. 4, No. 1
Feb. 8-April 18, 1982
Training camp.
Tackle Andre Hines quit, having lost his fervor for the game, an embarrassment to the Hawks considering the ex-Stanford star was a second-round draft choice and never was a factor. Quarterback Steve Myer retired because of problems with a back injury that kept him out all of the 1980 season.
PRO CHARTS
By Murray Olderman
The Albuquerque Tribune
Saturday, September 17, 1977
Seattle Seahawks Prospectus
In second year of existence, Seahawks opted for draft choices instead of chance at Tony Dorsett, who probably wouldn't have signed with them. Coach Jack Patera actually did good guiding expansion team to two victories in '76. Whole concentration is building on youth.

Had some pleasant surprises on offense. Now they need more bodies to weld the defense.

OFFENSE

Quarterback: On porous team, a QB needs to run for life. Southpaw Jim Zorn can do that, and then some. He had valuable year of experience. Nice to have Steve Myer behind him. Rating—B.
Zorn ready for backup duty
Daily News Miner
Fairbanks, Alaska
Friday, October 21, 1977
SEATTLE (AP)—Seattle Seahawks quarterback Jim Zorn says three games on the sidelines have helped him become more of a team player. The southpaw quarterback said he has learned a lot from the forced inactivity that came with a knee injury this season.

"I was watching another quarterback do an outstanding job," said Zorn. "I think I've become more of a team player. You know, not thinking I have to do it all myself. Steve Myer taught me something about being ready.

Zorn says he is ready to back up Myer at quarterback Sunday against the Dolphins in Miami.

"I really feel good for the first day of practice," Zorn said Wednesday. "At first I didn't really know how to handle it (the injury). I couldn't practice and I didn't really feel a part of the team. I felt kind of out of it. But I kind of got myself together spiritually and emotionally."
Collecting Steve Myer?
1976 Post-Intelligencer mini posters, #31
1977 Seahawks team cards