Steve Niehaus was there!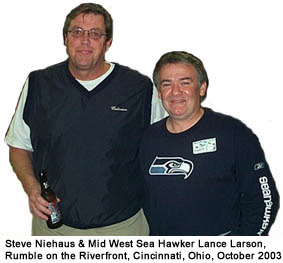 Mar 30, 1976
Veteran Allocation held in New York City. Seahawks select 39 NFL veterans. 4/8-9 Seahawks select 25 collegians in their first college draft. Notre Dame's Steve Niehaus is the first choice and he flies to Seattle for evening news conference on April 8.
1976 Season Summary
Team Captains:
T Norm Evans (Offense), LB Mike Curtis (Defense), LB Ed Bradley (Special Teams)
Team MVP:
QB Jim Zorn
National Honors:
QB Jim Zorn, NFC Offensive Rookie of the Year; DT Steve Niehaus, NFC Defensive Rookie of the Year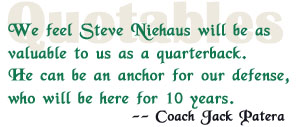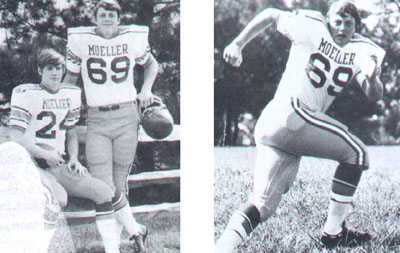 Seahawks
by Doug Thiel
Sunrise Publishing Inc.
When you are an expansion team with second pick at all those fine, young, future All-Pro football players to choose from, there are some teams who are willing to trade away some of their experienced ball players order to get a chance at an expensive greenhorn.
Seattle was on the phone talking during their fifteen minute time period, almost too much of it. With two seconds left to go before the trap door opened, the Seahawks selected Steve Niehaus.
Maybe you'd heard or read about Steve Niehaus. If you hadn't, you just weren't keeping up with all the college football news. If you saw him on the street, you'd notice him—six feet five inches high with 270 pounds on a very large frame.
Pro scouts from coast to coast knew about him. He played ball at Notre Dame where he started as a freshman. That's unusual in colleges particularly at this country's most famous football school. If you're impressed by credentials, Steve's will hold you in awe:
He was a Unanimous All-American selection and finished second to Leroy Selmon in Outland Trophy voting for the nation's best lineman. People just couldn't wait to vote him an All-American regardless of whom they represented. Those who did were the 1975 Football Writers, AP, UPI, NEA, American Football Coaches, Walter Camp Foundation, Sporting News, and Football News. Football News even picked Steve as an All-American as a junior.
In 1974 Niehaus earned Notre Dame's Hering Award as the Comeback Player of the Year as a result of knee surgery which he underwent in both his freshman and sophomore seasons. Awards, by this time, weren't new to Steve, he had been a prep All-American for two years in high school.
Niehaus No. 1 Seahawks' draft choice
by Gil Lyons
Seattle Times
Thursday, April 8, 1976
Seattle Times
Steve Niehaus literally was a last-second selection by the Seattle Seahawks today in the first round of the National Football League Draft.
The 6-foot-5-inch, 270-pound defensive tackle from Notre Dame became Seattle's choice over California's Chuck Muncie with only two seconds remaining on the 15-minute limit permitted for each selection.
Jack Patera, head coach, explained that the Seahawks were on the telephone, discussing possible trades, right up to the deadline.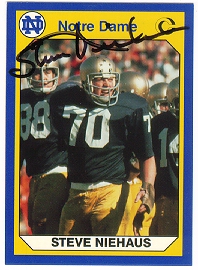 Seahawks were kings
Early teams were fun to watch, classy
Source: The News Tribune
September 1, 2000
By Dave Boling
Seven rookies started on that team ... fatal youth for any NFL squad. The one at quarterback, Jim Zorn, threw 27 interceptions and just 12 touchdowns (QB rating of 49.4). In every other city, he'd have been driven from town, but he was adored by these new fans. As was his beneficent sidekick, receiver Steve Largent.
The average salary for those Seahawks in 1976 was under $40,000, Nordstrom said.
And the fans got their money's worth.
Zorn went on to be the offensive rookie of the year for the NFC - the conference in which the team played that first season. And defensive lineman Steve Niehaus was the conference's defensive rookie of the year.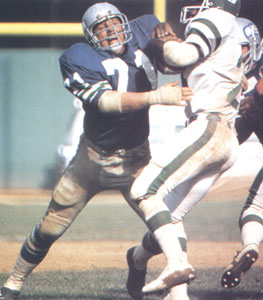 Street and Smith's Pro Football 1977
The third piece of good fortune was Seattle's decision to pass on the best back in the 1976 draft, California's Chuck Muncie, and take Notre Dame Tackle Steve Niehaus instead. Niehaus went on to win the NFC defensive Rookie-of-the-Year award picked by the players' association and was named to the all-rookie team.
Niehaus is the keystone to the Seahawks' defense of the future, but the Muncie-Niehaus deal can't be compared to the possible long-range ramifications of the Dorsett trade.
Seahawks 10 Year Anniversary book
Though John Thompson and Jack Patera did not coin the phrase "best available athlete" for the selection of draft choices, it became a topic of high humor in the Seahawks constituency. For eight drafts in the Hawks' first decade, the No. 1 picks were defensive linemen or backs. The first was in 1976 with Notre Dame's Steve Niehaus, a No. 1 whose promise fell short. After NFL players and the wire services afforded him All-Rookie selections, a shoulder injury quickly complicated his career. He was traded in 1979 to Minnesota for the veteran Carl Eller.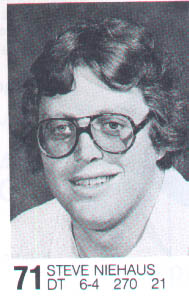 A domeful of memories
by George N. Meyers, Special to The Times
Friday, March 17, 2000
Seattle Times
As the first and final long-term tenants of the Dome's 24 years and the projected occupants of whatever rises from the rubble, the Seahawks inherit the valid rights to sentimentality.
Their names are legend - Jack Patera, the mercurial head coach; John Thompson, the hometown boy who grew up to be the general manager; Jim Zorn and Steve Largent, destined from birth evidently to share the same football; Steve Niehaus, Notre Dame's gift as the Hawks' first choice in the team's first draft, and Dave Williams.
Seahawks 1976 Draft
Source: Unknown
The Seahawks' first draft was a forgettable one. They selected 25 players, but were only able to land starters in linebacker Sammy Green and receiver Sherman Smith. Even first-round choice Steve Niehaus failed to make much of an impact. After playing in just 36 games, he was traded in 1979 for an eighth-round pick.
Street and Smith's Pro Football 1978
Seattle has only one quality defensive linesman, Steve Niehaus, and they have trouble keeping him healthy. He missed six games last year.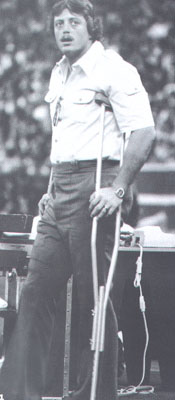 Curtis was pleasantly surprised
By Dave Brady, Washington Post
January 9, 1977
Curtis was pleasantly surprised to find out that despite Seattle's reputation for having an excess of rain the Seahawks did not have to practice inside the Kingdome once this season became of the weather.
Curtis did show he was flustered, with red face exposing his scuffed pride, when defensive lineman Steve Niehaus was voted the club's most valuable player.
Thursday, October 3, 2002
Rocky Bernard Named NFL Defensive Rookie of the Month
COLLEGE STATION, Texas- Wide receiver Deion Branch of the New England Patriots and defensive tackle Rocky Bernard of the Seattle Seahawks are the NFL Offensive and Defensive Rookies of the Month for September, the NFL announced today.
Bernard, a fifth-round draft choice from Texas A&M, is tied for the NFL lead and ranks first in the NFC among rookies with four sacks. He helped the Seahawks to a 48-23 win over the Minnesota Vikings on Sunday night with two sacks of Vikings quarterback Daunte Culpepper and has added 18 tackles this season.
Bernard has had sacks in three consecutive games and is on pace to break the Seahawks rookie sack record, held by defensive end Steve Niehaus who had 9.5 sacks in 1976. Bernard's total is already the most for a Seattle rookie since Sam Adams finished the 1994 season with four.
Pro Football 1976
by Larry Felser and Dave Klein
Secondary? Patera has Dave Brown and Eddie McMillan on the corners, with Al Matthews, Rondy Colbert and Lyle Blackwood competing for the safety jobs. And rookie Don Dufek of Michigan will hit hard enough to make the club. He's a former Wolverine linebacker now projected as a strong safety.
There were even some plums for the front four. Like Carl Barisich, who can play end or tackle. Like Wayne Baker at tackle, all 6-6 and 269 pounds of him. And Patera spent his first-round draft choice for monstrous Steve Niehaus of Notre Dame, an instant starter. "He reminds me of Merlin Olsen," said Patera, "but he's stronger."
Owens, a bit short, is strong and has some speed. Barisich is the find among the drafted vets; he can play. Niehaus is Coach Patera's mine, a huge tackle with quickness and inordinate strength. Baker, somewhat slow, has marvelous size. Lloyd has the size and quickness to win a job as soon as he adapts to the pros. Dixon, a lower draftee is green but talented.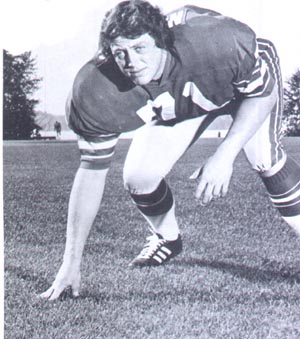 Norm Evans' Seahawk Report
Vol. 4, No. 11
Sept. 13-19, 1982
Five former Seahawks last week filed a lawsuit against Seahawk owners, accusing the club of unfair insurance practices, breachs of contractual obligations and unfair medical practices. Former quarter- back Steve Myer, original No. 1 pick Steve Niehaus, three-year starting tight end Ron Howard, lineman Richard Harris and waived Ruben Hodges claim, among other things, that the Seahawks required them "to accept medication and injections by intimidation, duress, misrepresentation and fraud." General Manager John Thompson, questioned the day of the filing, said there'd be no official comment until the suit had been examined.
A Seahawk Blueprint: from expansion to contention
Source: Norm Evans' Seahawk Report
Oct. 29 – Nov. 4, 1979
By Gary Huff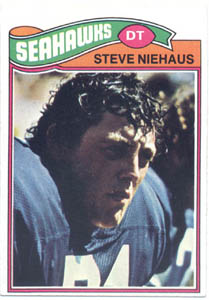 The bulk of the Seahawks first team in 1976 came, of course, from the veteran allocations draft. Many of those drafted merely filled positions until the college draft could provide quality replacements. Only four of those expansion draftees, Nick Bebout, Art Kuehn, Sam McCullum and Dave Brown remain today.
The Hawks' first-year college draft, while tainted with a few drafting errors, added five quality players. The selection of Steve Niehaus, the team's initial first-rounder, must now be regarded as one of the team's larger draft mistakes. In the third and fourth rounds, where a team should come up with some fine down-the-road players, the Hawks bombed. Jeff Lloyd (DL) and Randy Johnson (OG) didn't survive training camp. Rick Engles (P), Don Bitterlich (K) and Andrew Bolton (RB) didn't last much longer. All of these players have had shots with other teams, but their careers are essentially over.
Despite these shortcomings, the `76 draft did produce some important members of the `79 team: Sammy Green, Sherman Smith, Steve Raible (all in the second round), Steve Myer (4th) and Don Dufek (5th).
PRO CHARTS
By Murray Olderman
The Albuquerque Tribune
Saturday, September 17, 1977
Seattle Seahawks Prospectus
In second year of existence, Seahawks opted for draft choices instead of chance at Tony Dorsett, who probably wouldn't have signed with them. Coach Jack Patera actually did good guiding expansion team to two victories in '76. Whole concentration is building on youth.
Had some pleasant surprises on offense. Now they need more bodies to weld the defense.
DEFENSE
Defensive Line: The future rests with Steve Niehaus as the hub of defensive effort. Club's top pick, his first year was learning experience. Other men up front, like Bob Lurtsema, just stopgap. So traded for Bill Sandifer. Rating—C
Linebackers: Best stocked department on club, which enabled them to trade Ed Bradley for Sandifer. Mike Curtis, former all-pro, still has enough speed to play outside. Sammy Green made considerable progress as rookie in '76. Rating –B
Secondary; Has a professional look with people like Eddie McMillan, Al Matthews and Dave Brown. Rollie Woolsey, picked from Dallas in expansion, also thrived on corner with chance to play, tied with Brown as interception leader. Rating—B
Layoff over for Seattle lineman
Daily News Miner
Fairbanks, Alaska
Friday, October 21, 1977
SEATTLE (AP)-After a three month layoff due to a shoulder operation, it looks like Steve Niehaus, Seattle's No. 1 draft choice a year ago, will play for the Seahawks Sunday. "We'll practice this week just as though he'll be ready to play," said Jack Patera, Seattle's head coach.
"Maybe we can spot him Sunday until he gets a little more confidence.
"I think his shoulder is strong enough. Now we'll see bow far along he is."
The Seahawks meet the Miami Dolphins in a National Football League game in Miami this weekend. After working at a regular assignment in practice Wednesday, Niehaus, a defensive tackle from Notre Dame, said, "This is the best it's felt."
The news is not so good on offensive lineman Steve August, the Seahawks' No. 1 draft pick this year from Tulsa. He still suffers from an ankle sprain from last summer.
August has yet to fully recover from an ankle sprain and complications resulting from a subsequent skin graft.
"His physical condition just is not very good," said Patera. "We'd just be wasting our time now. I'd like to have him practice, but I don't think he'd be ready two weeks from now."
The Seahawks will have two weeks in which to determine August's status once he begins fullscale workouts. The Seahawks' starting defensive tackle last season as a rookie, Niehaus will be used at left end along with Richard Harris.
The long layoff has been a trying experience for Niehaus, mostly because of the frustrations over his injury. It has been 11 weeks since his surgery.
"The first four or five weeks were not that bad," said Niehaus, who has trimmed down from last year's 270 pounds to 257. "After that it was tough loosening it (the shoulder) up. It was at its stiffest."
Niehaus admits to some apprehension about his return to action.
"But I would feel the same if I didn't have this," Niehaus said, referring to his shoulder. "I've taken some pops out there in practice, but it's not the same as a game. I've got most of the motion back in my shoulder, but it's not as strong. I guess maybe I'm a little itchy— nervous or something."
Collecting Steve Niehaus?
1977 Topps #132