Seattle Seahawks 31 - Kansas City Chiefs 19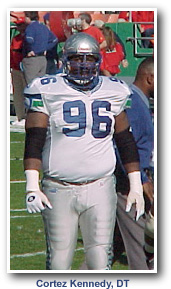 I WAS THERE!!! And it was soooooo much fun!!!
For those of you who never get to go to a Seahawks game live, oh how I wish you could! Being at a game is more fun than I can begin to describe! OK, OK...I admit that this one was particularly fun because we were able to break the Arrowhead curse but some of the most memorable moments of my life are the times when I was fortunate enough to see the Seahawks in person! I hope my stories will bring the excitement of Game Day to you even if you are unable to attend games yourself. With that in mind...
WOOOO HOOOO Seahawks!!! It was a terrific win!
Was this the day when the Seahawks stood up and made it clear that the 1990s drought is OVER?
Game Day started for me at 6:15 a.m. when I awoke at my brother-in-law's house in Topeka, Kansas. He's a Chiefs season ticket holder and he agreed to take my daughter and me to the game today. Thanks, Mike! We really appreciate your hospitality!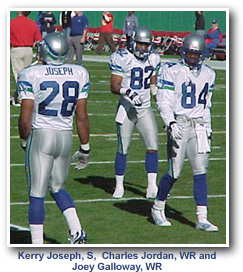 After a big breakfast we headed to Kansas City. We arrived at the game at 10:00, two hours before kick-off! The parking lot was already filled with tailgaters, as smoke circled the stadium and the wonderful aroma from BBQ grills made our mouths water! We opted not to tailgate because burgers and brats didn't sound especially appealing that early in the morning so we headed straight to the stadium to watch the Seahawks warm-up.
Our usual spot was already filled with Seahawks fans trying to obtain autographs. I didn't see many players signing this year; in fact, our players were oblivious to the crowd as they stuck together and hit the field as a unit that meant business. They didn't really acknowledge the sprinkling of Seahawks fans in the stands but it was still a thrill to get to see them in person! I did see Michael Sinclair sign a jersey, but he was only lured over to us because the fan was holding a Sinclair jersey! I was glad the fan got the autograph he wanted!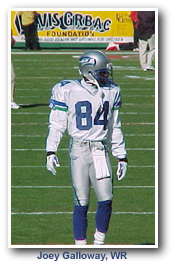 In past years when the Seahawks came out of the locker room, they walked out with their heads down and serious expressions on their faces but pretty much as individuals. Not this year! I immediately noticed the difference in attitude. It wasn't arrogant by any means but for the first time since I've started attending games at Arrowhead, they were upbeat and confident and together!! It was a great feeling!!
When Joey Galloway stepped onto the field a fan started taunting him about playing flag football. I couldn't see into the crowd to determine if it was a Chiefs fan or a Seahawks fan doing the yelling but it greatly irritated me! Whatever happened earlier in the season is over and done with; time to move on. I'm behind Joey all the way now that he's back wearing the silver, blue and green. (More on Joey later.)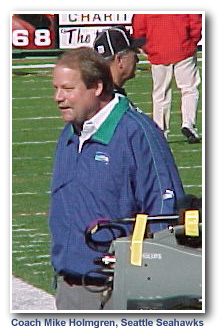 As fans took their seats my daughter and I were able to move into better position to see the players make their entrance onto the field. It was then that we were able to obtain the autographs of Karsten Bailey, rookie Wide Receiver, and Charlie Rogers, rookie Wide Receiver. I had the opportunity to speak with both of them briefly and I asked them what the attitude was of the players. Both assured me that we were up for the game and ready to go! There wasn't any hesitation in their voices! It was awesome!
Coach Holmgren was one of the last people to enter the field. It was about 15 minutes to kick-off when I saw him. Most of the other fans had left to find their seats so my daughter and I were the lone Seahawks fans in the front row of the stadium. When I called out to Coach, he stopped and turned around to see who was shouting! I wished him luck and gave him a thumbs up and he smiled in return! BIG THRILL for me!! I was so excited!! If you're reading this, Coach (!!!), THANKS !!!!
The Chiefs cheerleaders worked the crowd, waving to fans, posing for pictures and showing a lot of enthusiasm to pump up the crowd. I was very surprised when one cheerleader specifically approached my daughter and me with her hand extended. She welcomed us to Arrowhead and sincerely wished us a good time in Kansas City. It was a lovely touch and a much appreciated gesture of sportsmanship! Very classy!
We stayed in the front row long enough to see our players head back into the locker room for their final game preparations before then taking our seats in the third level. There were more Seahawks fans at Arrowhead than I've ever seen before but we were still few and far between. To this point we had been treated with respect and courtesy, as opposed to our experiences of previous years. We received the usual good natured "Are you lost?" ribbing and "Why did you bother to come? To see the Seahawks lose?" taunting but none of it was mean-spirited.
Click here to continue...
To search this site, enter keywords and press search. To see more links, please choose from the menu below.
Not an official page of the Seattle Seahawks.
FastCounter by bCentral