Joe Owens was there!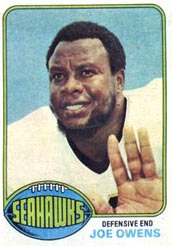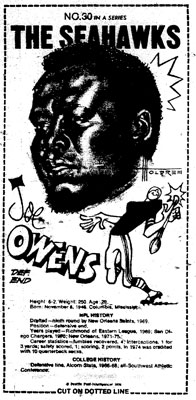 Um ... er ... wasn't he???
He's got his picture on a 1976 Topps #259 football card but he never played a game for the Seahawks!

Pro Football 1976
by Larry Felser and Dave Klein
Secondary? Patera has Dave Brown and Eddie McMillan on the corners, with Al Matthews, Rondy Colbert and Lyle Blackwood competing for the safety jobs. And rookie Don Dufek of Michigan will hit hard enough to make the club. He's a former Wolverine linebacker now projected as a strong safety.
There were even some plums for the front four. Like Carl Barisich, who can play end or tackle. Like Wayne Baker at tackle, all 6-6 and 269 pounds of him. And Patera spent his first-round draft choice for monstrous Steve Niehaus of Notre Dame, an instant starter. "He reminds me of Merlin Olsen," said Patera, "but he's stronger."
Owens, a bit short, is strong and has some speed. Barisich is the find among the drafted vets; he can play. Niehaus is Coach Patera's mine, a huge tackle with quickness and inordinate strength. Baker, somewhat slow, has marvelous size. Lloyd has the size and quickness to win a job as soon as he adapts to the pros. Dixon, a lower draftee is green but talented.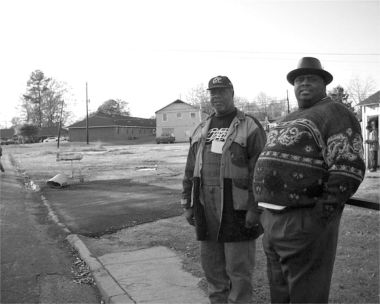 Pastor Renews Effort For Children's Gathering Place on Owens Street
A year later and at a new site, the Rev. Isaac Brown still hopes to establish a neighborhood park on Owens Street.
Brown, pastor of Owens Chapel Missionary Baptist Church, said a park would not only enhance the neighborhood, but, more importantly, would give neighborhood youth something constructive to do.
"I have found if you give a kid something to do, you can keep his mind off other things,"
Brown said in kicking off his quest last year. Problems getting a site for the park have delayed the project, however.
This week, Brown announced the project is again ready to move ahead, with funding being the last remaining obstacle. Brown said he has joined with Columbia resident Joe Owens, who owns a lot at the corner of Owens Street and Martin Luther King Drive, in an effort to develop the property as a park.
"We have thought about putting up a basketball court; maybe a place to play tennis or sandlot volleyball," Brown said. "We'd like to have tournaments during the summer."
Having a place where neighborhood youth congregate would also provide an opportunity "to talk to the kids, to try to keep them in school," he said.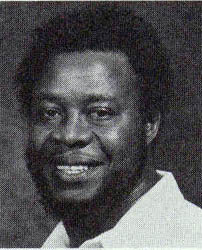 Owens said he has owned the property for about 25 years, and would like to see it put to good use by the community.
"My wife is a minister, too. We had talked about doing something for the kids, and when Rev. Brown called, that just got us thinking again," he said.
Owens, a former professional football player and Columbia business owner, said there used to be a club on the property, which he bought in 1975. The building burned down sometime around 1987 or 1988, and the property has been vacant since, he said.
"I think this will be a better spot" for the park, Brown said, adding that he is currently seeking funds for the project. The Marion County Board of Supervisors has expressed an interest in helping with the project, he said, adding that he has also spoken with Fourth Congressional District U.S. Rep. Ronnie Shows, state Attorney General Mike Moore, District Attorney Claiborne "Buddy" McDonald and local businesswoman Ann Simmons.
Anyone interested in helping with the project can contact Brown at Owens Chapel Missionary Baptist Church.
The Pocket Book of Pro Football 1976
Edited by Herbert M. Furlow
It might mean a rush line of Tipton, Owens, and Woods, but camp most likely will decide. No bargains were available in the expansIon draft. Woods was a backup with the Jets, and Tipton an occasional starter with San Diego; Owens used to start with the Saints, but he didn't in 1975. He's a pretty fair pass rusher, but he can be beat on the run. O'Neal might be a sleeper. He comes from Grambling and the Saskatoon Roughriders of the CFL, and he's a rush line end who likes to annoy quarterbacks. Baker and Barisich are possibles.
Win would mean 'everything' to ex-Saint
By Jason Munz
February 5, 2010
Source: Hattisburg American
COLUMBIA – Much has been made in recent weeks of the plight of New Orleans Saints fans over the course of the team's 43-year history.
You'd be hard-pressed to pick up a newspaper, turn on the TV or browse the Web during the past month and not come across some mention of a Saints fan who has had to endure four decades-plus of sub- par football out of their favorite team. You very well may be one of those fans, who feels like you've had to wait an eternity for the Saints to reach the Super Bowl.
But imagine what it would feel like if you were an actual New Orleans Saint. Imagine how difficult it would've been to put everything you've got on the line week in and week out in an attempt to turn the team's fortunes around, only to have the season end the same way it did the year before – without a championship.
Now, imagine how you'd feel if you spent the majority of your career with the Saints and on Sunday, your team has its first opportunity to win a Super Bowl title. Well, that's exactly how Joe Owens feels today.
Owens, who currently makes his home in Columbia, spent five years as a starting defensive end for the Saints from 1971-75. The Alcorn State grad said he still feels like he's a part of the team, and therefore has a lot invested in the recent success the Saints have enjoyed.
"For me and my whole family, it's a dream come true," Owens, who was taken in the ninth round of the 1969 draft, said. "If they won on Sunday, it would mean everything to me. It's a real big deal – probably bigger than life to a lot of people around here. But it'd be a dream come true for me."
The 63-year-old Owens, whose Saints went a combined 18-49 during his playing career in New Orleans, said that Sunday's game is just as important to the fans, however.
"One thing I was glad for, this gives the people
some hope down there," he said. "The fans down there are true, loyal, die-hard fans and the Saints give them something to look forward to. You go down there now, and they haven't stopped celebrating yet."
Owens' career was cut short due to a variety of injuries that included deteriorating knees and a broken neck. But he says every once in a while he feels like he can still suit up.
"Then I stand up and say, 'Aww, man,'" he said with a laugh. "Then I catch the crutch and I know I'm in the right place."
Another reason Owens has a vested interest in Sunday's Super Bowl is the fact that Indianapolis Colts quarterback Peyton Manning's father, Archie, played alongside him with the Saints.
"I love the Manning family and all, but we want the Saints to win," Owens said. He added that it's going to take the Saints' defense putting constant pressure on Peyton Manning if they want a shot at the upset.
"(The Saints) are going to have to beat on him and beat on him," Owens said. "He's got a computer-like mind and if you give him time to program his mind, he comes right out and touchdown, touchdown, touchdown. But he can't throw touchdowns from his back.