Jack Patera was there!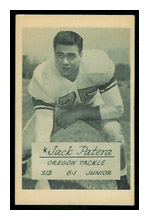 I'd like to alert viewers to a great website with vintage football cards. You won't want to miss this Jack Patera vintage card!
Thanks to Michael Thomas for providing these links to us and inviting us to share them. Please visit his site for more terrific cards.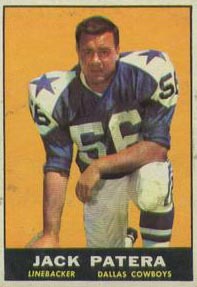 Web author's note: This is an excellent book! I highly recommend it!
Playing Hurt
by Pierce E. Scranton Jr., MD
[Jack Patera] was a gracious man who went out of his way to befriend me and make me feel welcome in the organization. He also had an uncanny knack for making humorous, disarming comments that could defuse potentially explosive situations. One day, Efran Herrera, a very competitive kicker, made some emotional comments in a newspaper story, probably out of frustration with a loss. I don't remember exactly what the inflammatory remark was, but the press gleefully repeated it to Jack, expecting to ignite fireworks. But Jack just gave a deep laugh and smiled at the reporters. "Sounds like Efran ate a bad enchilada."

On January 3, 1976, Jack Patera, who had been a Minnesota assistant, was named the team's first coach. The Seahawks finished 2-12 in 1976, when they played in the NFC, and 5-9 in 1977, when they moved to the AFC. The Seahawks had 9-7 records in 1978 and 1979. Patera was named the 1979 NFL Coach of the Year.
During the strike-shortened 1982 season, Patera was removed after six-plus years as coach. Mike McCormack finished the season as interim coach and was replaced in 1983 by Chuck Knox. In nine seasons, Knox guided the Seahawks to an 83-67-0.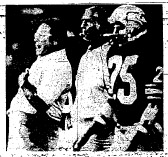 Seahawks fans make merry in win
Sunday, December 25, 2005
By John Boyle
Seattle Times staff reporter
Seattle is a football town once again; just ask these fans.
Walk around Qwest Field, listen to the 67,855 who celebrated Christmas Eve with the Seahawks, see the fans who are doing their last-minute shopping inside the stadium, and you'll understand.
Before the game, the Seahawks' first coach, Jack Patera, raised the 12th-man flag to shouts of, "Thanks Coach, this all started with you."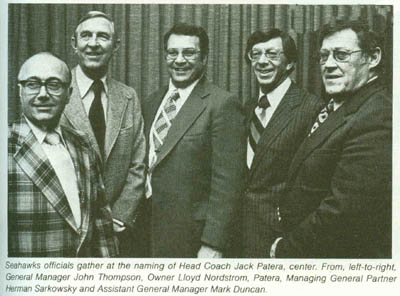 1978 Season Summary
Team Captains:
T Norm Evans and WR Steve Largent (Offense), DT Dennis Boyd (Defense), S Autry Beamon (Special Teams)
Team MVP:
QB Jim Zorn
Pro Bowl Selections:
WR Steve Largent (1)
National Honors:
Jack Patera (Coach of the Year), GM John Thompson (Executive of the Year)
All-NFL Selections:
QB Jim Zorn (NEA)
1982 Season Summary
Team Captains:
WR Steve Largent (Offense), CB Keith Simpson (Defense), S Don Dufek (Special Teams)
Team MVP:
LS Kenny Easley
Pro Bowl Selections:
LS Kenny Easley (1)
All-NFL Selections:
LS Kenny Easley (PFW, NEA, Football Digest)
Notes:
Coach Patera was fired on October 13 after 2 games; Mike McCormack took over for the remainder of the season. Season shortened to 9 games because of player's strike. Top 8 in AFC and NFC made playoffs.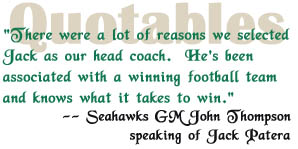 'Hawks Open Drills Today
By Don Fair
P-I Sports Writer
CHENEY -- While the Seahawks don't hold their first official National Football League practice until 9:30 a.m. today, they have already thinned their quarterback ranks from eight to seven.
And they switched their No. 2 college draft pick, Sherman Smith, from a wide receiver to a running back.
In one respect, today's first Seahawk practice will be different. There will be no mile run for the 80 candidates, a procedure often used by both pro and college teams through the past two years.
"We'll start with our regular practice plan," Patera said. "I'm of the opinion that everybody is in great shape."
He did smile a little when he said it.
Later, Patera amended the statement to, "You really can't tell which ones are in shape the first day. But after a couple of days..."
How fast will Patera thin ranks before some 30-odd veterans join camp in a week?
"When I was a rookie at Baltimore," he replied, "we had 13 guys out after the first practice. And one guy quit after he weighed in. But we'll probably not release anybody until Monday."
Then maybe as many as 20 could get the axe.

First Cut of Seahawks' Roster May Come Today
By Don Fair
P-I Sports Writer
CHENEY - A little violence never hurt any aspiring National Football League athletes.
Which is what Seahawk head coach Jack Patera added to the second-day training camp diet.
The afternoon workout Saturday, fourth for the fledgling Seattle team, was spiced by some honest hitting in the form of the "nutcracker" or one-on-one drill, plus a live scrimmage.
"We will have some contact every afternoon from now on," Patera said, admitting this is one way to pare the 78 rookies, free agents, and veteran candidates here.
This first pad-to-pad work was all filmed. Patera and his staff reviewed the movies later last night. "Then I'll talk to my coaches and we may cut some players in the morning (Sunday)," the head man added.
The scrimmage pitted 11 vs 11 at the snap of the ball. Once the play developed, the defensive backs and end and linebacker on the side opposite the ball did not make tackles. Thus Patera called it an "11 on 6" hitting session.
There is nothing sweet (or suite) about the nutcracker, which consists of placing a defender opposite a blocker, head-to-head. They are confined to a six-foot area between tackling dummies.
Completing the setup is a quarterback who hands to a running back. The blocker tries to knock the defender out of the way and vice versa. Since the runner can only charge between the two dummies, traffic jams and collisions are inevitable.
"It's basically an offensive linesman's drill," Patera said. "It teaches the blocker to keep his feet moving, you like to see a defensive lineman deliver a good blow to neutralize a blocker, and you look for a back who can keep his feet."
This will apparently be the only nutcracker crunching until the veterans join these drills next Friday, the day after they report.
EXTRA POINTS -- Barbara Hunter arrived from Los Angeles with a camera crew to do an interview with Patera which will appear either Tuesday or Wednesday on the Today TV show.
Patera forestalling hot tempers during the nutcracker session: "Let me have your attention. The reason I blow the whistle is because I want you to stop. Does that make sense?"
What makes sense is that today it's the same old daily doubles. In the Seahawks training camp seven days shalt they labor.
Brothers in the NFL
Patera **
Dennis - K - 1968 San Francisco 49ers
Jack - LB, G - 1955-57 Baltimore Colts, 1958-59 Chicago Cardinals, 1960-61 Dallas Cowboys (also Head Coach: 1976-82 Seattle Seahawks)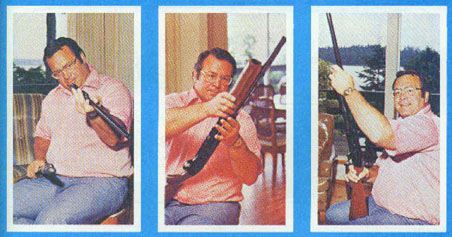 Seahawks 10 Year Anniversary book
On the golf course, across the dinner table, no man could be more congenial than Jack Patera. But the prevailing public image of the Seahawk coach was a burly giant, scowling on the sidelines, crossed arms bulding massive biceps. Of Patera it was written that he thought smiling caused skin cancer, that in his seething moments you could not drive a dime between his lips with a croquet mallet. And after a losing football game, the press corps learned early, Patera was a smoldering volcano.
Later...In the hideous 4-12 season of 1980, while the Hawks were losing eight straight games at home, Jack Patera wryly mused that he ought to charter a plane and fly around Seattle for a few hours to make his Seahawks think they were on the road.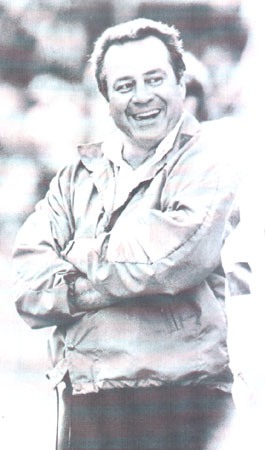 Patera has left NFL lifestyle far, far behind
By JIM MOORE
SEATTLE POST-INTELLIGENCER REPORTER
Source: Seattle Post-Intelligencer
Thursday, December 9, 1999.
CLE ELUM -- He resembles Santa Claus, from the white beard and sizeable waistline to the robust laugh and friendly disposition.
Jolly Jack Patera? The scowler who stood on the Kingdome sidelines, glaring at his team? The growler who intimidated players and reporters?
Mike Holmgren is the Seahawks coach now, respected for his accomplishments, revered for his ability to run a pro football team.
Patera was the Seahawks coach then, back when no one knew him or his team. In 1976, the Seahawks were an expansion franchise, and Patera really did give them life, producing an exciting atmosphere filled with promise and fun. In the Patera era, the Seahawks combined Zorn-to-Largent substance with fake-'em-out style.
"So many people forget that he was the first coach," said Sam Adkins, Patera's third-string quarterback. "You ask who the best (Seahawks) coach was and hear Chuck Knox and Mike Holmgren. But Jack was pretty damn good."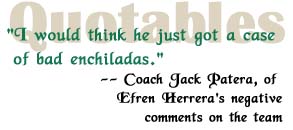 Twenty-three years later, after climbing the mountains, Patera is east of them now, hunting with his dogs, drinking with his pals, reflecting on his past. Memories clash with regrets.
After being fired in 1982, Patera, 66, has never coached again or been back to watch the Seahawks play. On Dec. 26, when the Seahawks host Kansas City, he will return to watch the final regular-season game at the Kingdome.
"I've been thinking," Patera said. "I was at the first one, and I'd like to be at the last one."
* * *
If you were to look for Patera -- he lives just east of Cle Elum where Osprey Road crosses the railroad tracks, leading to a 10-acre parcel of land and a modest home with a metal roof -- you would find him content.
"I'm very happy," he said. "Things don't move very fast over here. The pace is exactly like I always wanted -- slower than slow."
The perception is that most retired NFL coaches live luxuriously, hobnobbing at formal functions, exchanging handshakes and business cards with others from the same social stratum.
Patera is Cle Elum casual, hanging out in a home that needs work, with locals who have no connections. Those arms that were folded during Seahawks games are open, embracing strangers who become new friends.
They are down to earth here, ordinary people like Patera. This is the country, and these are the jokes:
"The favorite pickup line there is, 'Nice tooth,'" Adkins said.
Patera is a big man in town, but that would be the case anywhere. Patera weighs in the neighborhood of 350 pounds.
"The scale only goes to 300. It cranks around and keeps going," Patera said.
"He's the biggest 6-1 man I've seen in my life," said Harvey Fritcher, one of Patera's best friends. "I wish he'd take off a couple hundred pounds. But what can you do? He's Jack Patera. He's going to live life the way he wants to."
Patera ponders. He draws up house plans instead of game plans. He oversees the remodeling project. He hunts birds and bides time.
The windows from his dining room reveal a huge clearing that is nature's stage. Elk wander by, and Patera wants to share the sighting. So he calls John Thompson, who hired him as Seahawks coach.
"I can be alone and enjoy things," Patera said.
That he ended up in Cle Elum is not a big surprise for a man who grew up in the Northwest and appreciates the outdoors.
"Living out in the wilderness," Fritcher said. "That's Jack Patera."
His life has many chapters; his house has one story. It is a fixer-upper with fundamental furnishings.
You look around and think you will see something Seahawk, but there is nothing to be found. If there is memorabilia, it's in boxes.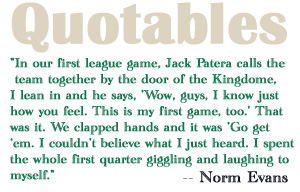 The only "artwork" in Patera's place is a framed picture of "Mickey" on a wall next to the kitchen. Mickey is a buxom blonde who promotes Mickeys, a beer sold in wide-mouthed green bottles. He got the picture from the Easton Saloon.
"She's supposed to be here every Saturday," Patera jokes. "But she hasn't shown up yet."
"Well, he's got to have something to sleep with at night, you know," Fritcher said. "I took my wife over and she kind of rolled her eyes. That's Jack, though."
To say that Patera has gone to the dogs is accurate. He has three purebreds, all German shorthairs -- Maggie, Tucker and Cas. His love is evident. He trains them in his vast back yard and strokes them when they come inside.
Patera's affection for his dogs contributed to his arrival in Eastern Washington. He and his wife, Susan, were divorced after 44 years of marriage. They have four children, three of whom remain in the Seattle area.
"The dogs were part of their problem," Fritcher said. "He loves those dogs to death. It cost him a wife, but maybe he's happy."
Susan Patera, who works at an antique store in Edmonds, stressed the positives of their relationship.
"The good outweighed the bad," she said, referring to the years when Patera coached the Seahawks. "That's the way I look at my marriage, too. He was a wonderful father and husband and a great grandpa. A gentle giant, I'd call him."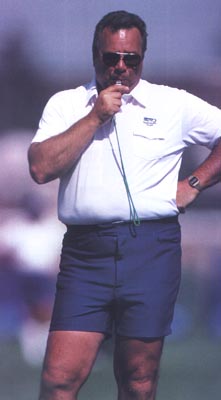 * * *
This is the way Patera always was but never appeared to be.
"Most of my life they called me Smilin' Jack," Patera said. "Until I got to Seattle."
The media portrayed him the way they saw him -- gruff, unyielding, intolerant of their constant dissections of his team. Gentle never fit.
He once held a seven-second news conference.
"Any questions?" Patera asked after a Seahawks defeat.
When reporters did not respond quickly enough, Patera bolted from the room.
"Every question was a challenge," said Don Fair, a P-I reporter who covered the Seahawks during the Patera reign. "It was like: Who's he going to jump on next?"
At one point, Efren Herrera questioned Patera's leadership. The next day, Patera was asked about his kicker's comments.
"He must have had a bad enchilada," Patera said.
"I became a racist," he says now. "That's what I didn't like about the press. Sometimes they were just wrong. And there wasn't one of 'em man enough to step up and say: 'I was wrong.'"
* * *
Patera put his stamp on the Seahawks, electrifying a city that previously got its only football fix from the Huskies. With mostly mediocre talent, Patera built a successful team, leading the Seahawks to consecutive 9-7 seasons in 1978 and '79, earning several NFL coach of the year honors.
Before landing his first and only head coaching job, Patera was an assistant coach in Los Angeles and Minnesota, directing two of the most dominant defensive lines in NFL history, the Fearsome Foursome and Purple People Eaters.
In Seattle, there were no nicknames, no names of note. But with Jack Patera, there was hope.
Realizing that opponents would be more gifted, Patera implemented strategies rarely seen in the NFL now. Trick plays were a Seahawks staple.
"We had to find a way to win," he said. "We had to do things differently. It wouldn't have been as fun if we were stronger."
But fun it was. Patera had Herman Weaver throwing out of punt formation or Herrera on-side kicking at the unlikeliest of times. Patera's Seahawks preferred catching a rival off guard to running off guard.
He was a bigger celebrity than Don James, who was just beginning to build the program at Washington.
The Seahawks were the daring darlings of the "Monday Night Football" highlights, becoming Howard Cosell's team of choice.
When the Seahawks finally made their first appearance in ABC's showcase game in 1979, they shined. Seattle beat Atlanta 31-28, rallying from a 14-0 deficit, using a fake field goal, Zorn throwing to Herrera down the middle for a first down.
Backup tight end Brian Peets preserved the victory by recovering a Falcons on-side kick. Amid the jubilation in the locker room, Peets appeared overcome by the moment and was crying in his cubicle.
"What's wrong?" Adkins asked Peets.
"I don't know where I live," said Peets, knocked silly on the kickoff.
More frequently, opponents were confused, hoodwinked again by those zany Seahawks.
"It gave us an identity," said Steve Raible, former Seahawks wide receiver. "It gave us something special."
Today, Patera is proud of that part of his legacy.
"I was probably more creative than most coaches," he said. "It wasn't really a gamble if it was well-scouted. I did things other people hadn't explored."
* * *
In other aspects, Patera showed a tendency for structure, wanting players to hold their helmets a certain way on the sideline. They wore coats and ties on the road.
He told them: "We will tolerate you until we can replace you."
"Everybody looked at each other hoping it wasn't them he was talking about," Zorn said.
The most infamous dictatorial incident occurred in Cheney when Patera refused to give his troops water during practices at training camp. It seemed inhuman, but Patera believed players could get enough fluids before practice.
Zorn said the players improvised.
"Some of the guys paid ball boys to bring us ice in towels," he said. "We were like little kids having to go behind his back to get liquid in us so we could survive."
Right when he appeared to be Jackass Patera, the gentle giant reappeared, ordering a Popsicle break at practice, distributing frozen treats to all of his players.
* * *
On Oct. 13, 1982, the fun and football games stopped. Burdened by a ground attack that went nowhere without injured running backs Sherman Smith and David Sims, the Seahawks sputtered.
After opening the '82 season with two losses, the Nordstrom family, which owned the team, fired Patera and general manager John Thompson during the players' strike.
Patera was salmon fishing with his friend Fritcher on the Queets River when he received the news.
"He didn't understand," Fritcher said. "None of us understood."
"Jack is a very proud person," Raible said. "The firing really hurt him to the core. Chuck Knox added three players and won with Jack's people."
"I thought they were wrong in letting us go," Patera said. "I was disappointed. I probably still am."
Patera never coached again. He did not want to return to the assistant coaching ranks. He did not wholeheartedly pursue head coaching vacancies. He kicked back and determined that he was through.
For the first time since he put on the pads at Washington High in Portland and later at the University of Oregon and in the NFL, football was not going to be a part of his routine.
"Most people grow up wanting to coach. This is their goal," Patera said. "I never wanted to be a coach in the first place.
"When I was coaching, I'd see friends skiing in Switzerland or going to Italy, and I'm working seven days a week. This was an opportunity to see what the other life is like.
"It's amazing when you come to the conclusion you don't have to have a million dollars to retire. I'm not penniless; I'm comfortable."
At the age of 49, Patera embarked on other adventures. He leased welders' supplies for awhile. He invested in a new idea for a parking garage.
"That failed," he said.
He invested in a forest-fire fighting concentrate that was dropped from airplanes.
"That didn't work out," he said.
But Patera has thrived in his own way, tweaking dollars as if they were marginal players, making them work for him.
* * *
Known for the unconventional, he has come to stress the basics. A typical day last summer went like this:
"I get up and let the dogs out," he said. "The big dog fetches the paper. He comes back while I'm making coffee. Then I let the cat in. The carpenter shows up at 8:30, and we go over the day's schedule. Then I sit around and watch him. I don't know where the day goes."
In July, Cle Elum cocktail parties were oftentimes a daily event, starting at 3 p.m. at Patera's house. On one afternoon, Patera's carpenter, Chris Baker; real estate agent Larry Longbreak; and two heavy-equipment operators, Vic Ogdall and Clyde York, came to Patera's for the festivities.
"Everybody knows to stop by for a drink at Jack's," Patera said.
York arrives in a red beard and plaid shirt, a case of Rainier under one arm, case of Hamm's under the other.
They sit around Patera's round table and hold a discussion over beers, vodka tonics and freshly boiled shrimp. This is their barber shop.
Patera laughs. Placid then, animated now. As it turns out, he might have been misunderstood.
Patera was once compared to legendary coach Vince Lombardi by Vince Lombardi, another stern man. Lombardi did not want Patera on his staff because "he's too much like me."
"He went out as a coach," Patera said. "I'm going to go out as a gentleman farmer."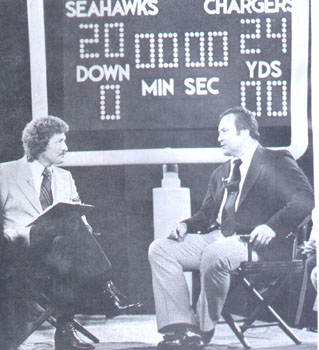 * * *
No matter what was said during his Seahawks tenure, Patera seems incapable of being anything but approachable and kind today.
Last summer at a get-together before Jacob Green's charity golf tournament, Patera chatted easily about his years with the Seahawks, interspersing recollections with barbs at former players.
Steve Raible is most widely recognized as a KIRO-TV anchor. In the late '70s and early '80s, he was a Seahawks wide receiver, the lesser-known Steve next to the incomparable Largent.
Raible walks into the lobby bar at the Westin Hotel and greets Patera, which leads to an exchange of playful unpleasantries.
"You look good; all right, you look OK," Raible tells Patera. "Uh-oh, he gave me the same look as in practice. My knees are still shaking."
When Raible leaves, an autograph seeker asks for Patera's signature on a sparkling Seahawks helmet.
"Looks like the one Raible wore," Patera said. "Not a mark on it. I got a kick out of him. He still thinks he's a wise-ass. He's got nice parents, though."
After 20 years, the scores fade but impressions remain. Raible recalls a Sunday in Kansas City when Patera took an early-morning walk with his father.
"Dad commented what a straight-up guy Jack Patera was," Raible said. "They were chatting like two old buddies. It's something dad always remembered. They had a couple of things in common, one of which was his son. That touched me."
* * *
Since leaving, Patera has had little interest in keeping up with the team he once led. Rarely will he watch a Seahawks game on TV. He has a satellite dish that doesn't pick up the Seattle stations. It doesn't matter enough to get cable.
"I watched the second half against Oakland," Patera said, referring to the Seahawks' first game against the Raiders. "I can't remember what happened. Did they win?"
Patera is more apt to be reading a paperback than watching TV. When the TV's on, his favorites are on PBS or in syndication, shows like "All in the Family" and "the one with the detective with the glass eye ('Columbo')."
If he is slowing down, it is only because of his health. He has an artificial knee. He had knee ligament problems on his most recent hunting trip to Montana. He had a torn retina that was corrected to 20-40. In '91, he got a clot in his leg that resulted in his whole right lung being filled with blood.
"The doctor said that was pretty serious," Patera said.
He knows he should cut back. Patera hears the advice but isn't necessarily listening.
"Eating, drinking and no exercise," Patera said. "It just isn't good for you."
Nonetheless, Patera keeps plodding and puttering, staying busy while the mind wanders. The man whose eyes used to bore lasers to your soul has softened. On Dec. 26, he will reminisce in solitude.
"I'm very sentimental about things," Patera said. "I've had a lot of time to sit over here and think about it. I'll remember with myself. I've had a lot of conversations with myself. It will be very nice."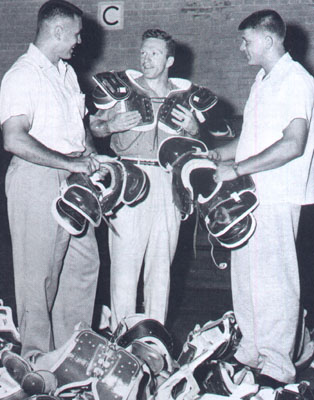 The Patera File
Age: 66
Birthdate: Aug. 1, 1933.
Birthplace: Bismarck, N.D.
High school: Washington High, Portland, Ore.

College: University of Oregon, 1951-54. Named all-Pacific Coast Conference tackle his senior year.

NFL playing experience: Fourth-round pick of the Baltimore Colts. A guard and linebacker, Patera played three seasons with the Colts ('55-57), two seasons with the Chicago Cardinals ('58-59) and ended his career with the expansion Dallas Cowboys ('60-61).

NFL coaching experience: Defensive line coach, Los Angeles Rams, 1963-67; New York Giants, 1968; Minnesota Vikings, 1969-1976. Head coach, Seattle Seahawks, 1976-82.

Coaching record: 35-59, all with Seahawks.

Coaching honors: Was named NFL coach of the year by the Associated Press and Sporting News after leading Seahawks to 9-7 mark in '78.

Did you know? Patera has two brothers who also were active in athletics: Dennis was a kicker with the San Francisco 49ers in 1968 and Ken was a former Olympic weightlifter and professional wrestler.
From: Patrick
Sent: Sunday, December 12, 2004 6:13 PM
Subject: patera-knox
I worked with Jack Patera's son at Rocket Research in Redmond. He was good looking, smart, extremely nice and personable. He wanted to be an accountant. Super guy.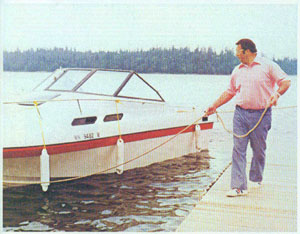 Rolly Woolsey's now a Seahawk after expansion
The Idaho Free Press
March 1976
Two different coaching philosophies of how to build respectability in the National Football League have surfaced as the two incoming franchises began stocking their rosters for their initial seasons. The Tampa Bay Buccaneers, relying on general manager-coach John McKay's knowledge of west coast football talent utilized the veteran allocation draft to load up on offensive players.
The Seahawks and their coach, Jack Patera, who built the Minnesota Vikings' front four, went to work piecing together a defense.
And when the draft was concluded the two teams had amassed a far superior pool of talent from which to build than they had expected prior to their selections.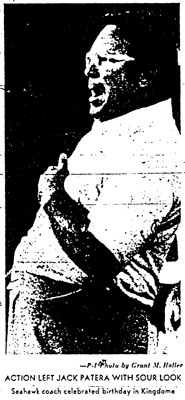 Seahawk squawks
By BOB WAYT
Chronicle Sports Writer
The Daily Chronicle, Monday. October 18,1976
The buccaneers of the 17th century, though dashing in their feathered hats, hooped earrings and skintight pants, were sordid fellows, you know.
Not only did they haunt the seas of the Caribbean and Pacific, pillaging ships and sailing malevolently away with the loot, the maritime marauders often robbed settlements as well. There were no buccaneers in ruffled lace at the Tampa Bay-Seattle NFL game Sunday, even though the first-year Florida club answers to that moniker.
There were, however, a band of robbers in striped shirts and while they didnt take anybody's life, or booty, they plundered the expansion bowl of its excitement and vitality. If the United Nations had supplied the flags for this game, the officials would have run out before halftime. By the time all the penalties had been stepped off, it could easily have been midnight—in Tennessee.
One referee threw his flag 21 yards. Another rifled his through the face mask of Seattle defensive back Dave Brown, who was subsequently treated for a swollen eye.
"It got to be we weren't so much concerned with blocking and tackling, but just looking to see who the penalty was on," said Seattle coach Jack Patera. "It reminded me more of an officials clinic than a football game," observed Seahawk defensive coordinator Sam Baghosian.
Seattle offensive guard John Demarie said he thought the major reason for the rash of fouls was a recent demand by (NFL commissioner) Pete Rozelle that the officials crack down on holding. In fairness to the referees, Seahawk linebacker Mike Curtis was glad to see so many yellow hankies fly. "It's the first time I've ever been in a ball game where the officials called the way they were supposed to," the 12-year pro claimed.
Collecting Jack Patera?
1961 Topps #26
Post-Intelligencer mini poster #1
1979 Police Set