Bob Penchion was there!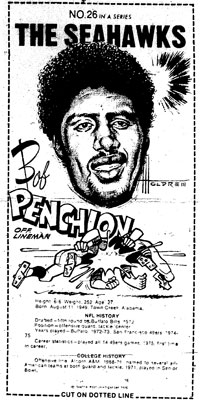 We recently had the honor and privilege of contacting Bob Penchion through a co-worker of his. Mr. Penchion agreed to answer a few questions for us, located here. We'd like to thank Mr. Penchion for his cooperation and honesty in answering our questions, and wish him the best in all his future endeavors.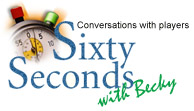 The Pocket Book of Pro Football 1976
Edited by Herbert M. Furlow
The team's strongest segment. All-Pro Norm Evans still likes to play. His being dumped into the expansion pool has caused resentment among the Dolphins. Nick Bebout was the biggest man on the Atlanta offensive line last year, and sometimes started. John Demarie led Cleveland in its upset win over Cincinnati last November. A ten-year man, he can play both guard and center. Fred Hoaglin is a dedicated pro with 11 years. Last season he was the backup center at Houston and played on special teams. Bob Penchion started for the 49ers in 1975.
From: BEWoodyJr
Sent: Thursday, December 09, 2004 1:13 AM
Subject: Re: Bob Penchion
I do not work directly with Bob, as he works in a different department than I. But I see him almost every day, and he ALWAYS has a big smile and a friendly greeting for everyone I have seen him come in contact with. I don't know him outside of work, but I can't help but believe that he could not be that contented and happy at work if he were not that same way away from work. Everyone I have talked with has a high opinion of Bob, myself included.
Wishing you a great day,
Bobby Woody, Jr.
Note: We would like to thank Bobby Woody, Jr. for his contribution to this website. We acknowledge and appreciate his efforts. Thanks, Bobby!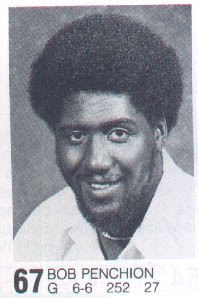 Street and Smith's Pro Football 1977
The incumbent guards are Bob Penchion and Bob Newton, either of whom would lose his job to another rookie, Tom Lynch of Boston College. It isn't inconceivable, either, that veteran center Fred Hoaglin would lose a challenge to Idaho's John Yarno.
Seattle Draft: 'Good Job'
Don Kosterman, executive vice-president and general manager of the Los Angeles Rams, offered, "Seattle did an excellent job and got some veteran players who will be invaluable. For instance, (Nick) Bebout, (John) Demarie, (Rocky) Rasley, (Gordon) Jolley, (Fred) Hoaglin, (Norm) Evans, (Bob) Penchion are going to play to give the Seahawks an established offensive line.
Pro Football 1976
by Larry Felser and Dave Klein
And if Patera really wants to stay up nights, he can think about his interior line. At the moment, the tackles will be Nick Bebout and Norm Evans. The guards are John Demarie and Bob Penchion. Fred Hoagin is at center.
Bebout didn't play well with the Falcons. Evans, once a Pro Bowl is a bit old and may not show his ability on a weak line. Demarie should have a few years left. Penchion played well in spurts during his career. Hoaglin can play center and guard. Kuehn, one of George Allen's mystery names, played well at UCLA two years ago he never made the Redskins' active roster, joining the WFL instead. Johnson had good grades in college and could win a job. Jolley starting material.
While this group is less than impressive, there is no passable depth. Randy Johnson is a 244-pound rookie guard from Georgia, Art Kuehn is a rookie backup (for now) center from the Redskins and Gordon Jolley is a tackle reserve.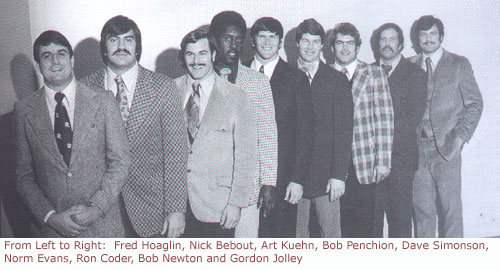 Boris Penchion Honored By National Football Foundation Hall of Fame
Boris Penchion graduated from the University of Memphis with an undergraduate degree in Exercise and Sports Science in the summer of 2001 and received a master's degree in Health Administration at the conclusion of the spring 2003 semester. He had a 3.51 graduate grade point average in health administration and maintained that that GPA while participating as a member of the Tiger football team. A four year letterman, Penchion finished his career as a starter at defensive tackle and developed into a strong steady player who had over fifty career tackles, six tackles for lost yardage and two quarterback sacks. He was also a member of the Tiger Academic 30 and the National Honor Society. He is the nephew of former Tiger defensive lineman Anthony Penchion and the son of Robert Penchion and Clara Smith of Muscle Shoals, Alabama. Penchion's father Robert played five years in the NFL.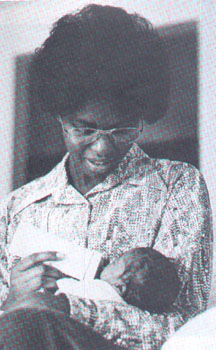 When a pro football player joins a new team he not only gets a new uniform but he has to paint his son's helmet.
Source: Pro! The Official Magazine of the National Football League
Seahawks Edition
Detroit vs Seattle
October 24, 1976
By Carolyn Andersen
"Sunday will never be the same."
As KIRO Radio proudly boasts to over 1,500,000 people in the metropolitan Seattle area, the Seahawks have given new meaning and life to Sundays. While Seattle's entry into the NFL has brought about many changes in the weekend schedule of local football fans, families of the men who suit up in the silver and blue each Sunday, find it "just another working day."
Although the public may view the life of a pro athlete as glamorous, few of the wives consider it to be any different than a dozen other professions. Clara Penchion, wife of starting guard Bob Penchion, says "The only thing that makes our lifestyle different is the number of moves."
Football has taken them from "home" in Alabama to Buffalo, New York where Bob was a fifth-round draft choice of the Bills in 1972, to San Francisco where he was acquired in a trade by the 49ers, and now to Seattle where they are making home in a Bellevue townhouse.
In San Francisco, "At least l could find my way to the stadium and to the airport... now I have to start all over again," she chided.
For young Tracee, this move was a delight. Eight cousins in near-by Woodinville anxiously awaited her arrival and now, reports mother. "She spends more time with them than she does at home."
Although an athlete herself, (she played basketball in high school), she was not a football fan until she began dating Bob at Alcorn A&M in Alabama. In fact, she adds, "We were married for two years before I realized there were two parts to the team."
A college graduate with a degree in social sciences, Clara has not as yet had a chance to pursue a career, but plans on furthering her education and seeking a profession when her children are older.
For personal enjoyment she spends time sewing for herself and her oldest daughter. She also lists reading religious material and psychology books as a favorite pastime.
Activities include Bible classes twice a week and an occasional evening when she and Bob attend a movie or go bowling. Active in the Church of Christ, the Penchions devote themselves to youth activities both here and during the off-season when Bob coaches a youth group in Muscle Shoals, Alabama.
Collecting Bob Penchion?
1976 Topps #408