Seahawks History Includes Memorable Mondays
But they're not all good memories just ask Brian Bosworth.
By Scott M. Johnson, For the Kitsap Sun
December 4, 2005
KIRKLAND
Pete Gross's final call
Nov. 30, 1992: Seahawks 16, Denver 13 (OT)
In what would be his final game as the "Voice of the Seahawks," radio broadcaster Pete Gross calls a rare Seattle victory. The Seahawks upset the Broncos to snap an eight-game losing streak, while the cancer-stricken Gross watches with glee. Two days later, Gross dies.
Aftermath: The former broadcaster's legacy lives on in Seattle with the Pete Gross House, an apartment designed to house cancer patients.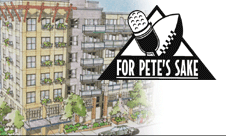 The Pete Gross House
By Beckys-Place.com

To those Seahawks fans who have been loyal to the club from the beginning, the name Pete Gross will sound familiar. Indeed, some of us may put our hands over our hearts when his name is mentioned.

To those who don't know, I would like the honor of introducing you to Pete Gross, well-loved Voice of the Seattle Seahawks for 17 years. Mr. Gross succumbed to cancer in 1992. He was inducted into the Seahawks Ring of Honor that same year.

Being a Seahawks fan nearly from the beginning, I knew the Pete Gross story. I knew he was respected and admired in the Seattle area, and that upon his death the community joined together to make a lasting tribute to him. I knew that there was a place called The Pete Gross House, and that the Seahawk organization assisted in raising funds for the project.

I knew that. I admired that. But what did it mean to me?

I've recently discovered exactly what it means to me.

Recently some very good friends of mine introduced me to Joni Heim. Joni was from my hometown of Salina, Kansas. She had cancer, a condition known as Acute Myelogenous Lukemia (AML). She needed the best treatment available. They sent her to Seattle. Guess where Joni lived for months while she was in treatment.

The Pete Gross House is no longer a building to me, no longer just another charity that the Seahawks support. The Pete Gross House is an affordable option for cancer patients who are seeking treatment at the Fred Hutchinson Cancer Research Center and the Seattle Cancer Care Alliance. The Pete Gross House provides a comfortable, clean, safe, furnished home-away-from-home for those who have had to leave their homes for cancer treatment. It's not only an apartment, but it's a supportive community for patients and families.

The Pete Gross House was there for Joni, someone who lived half way across the USA who never expected to need this facility, someone who has had to leave her friends and family for an extended period to seek treatment. I'm so thankful such a place existed for her, and I'm proud of those who knew and loved Pete Gross, and cared enough to make a living tribute to a man who offered so much to the Seattle community.

Joni's battle with cancer began February 28, 2003 and ended October 7, 2005. It was a difficult battle, a hope-filled battle, a courageous battle. And I'm glad that in her trying time, she had a place to call home.

If you would like to donate to The Pete Gross House, please do so. I hope no one reading this web page needs the facility. I wish health and happiness to you and your loved ones. But if we need it, wouldn't it be nice to know we've supported it? You never know whose life you may touch.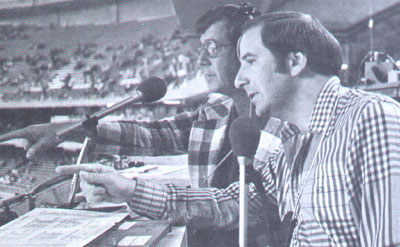 From: BRIAN HART
Sent: Monday, May 20, 2002 4:26 PM
Subject: new stadium
One thing that I would like to see, is adding a touch of class to the stadium name. With this day and age of corporate sponsors, adding the words Pete Gross Memorial Stadium behind the corporate sponsors name (I.E. Microsoft's Pete Gross Memorial Stadium) would very fitting. I have e-mailed Paul Allen's web site (if it will do any good), I thought if you liked the idea you could mention it in your site.
Brian T. Hart
Indianapolis, IN

Source: Seattle Times
Sports: Sunday, November 29, 1992
Honor And Courage
By Hugo Kugiya
Pete Gross was talking about cryogenic surgery, a process that freezes cancerous tissue, when the phone rang in his Mercer Island house.
"Sports," he answered.
Within a half-second, the man who rarely commits a verbal error caught this one.
"Sports? . . . Hello," he corrected.
He convinced his guest that sports is more than a job for Pete Gross. It is part of the man, much more than the cancer that has invaded his liver.
Gross has been the sports director at KIRO radio since 1973. He has announced games for the University of Washington's football and basketball teams, the Seattle SuperSonics and the Seattle Seahawks, the team with which his voice has become synonymous.
As long as the Seahawks have been playing, Gross has been calling their plays over the radio.
"I could do this forever, I really could," Gross said. "As long as I feel I can do it, I will. I want to see this thing through. I can't back out now."
Gross will make his next broadcast tomorrow night when the Seahawks play the Denver Broncos in the Kingdome. During a ceremony before the game, he will be inducted into the Seahawks' Ring of Honor, the team's highest decoration.
The phone rings often at the Gross house. Monica Hart, who works for KIRO television, calls. Another woman from KIRO calls, asking him to tape an interview next week. Of course, Gross obliges.
"It's been very uplifting to know all these people care, that they take an interest in me," he said. "It's energizing."
Gross' good friend, Marv Harshman, the former University of Washington basketball coach, calls just to say hello almost every day. Harshman's wife, Dorothy, always brings over split pea soup, said Gross' wife Beverly.
Perhaps more than his voice, Gross' friendships are his trademark.
"He's one of those guys," said former Seahawk Steve Largent. "When you meet him for the first time, you feel like you've known him your whole life."
If you work with Gross, you are probably his friend. One of his closest, former player Jacob Green, set up a $30,000 fellowship at Fred Hutchinson Cancer Research Center in Gross' name.
As lineman Joe Nash put it, "Pete is part of this team. He's one of the few guys that have been here the whole time."
When Gross took the job at KIRO, he knew he was taking his dream job. The perfect job in the perfect city, he thought. At the age of 9, Gross had known what he wanted to do.
"It's the excitement of the game. I love it," he said.
Gross, 55, was born and raised in California's Bay Area. He took his first broadcasting job in nearby Watsonville, calling high-school football games, then worked for radio stations in Santa Rosa and Sacramento, always making sure his job description included sports. For almost four years, it also included playing the Rolling Stones.
Gross was known as Tony King back then. His program director did not think Pete Gross was an appropriate name for a rock 'n' roll DJ. But when Gross became program director at KJOY radio in Stockton, he phased out Tony King, becoming a full-time announcer for the University of Pacific football and basketball teams.
Memories of Tony King are shelved in Gross' house in the form of about 1,000 albums and 6,000 45's.
These days, Gross works mostly out of his home, minimizing the strain every waking hour puts on his body. His mood, it seems, does not suffer. He constantly smiles and is able to joke even about his illness.
But his body has deteriorated visibly. His skin and eyes have yellowed. He has lost 30 pounds since July. Foods he once loved, such as turkey and mashed potatoes, now taste like clay and cardboard. Only sweets like chocolate or strawberry milkshakes tempt his appetite.
Gross is always fighting fatigue. The man who loves football was able to watch only two minutes of the Dallas Cowboys' Thanksgiving victory. While Beverly and daughters Debbie (29), Wendy (25) and Susie (22) played Pictionary, Gross slept.
He takes 14 pills a day, none of them pain killers. The pain comes and goes, he said, mostly as a dull ache in his belly. He has weeks, maybe months to live, his doctor said.
In the four years he has lived with cancer, Gross has had two major operations and three minor ones, including one in which a lost sponge was retrieved. Only once since he was diagnosed in 1988 has his wife seen him break down. After his kidney was removed in 1989, his emotions spilled in the car on the drive home from the hospital.
"It's finally over, it's finally over," his wife recalled him saying as he sobbed.
It wasn't over. The cancer came back, not once, but twice. Gross is buying time, he said. Ideally, time for a cure, but more practically, time to enjoy his life.
The little things mean a lot to him, like the view from his living room window of Lake Washington and Seattle's skyline. Each morning he savors it, just as he savored last week with his children, two of whom were flown in by the Seahawks for the ceremony.
"We try not to look at the future," Susie said. "We're just grateful about the present."
Beverly, who has been married to Gross for 30 years, described him as the kind of father who would rather make his kids laugh than discipline them. Practical jokes were his forte, his children his audience. When it came to punishment, he always passed the buck to Beverly.
It was Beverly who had to convince her husband to tell their daughters about his cancer. Even now, he diffuses their concern with humor.
"We only get sad when we see him get sad," Wendy said. "I think that's why he tries to be so strong."
Gross receives stacks of letters every day at KIRO and at the Seahawks' headquarters in Kirkland. He will get around to answering most of them, he said. One that especially moved him came from the husband of a blind woman, a devoted Seahawks fan. Gross' voice are her eyes, her husband wrote. Gross will continue to be her eyes as long as he has a voice.
Steve Raible, who has shared the broadcast booth with Gross for 10 years, said the realization that every game could be Gross' last "is there for all of us that work with him."
"But the thing that makes all of us go on, week in and week out, the reason we don't dwell on it, is because Pete doesn't dwell on it," said Raible, a former Seahawks receiver who first met Gross in 1976.
"He won't feel sorry for himself. He's very matter-of-fact about it. He's a remarkable guy. But we've been saying these things all along for 17 years."
Source: http://www.wsab.org/in_public_interest.html
Pete Gross House (KIRO Radio, Seattle). KIRO Radio in Seattle is the home of the Seattle Seahawks. Pete Gross, the original Seahawk play-by-play announcer was struck down with cancer in 1994. KIRO's tribute to Pete was to lead a drive to construct Pete Gross House at the Fred Hutchinson Cancer Center. Pete Gross House gives families of cancer victims a place to stay while their family member is being treated at the Hutch. Through a combination of banquets and other fund raising drives, KIRO teamed up with the Seahawks to raise a Million dollars to build Pete Gross House. The project evolved from a four-unit building to a 72-unit apartment complex. Now, KIRO will raise funds for the costs of operating Pete Gross House.