Bob Picard was there!
In the beginning ...
Pro Football 1976
by Larry Felser and Dave Klein
Wide receivers arenít bad. The starters figure to be Ahmad Rashad and Sam McCullum, but two rookie picks, Sherman Smith and Steve Raible, and veteran Don Clune will fight for steady work. John McMakin and Ron Howard will battle young Charles Waddell for the tight end spot.
Rashad, obtained via the option-playout route, is a tried and true star. McCullum is experienced and could be a top receiver. McMakin, also experienced, is a strong blocker. Clune was a mystery with the Giants. Scouts and teammates say he should have played more; the coach didnít agree. Picard never realized his potential and will get his chance. Howard, another of Dallasí basketball players, showed promise. High draft picks Smith and Raible have enormous potential; one of them might even start. Waddell may be a find, too. The Chargers gamble leaving him unprotected
Bob Picard caught 15 passes in one game at Eastern Washington, but when he was signed with the Seahawks, he had yet to make his first recognised NFL reception.
On the way ...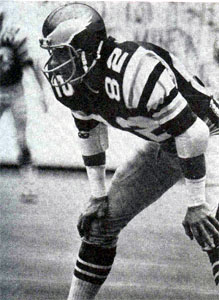 From Omak to NFL
By Robert Mims
Source: Pro!, The Official Magazine of the National Football League
Seahawks Edition, Aug. 14, 1976
Seattle is still a long way from Omak, Washington, but it's a darn site closer than Philadelphia for Bob Picard, a 26-year-old, fourth-year veteran seeking a position with the Seattle Seahawks as a wide receiver.
Picard credits part of his success at football to his upbringing in Omak, a small central Washington hamlet nestled near the tall and sturdy trees of the Okanogan Forest, where not only the trees are sentinels of a wilderness spirit, but the "tough, hard-working" citizens of Omak as well.
Bob says the toughness and hard-working quality of the people of Omak comes through in their sports. Omak High sports, especially football, are the things community dreams are made of...in Omak, there are two types of people when autumn comes around -- there are the players, and there are the fans, both of which are willing to play or cheer themselves to exhaustion to carry the hometown colors to victory.
"Omak kids have traditionally played hardnosed football. If they lack anything in talent or skill, they make up for it with persistence and determination, and mostly just a lot of guts," Picard will tell you.
Bob Picard does not lack quality, Bob Picard does not search for persistence and determination, and the 6-3, 205-pound exploiter of the secondary certainly does not lack guts.
Picard was selected by the Philadelphia Eagles on the sixth round of the 1973 draft, a standout wide receiver from Cheney's Eastern Washington State College, but his National Association for Intercollegiate Athletics All-America status could not get him into the stable of the Eagle receivers, and he ended up on Philly's special units and suicide squads.
Picard's style of all-out play prompted one Philadelphia sports writer [Bill Lyon] to say -- "Of all the Philadelphia Eagles, the easiest one to find in the lockerroom after a game is Bobby Picard. He's the one covered with all the blood. Number 82 in your program, but No. 1 in the kamikaze ranks. The guy who looks like a walking transfusion."
That's Bob Picard...one of the nicest guys you'd ever want to meet off the field--but on the field, the son of a logger is as tough as the bark on some of the trees his father cuts down, and when he hits, it's like hearing "timber!" too late.
But what Bob really wants to do for Seattle is catch passes, not chase opponents on special teams.
"I really want a starting receiver's position with the Seahawks. Starting as a wide receiver has been my professional goal for a long time...but I'm also a football player and I'll play wherever the coaches think I'll be of the most use," Picard says.
Even on special units and kamikaze squads?
"If that's where they want me," he says. But when his eyes twinkle and his sinewy face wrinkles up in a smile, you know Bob Picard is dreaming of finding the seam of a zone defense and taking a well-placed aerial on a touchdown trot.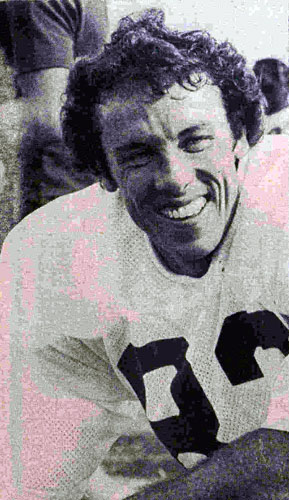 Rashad Dealt to Vikings
By Don Fair
Seattle Post-Intelligencer
September 8, 1976
[Ahmad Rashad] was undoubtedly the celebrated one of nine players who departed the pro football scene within the past 24 hours. Others were: Wide receivers Bob Picard and Cornelius Green; running backs Gary Hayman, James Ford and Eddie Ray; defensive linemen Jeff Lloyd and Bob Martin; and linebacker Ken Hutcherson.
Player Movement Is Common For Organizing Seattle Seahawks
By Rick Gosselin
UPI Sports Writer
Coshocton Tribune
September 8, 1976
The printers in Seattle must be making a mint on playbooks for the National Football League Seahawks. The first year Seattle franchise, which makes its NFL debut Sunday, has had better than a 20 per cent turnover on its roster the past two days, taking advantage of the wealth of talent with which the 26 established teams are cluttering up the waiver list in getting down to their 43-man rosters.
The Seahawks also released rookie wide receiver Cornelius Greene and veteran defensive end Bob Martin, while placing on waivers running backs Gary Hayman and James Ford, wide receiver Bob Picard and defensive tackle Jeff Lloyd. Seattle placed linebacker Ken Hutcherson on the injured reserve list and fullback Eddie Ray on injured waivers.
Diary of a Seahawk Rookie
by Steve Raible
Seattle Post-Intelligencer
September 12, 1976
TUESDAY, September 7 ó Another shocking day, as we are suddenly down to four wide receivers. I donít think I will forget how Bob Picard got the news. We were in this meeting and coach Rhome was giving a talk when coach (Jack) Patera came into the back of the room and gave Jerry a folded-up note. Coach Rhome had a look at it, had a grimace on his face, finished his subject, dismissed us and told Picard that coach Patera wanted to talk to him.
It was really hard to see ďPickĒ go. He was such a good guy and a hard worker, and I feel bad he got cut. If not him, it would have been me, Iím sure. Sam McCullum said basically the same thing happened to him when he was a rookie, and the guy he beat out was his room-mate ...
It kind of gets old saying you hate to see good guys go, but we have all good guys, damn good guys. I hope that when I get cut, somebody will say Iím a good guy.
(Comment: Although Jerry Rhomeís legend would increase over his years with the Seahawks, his low starting place in the system seems clear here.
If Raibleís impression was correct, the coach for the quarterbacks and receivers didnít have advance warning that Picard was to be cut. Did he know that Green would also be cut, and Rashad traded?
Assistant coaches arenít expected to know all of the management decisions ó but being caught mid-lecture with what seems to be unexpected news looks a little harsh!)
And afterwards ...
Bob Picard ó Athlete/Football & Basketball
Picard was a two-time NAIA All-American in football for Eastern, and went on to play four years in the National Football League. Originally from Omak, Wash., Picard lettered in football for Eastern in 1968, 1969, 1971 and 1972, and also lettered in basketball in 1973. He still holds Eastern's career receiving record with 166, and ranks fourth with 2,373 yards (14.3 per catch) and sixth in touchdown receptions with 19.
As a senior in 1972 he earned first team NAIA All-America honors when he caught 52 passes for 679 yards and four touchdowns. As a junior he earned second team All-America honors with 53 catches for 787 yards and eight scores. He also had 531 yards as a freshman in 1968 -- the first of three seasons he led the Evergreen Conference in receiving yards. He holds Eastern's single game record with 13 catches against Puget Sound on Nov. 16, 1968 in six inches of snow. Eastern was 15-24 in his four years on the team, including a 5-5 record his junior season. In basketball, he played in 22 games in the 1972-73 season and averaged 2.8 points and 3.3 rebounds per game while making 35 percent of his field goal attempts (23-of-66) and 69 percent of his free throws (16-of-23). He also played five games in the 1970-71 season, averaging 4.0 points and 4.2 rebounds. In his 27-game career he averaged 3.0 points, 3.4 rebounds and 1.6 assists (42 total), while making 37 percent of his field goals (32-of-83) and 61 percent of his free throws (20-of-33). Eastern was 17-11 his first year on the squad, and 15-10 in the 1971-73 season.
He was drafted in the sixth round of the NFL draft by Philadelphia, and played three full seasons (1973-74-75) for the Eagles. He was selected by the Seattle Seahawks in the 1976 expansion draft and attended training camp in Eastern's hometown of Cheney, Wash., but he didn't make the squad. However, in a pre-season game on Aug. 23, 1976, he caught a 14-yard touchdown pass from Jim Zorn.
He returned to Philadelphia that year and played four games for the Eagles, then went to Detroit where he closed his career by playing the final eight games of the season. Although he didn't catch a regular season pass in the NFL, he played in 54 career games as a special team standout. Wrote one Philadelphia sportswriter: "Of all the Philadelphia Eagles, the easiest one to find in the lockerroom is Bobby Picard. He's the one covered with all the blood. Number 82 in your program, but No. 1 in the kamikaze ranks. The guy who looks like a walking transfusion."
EAA inducts new members
By Troy Kirby
October 02, 2003
Source: The Easterner
If there was one guy from Eastern that you wanted on the football field, the general consensus is it would be Bob Picard.
Picard, along with Lisa Comstock-Schultz, Wanda Jewell, Wayne Gilman and the 1945-46 EWU mens basketball team were inducted into the Eastern Athletics Hall of Fame Sept. 27.
Picard, two-time NAIA All-American (1968-1972), holds the record for career receptions (166), finishing his collegiate career with 2,373 yards and 19 touchdowns.
Picard also holds the distinction of being the only player who's football jersey number (84) is retired at EWU. He was presented before the ceremony with an Eagle's football helmet sporting number eighty-four.
Playing with the Philadelphia Eagles and Detroit Lions, Picard retired after 54 games in the NFL.
Now living in Philadelphia, he said he was surprised and honored to be inducted into Eastern's prestigious class of athletes and coaches.
"I got an unexpected call and was taken back by the decision to induct me," Picard said. "I felt that I had a duty to be present at the induction ceremony."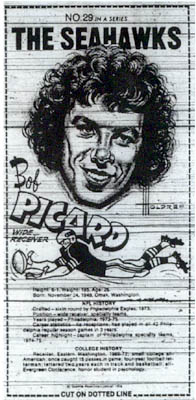 More on Former Eastern Dual-Sport Basketball/Football Players
Picard lettered in football in 1968, 1969, 1971 and 1972, and also lettered in basketball in the 1972-73 season. Picard held Easternís career receiving record for 21 years with 166 catches (now sixth) that were good for 2,373 yards and 19 touchdowns. His receiving record was broken by Tony Brooks in 1993. Picard had his No. 84 jersey retired, was inducted into the Eastern Athletics Hall of Fame in 2003 and was selected to the "100 for 100" All-Time Football Team in 2008 to help commemorate the 100th year of football at Eastern. In 27 career basketball games, Picard averaged 3.0 points, 3.4 rebounds and 1.6 assists. He went on to play three seasons (54 career games) in the National Football League for the Philadelphia Eagles, and ended his career at the first training camp of the expansion Seattle Seahawks in 1976.
Real Fantasy Football
Vermeil will admit that in keeping Papale on his roster that year, he might have been trying to buy himself a little street cred in a tough working-class town. Remember, Vermeil was coming to the City of Brotherly Love from laid-back Southern California, where he had coached the UCLA Bruins to the Rose Bowl the previous season.
"I'm sure that's true," Vermeil said. "I remember whenever he made a tackle he'd get a bigger ovation from our fans than our best player. For us, it came down to we could have kept a player of the same profile who had played in the league and had some experience -- a fourth-year receiver named Bob Picard, who was good on special teams -- or kept the hometown Philly kid who had a tremendous passion to play. We kept Vince, and Picard wound up in Detroit.''
Thirty years later, they didn't make a movie of Picard's Eagles experience. But Papale, who played four seasons in Philly before retiring to local icon status, has never been more popular.
"You know what?'' Vermeil said. "Having six preseason games back then gave him an opportunity. Because you'd play guys like that instead of guys you wanted to protect from injury. But then all of a sudden you'd find out that guy is doing better than the guy you're protecting.''
Collecting Bob Picard?
1976 Post-Intelligencer mini poster, #29