Reggie Brown was there!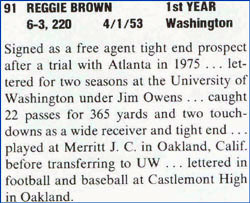 Unfortunately he wasn't there for long.
'Hawks Open Drills Today
By Don Fair
P-I Sports Writer
The other pre-camp position change announced by Patera was the moving of ex-Washington tight end Reggie Brown to fullback.
Smith 'A Pleasure to Watch'
Reggie Brown, former University of Washington player, left camp last night. He had been bothered by a pulled leg muscle earlier after trying at both tight end and fullback.
Collecting Reggie Brown?
1973 Washington KFC