Dan Shepherd was there!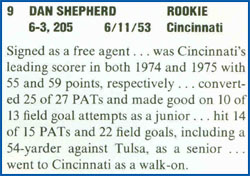 SCOREBOARD
Walla Walla Union-Bulletin
Tuesday, July 13, 1976
SEATTLE SEAHAWKS — Eddie Ray. running back, signed.
Mark Wahl, Dan Shepherd, Brad Kramer, Al Knapp and Keith Muehr, kickers; Herb Singleton and Scott Christman, quarterbacks; Dwaine Copeland and Clifton Marcus, running backs: Bob Cason, defensive back, and Ned Deane, linebacker, cut.
We're still looking for Dan Shepherd. If you have any information, please drop us a line! We'd like to have a summary page on every player who dreamed of being a Seattle Seahawk player!