Larry Shipp was there!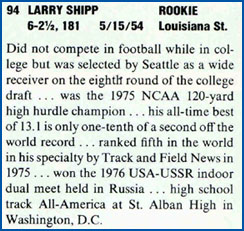 It is with great pride and honor that I get to share a special story with you about Larry Shipp! A friend of Larry's wrote to me hoping I might know the whereabouts of Larry. Through this website, two good friends who had lost contact with each other have been reunited! (See letters below.)
As if that's not good enough, Mr. Shipp has agreed to share some stories from his athletic career! I want to thank him for his willingness to talk with us. That is what this site is about -- showcasing the players who made up the 1976 Seahawks. Thank you Mr. Shipp, for being there and for telling us what it was like!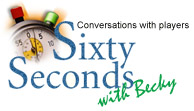 Seahawks
by Doug Thiel
Sunrise Publishing Inc.
In the 1976 college draft we also got Jeff Lloyd in the third round plus two third round bonus choices, Rick Engles and Don Bitterlich. In the fourth round Seattle chose Steve Meyer at quarterback; Randy Johnson, an offensive guard, was a bonus choice as was Andrew Bolton. In the fifth round Don Dufek, Ernie Jones and Larry Bates came to the Seahawks.
The other collegians drafted were Alvis Darby, Larry Shipp, Bob Bos, and Randy Coffield.
'Hawks Open Drills Today
By Don Fair
P-I Sports Writer
Rookie wide receiver Larry Shipp, the 1975 NCAA high hurdles champion, said of his unsuccessful Olympic trials bid, "I gave it my best, but a groin injury had kept me from racing from May 23 until the Trials. It feels fine and my mind, now, is all on football."
From: Larry Shipp
Sent: Monday, February 28, 2005 7:36 PM
Becky,
Thanks for your website! It was a pleasure getting in back in touch with an old friend. It had been 30 years since we had talked.
I would love to share some of my experiences with the Hawks, but I want to correct you about my memories as a Seattle Sea Hawk. My memories are far from being the worst, they are some of my best. Remember, I never played football at LSU (Larry Shipp University), and every kid dreams of playing football and I got the chance to play. So what if Steve Largent took my place! At least I could run 4.2.
When I was cut, I was asked to stay around for the practice squad, but I declined. The try out was a thrill, but finishing school was more important. I wanted to go back to school and to finish the 3 remainiing hours I had left in school. So I left Washington and went straight to Las Vegas for an unwind and win some more. At least in Vegas I was able to unwind and I was able to keep my signing bonus. It's funny today when I think of $36,000 a year contract that I signed.
The first year of Sea Hawks was interesting. We had to place the Sea Hawk decal on each helmet. The training food was to die for - literally. I had better food on my trips to Russia in the early 70's for track and field. So after evening film classes, we would go the local dive to eat and listen to Hall and Oates, "Sara Smile" on the juke box. Steve Raible was my roommate and we shared many stories about sports and home. We both had a girlfriend back home and the twice a day practices were not replacing them. Ahmad Rashad was there for a short period of time, and he was very helpful in teaching me how to run the pass patterns.
The are a lot similarities between track & field and football. Both sports require that you have:

the desire to win


to train past your physical abilities - daily


to execute


to win
Most athletes do not have the desire to win, train, execute and win. There are a lot of guys that are just happy to be on the team. What separates athletes from the average sport fan, is the ability to try and having no fear of losing or not succeeding. To commit to something without the fear of not succeeding is rare in an individual. Notice I said not succeeding instead of failing. Not succeeding is a learning experience and not the end of the world. One most learn to work on their strengthens and work twice as hard on the weakness. I have carried this attitude in my daily life to be a better profession and person.
Most people are deathly afraid of "failure." They think if you don't win or succeed you are a loser. So instead of trying, they rather not try. When I didn't make the team, I had people tell me that they were sorry for me that I didn't make the team. I would shock them, when I told them that I wasn't. I knew I gave it 100% and there is nothing to be ashamed or sorry about. When I ran track, I remember one year I got 8th place in the national championships and telling a friend who felt sorry for me, 'there are a lot of numbers after 8th. How many people can say that they are 8th best in the country in any endeavor that they are in.'
Only a handful have the mental capacity to win. This mental capacity also force those around you to perform at their maximum. In football, there was and is:

Jim Brown,


Joe Montana, and


Jerry Rice
Basketball:


Mike Jordan


Larry Bird


Magic Johnson, and


Shaquille O'Neal
Track & Field:


Willie Davenport


John Carlos, and


Michael Johnson
From: Sir Robert
Sent: Thursday, December 30, 2004 2:05 AM
Subject: Re: LARRY SHIPP
DEAR BECKY,
LARRY SHIPP AND I WERE MORE THAN TEAMMATES, WE WERE THE 'BEST' OF FRIENDS, AND I'VE MISSED HIM DEARLY OVER THE YEARS. LARRY WAS RANKED NO. 1 IN THE U.S. IN 1975, I WAS ALSO A RANKED HURDLER,DECATHLETE, AND 4-TIME ALL-AMERICAN.
LARRY HAS ALWAYS' BEEN A WINNER, A GENTLEMAN, AND FRIEND. I'M JUST BLESSED TO HAVE SHARED IN HIS SPOTLIGHT.
THANKS AGAIN,
SIR ROBERT -
From: Sir Robert
Sent: Wednesday, March 02, 2005 6:08 PM
DEAR BECKY,
I SPOKE WITH MY MY OLD FRIEND LARRY SHIPP THE OTHER EVENING, FOR ABOUT AN HOUR. HE'S DOING "REALLY" WELL, AND NOW RESIDES IN TAMPA, FLORIDA WITH HIS FAMILY. HE ALSO SENDS HIS 'THANKS' FOR POSTING MY SEARCH ON YOUR WEBSITE.
"THANK YOU" EVER SO MUCH FOR REUNITING US AFTER 30 YEARS.
SINCERELY,
SIR ROBERT -
From: Bruce Arbitblit
Sent: Sunday, April 06, 2008 7:29 AM
Subject: Larry Shipp
You can't say he never played football. When he was running track at LSU a bunch of us track guys used to throw the football around many days. When we played touch, I was the QB and Larry the Wide receiver. I couldn't throw far enough to keep up with him. Great guy.
From: Michael McKenzie
Sent: Sunday, August 10, 2008 7:56 PM
Subject: Larry Shipp
Becky,
In the last 15 or so years in becoming one of Larry Shipps best friends he still hates to lose!
We met through golf and have been friends ever since. Till this day he is very competitive and wants to beat me in golf so bad that he practices everyday in sunny Tampa. He is an awesome guy and he is always there when you need someone to talk to. We talk everyday about golf and life and should I say he talks about golf everyday and I just listen to he stories about him being the next Tiger Woods on the Senior Tour! In his dreams......
Mike "Spuds" McKenzie