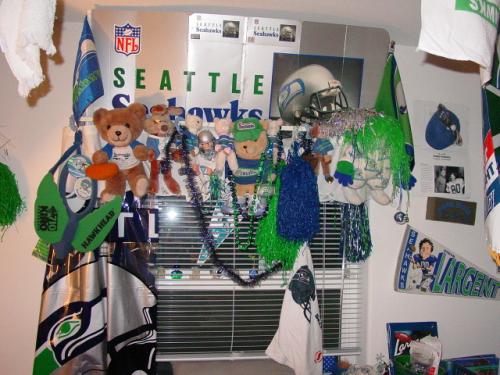 Date:
22 October 2007
Origin:
Nancy
Most coveted:
The Largent pennant! I love it and want one!!!
About Nancy:
I remember when I first got a computer a few years ago and found your site, then I found it again today. You have come a long way. It looks great! I will have to scan some oldie but goodys too to send in to your site. I got a great picture of my brother and I in front of the Kingdome. One of the first games I got to go to. Thanks for the great site.
Another Seahawkaholic,
Nancy
Oh, admit it!! You have weird stuff too! ALL true Seahawk fans have essential stuff like this!! I've seen some of the photo albums. I've seen your Seahawks bathrooms and your Seahawks family rooms and your Seahawks bedrooms and even your Seahawks cars and motorhomes! Send me pictures of your Seahawks Treasure Chest, one piece at a time. The best photos will be displayed here for all to see! Be blue! Be green! Be proud! I am!