Steve Taylor was there!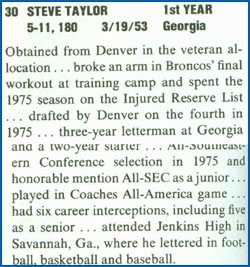 The Pocket Book of Pro Football 1976
Edited by Herbert M. Furlow
McMillan has experience and speed. If his attitude Is okay, Seattle lies a plus. Dave Brown comes from the Steelers, and may welcome the opportunity to play. He was a backup corner and safety last year as well as a kickoff-return man. With a plethora of corners on the roster, it seems likely that amongst Colbert, Crump, Davis, Taylor, and Woolsey some will be switched to safety. None is sure to Stay. Taylor is coming off a broken arm suffered in the Denver Broncos' camp.
Collecting Steve Taylor?
1976 Post-Intelligencer mini poster, #36
Note: We're looking for more information on Steve Taylor! If you have any information to assist us, please drop us a line! It's our goal to eventually have stories on all the pioneers from the 1976 Seahawks!