The Beginning:
"I think when I was 5 years old, I got my first Bart Starr uniform," Krieg said.
Continue reading
The Seahawk Years: Dave Krieg trotted from the bench, threw touchdown passes to Steve Largent and Paul Johns and engineered a third.
Continue reading
Retirement: Fitting that after so many years, Dave Krieg chose to return to the place where he began his NFL career to announce his retirement.
Continue reading
What Others Say About Dave: Jerry Wunsch -- "When I was growing up, Seattle was my favorite team because of a guy name Dave Krieg. ...
Continue reading
Dave on Dave: "Sometimes you just wonder how I've been able to last 17 years coming from Milton College," Krieg said.
Continue reading
What You Say about Dave: Dave is my favorite football player of all time for one reason. He played at the highest possible level that his talent would allow and then he squeezed out even more by working hard.
Continue reading
Dave Krieg for Ring of Honor! He's made it! Thanks to all of you who sent letters to petition the Seahawks for Dave's rightful place in the Ring of Honor!
Continue reading
Dave's World Tour: Dave's been ... uh ... he's been ... well ... I'm not sure where all he's been but some of our super secret Seahawks fans have spotted him in some interesting places and we've got the film to prove it!!
Continue reading
Dave's Stats: He ranks seventh in the NFL all-time in attempts (5,309), completions (3,105) and passing touchdowns (261). His 38,147 passing yards rank eighth.
Continue reading
It worked! We did it!!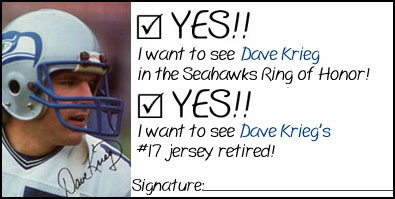 Your efforts paid off!! Dave Krieg was be inducted into the Seahawks Ring of Honor in 2004!!!
You know Dave Krieg's records as well as I do!! You know all about his background from the now-defunct Milton College!! (Do you ever hear the name Milton College without the "Now-Defunct" tag?!?) You know no one ever expected him to have a successful 19 year career in the NFL! You know how exciting it was to see the Krieg to Largent touchdowns, and none of us will ever forget the Krieg to Skansi game-winning TOUCHDOWN in Kansas City!!!! I get goosebumps just thinking about it!!
And now we've enshrined Dave Krieg! We've welcomed him home to Seattle where he'll live in our hearts and minds FOREVER!
Thanks to all of you who clicked on this ballot, printed it off, signed it and sent it to the Seahawks! Thanks for your letters telling me how much you loved Dave Krieg! Thanks for supporting him and for keeping the memories alive!
Now that our job is done, we could always drop the 'hawks a line to say thanks for listening to the fans! Let's make sure that the Seahawks' front office know how much we love and respect Dave Krieg and appreciate this gesture.
Seattle Seahawks
11220 NE 53rd Street
Kirkland, WA 98033
---
From: Bob Whittington
Sent: Wednesday, December 17, 2003 3:26 PM
Subject: If David Krieg Doesn't Get Into The Hall, Then There Is Not A God...
Krieg is in the top ten of every important QB statistic...sometimes in the top five! Without him, Steve Largent wouldn't have entered his last two Halls, so to speak!

David Krieg was one of the greats, and deserves to be enshrined in the NFL Hall of Fame! Wake up, Voters!!!!

Bob Whittington,
fan of the Steelers and Redskins
Washington, DC

More letters