Mark Wahl was there!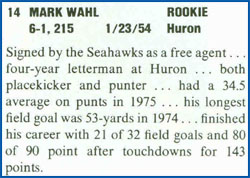 SCOREBOARD
Walla Walla Union-Bulletin
Tuesday, July 13, 1976
SEATTLE SEAHAWKS — Eddie Ray. running back, signed.
Mark Wahl, Dan Shepherd, Brad Kramer, Al Knapp and Keith Muehr, kickers; Herb Singleton and Scott Christman, quarterbacks; Dwaine Copeland and Clifton Marcus, running backs: Bob Cason, defensive back, and Ned Deane, linebacker, cut.
Collecting Mark Wahl?
1976 Post-Intelligencer mini poster, #2

We are looking for more information on Mark Wahl. If you can help, please let us know! We are looking for stories, newspaper articles, photos, memories -- anything you'd like to help us document!