Welcome to Beckys-Place!
Glad you're here! This site is a labor of love dedicated to the best team in the NFL, the Seattle Seahawks!
You can get current news and events from any number of NFL sites these days, and you can mix it up with fans in any number of on-line forums. What you'll find here are the best moments of the Seahawks! You'll find our history, our fanatacism, our quirks, our characters (read Boz!), our coaches, our drafts, our family and a whole lot more!
If you're not sure where to start, try clicking the buildings on the home page and see what's there! You might just find the look-alikes section inspired by uglyfootballers.com, our friends in the UK, or the Dressed for Success site. If the Vintage Fans page is contagious, send me your pictures from way back when! Allow me to publicly humiliate all of you as I have done with myself!! :-)
If you haven't popped into the Spirit site recently, I hope you'll have a look around. We've got a detailed feature there called the Unofficial A-Z of Seahawks Football with some serious research and fascinating analysis of the 1976 Seahawks. We've also recently updated the 60 Seconds with Becky feature.
We're celebrating the Mora era beginning ... er ... strike that! We're starting the Carroll era beginning in 2010! The Mora era was short-lived! We invite your comments!
I hope the fun is contagious and that you can't resist sending me stories and pictures to publish! I'm happy to accept ideas and contributions for the site! (Please, no copyrighted photos!)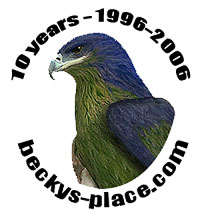 You old-timers may recall that my site began with a one page declaration of my fanatacism for the Seattle Seahawks. The words Seattle Seahawks were ... cleverly (???!!!) ... spelled out in something resembling baby blocks; later I remember thinking I was on the cutting edge when I had a background that looked like water! Egads! I spent a lot of time in the KJR Seahawks chat room in those days, and that's where many good ideas spawned. The site grew because YOU gave me suggestions, you made requests, you shared stories and photos and enthusiasm. It would never be what it is today without all the support and encouragement I've received from fellow fans. Thank you so much!
Special thanks to those of you who have been so generous with your time, your gifts, your patience and your friendship. Some of you have sent me newspaper clippings, magazines, photographs, Seahawks trinkets and collectibles in the mail when I hardly even know you. What a warm feeling that is. I treasure each item, no matter how minor you think your generosity to be. What would I do without my Seahawk family and friends? Thank you so much for who you are.
I've said from the beginning that the Seahawks family is indeed a good family. 14 years later I stand by that statement. Seahawks fans are the best! Go Hawks!
~Becky