Dave Williams was there!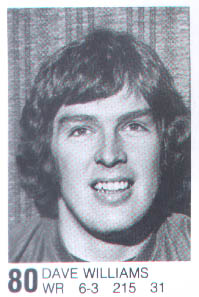 Almost.
Dave Williams? Only the first player signed to a Seahawk contract - memorable ex-Husky pass-catcher, seven years in the NFL and two more in the defunct American Football League. Alas, Williams banged up a knee in an off-season professional indoor track meet, went to surgery and never set foot in a game in the Kingdome.
'Hawks Open Drills Today
By Don Fair
P-I Sports Writer
The physical report on knee surgeries: Offensive lineman Gordon Jolley "will not participate for a week"; wide receiver Dave Williams, due July 16 "will probably be ready"; wide receiver Ahmad Rashad "may not start for a couple of weeks just as a precaution."
Hawks Drop Williams
Seattle Post-Intelligencer
August 21, 1976
"I'm very distressed and disappointed…I'm really confused," Williams said.
Williams admitted the knee "has gotten worse the last 10 days. It's real bad right now. I did fall twice during workouts and hyperflexed it both times."
Since reporting to Seahawk camp, Williams has never donned full gear.
Last night, Seahawk general manager John Thompson commented on the situation, "Dave is still unable at this time to pass our physical. At the track meet he was not representing the Seahawks. It was not part of his off-season job.
"The Seahawks feel they have assumed no liability for Dave's injury in the off-season. He came to training camp not able to pass the physical at that time, and in the view of the team physician he is still not able to pass our physical.
"He was offered the opportunity to be put on the physically unable reserve where he would have the chance between Oct. 15 and Nov. 1 to try again.
"He could have bought two-months time with this but he did not elect to do that, apparently."
Source: Seahawks 10 Year Anniversary book
In a savvy promotional gesture, [an] ex-Husky surfaced as the first player signed for the Seattle team. Dave Williams had built-in name recognition--football and track star from Tacoma's Lincoln High School, St. Louis' No. 1 draft choice from the University of Washington in 1967, five years an NFL wide receiver for the Cardinals and Pittsburgh Steelers and a season with the Southern California Sun of the short-lived World Football League.
Williams' job was to help sell tickets. He needed very little help. Twenty-seven days after the box office opened, Thompson announced the cutoff at 59,000 season tickets was reached.
With a team name and one player on the roster, Thompson opened 1976 by hiring a head coach, also with deep Northwest roots. Jack Patera.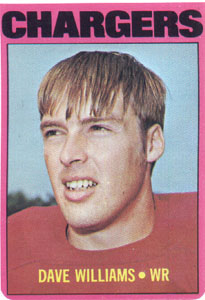 16 September 1976
But for right now, Seattle is having a lingering honeymoon with its expansion franchise. Fans can't get enough of the players or the game and even losing hasn't dampened their enthusiasm.
"The only thing they seem to be careful about is endorsements," said Curtis. "The first Seahawk, Dave Williams, was endorsing everything you could name. Then he was cut. That kind of took care of endorsements for a while."
The Shanaman Sports Museum of Tacoma-Pierce County was established in 1994 to re-create the history of sports in the community by chronicling its evolution through written and visual displays. The museum preserves Pierce County's rich sports heritage by exposing visitors to the many athletic accomplishments of area teams and individuals, both past and present.
Included in the impressive array of memorabilia are:
Football display cases which include helmets worn by Bellarmine High School's Ron Medved, who played for the Philadelphia Eagles, and Mt. Tahoma High School's Ray Horton of the Dallas Cowboys; former Peninsula High School star Paul Skansi's Seattle Seahawks jersey; and the Canadian Football League Grey Cup championship ring Curtis High School's Mike Levenseller received as a member of the Toronto Argonauts.
Game-worn jerseys from Dave Williams (Lincoln High School / St. Louis Cardinals), Mike Blowers (Bethel High School / Seattle Mariners) and Jeff Stock (Stadium High School / Seattle Sounders), to name a few.
The museum is attached to the Tacoma Dome and is located adjacent to the exhibition hall on the Dome's lower level. The museum is open during all sporting events and selected other special events at the Tacoma Dome.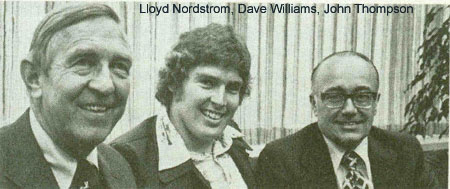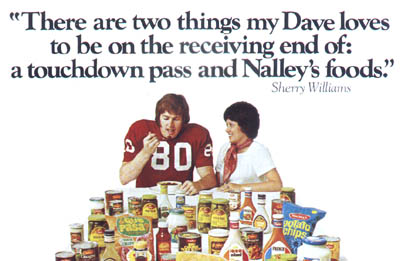 TRACK & FIELD / CROSS COUNTRY
Dave Williams
A graduate of Lincoln High School in 1963 and the Univ. of Washington in 1967, Williams was a three-sport letterman in football, basketball and track and was the state high hurdles champion in 1963.
Freshman were not allowed to compete in any varsity events or receive travel money and he had never competed in the Decathlon until one month before the 1964 Olympic Trails when he found a qualifying meet at Moses Lake High School. Stan Hiserman, Head track coach at the UW, drove him over to the meet in Moses Lake and he qualified to compete at the Trials in Mt. Sac, California. Of the thirty competitors he finished 12th. CK Yang won the event even though he attended UCLA earlier, but was competing for Formosa and later won the Gold at Tokyo and he also competed top decathloners Bill Toomey and Russ Hodge.
Following a successful college career where he was a football All-American, Williams was drafted in the first round of the 1967 NFL draft as the 17th overall pick, and was the second receiver taken behind Gene Washington of Michigan State. He played seven years in the NFL with the St. Louis Cardinals, San Diego Chargers, and Pittsburgh Steelers and two with the WFL¹s Southern California Sun.
Lloyd Nordstrom and the Seahawks were gracious enough to make Williams their first player signed in November of 1975 (Jim Zorn and Ahmad Rashad were signed shortly thereafter) and he selected jersey #80. Dave had worn #80 with the Cards for five years and #90 with the Huskies for all three varsity years. He worked in the off-season for the Seahawks in several different areas by making over 90 presentations in the NW to promote ticket sales but severely injured the left knee in an off-season promotional event for the Seahawks which never healed properly.
He was forced to retire in August of 1976 at the same time Steve Largent was picked up and signed. As Williams was leaving the locker room he met Steve and told him he could have his jersey #80, shoes, pads and pretty much anything he found of use because Williams' career was finished.
Dave now tells his kids and grandkids that his jersey is in the NFL Hall of Fame, but it just has a different name on it.
His Cardinals jersey and helmet are on display.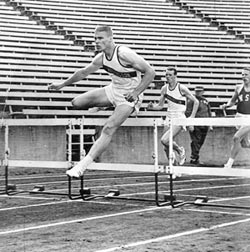 Top 100 Prep Athlete of the Century
In the 20th century, hundreds of thousands of people have played high school sports in the South Puget Sound area. Over the past seven weeks, The News Tribune sports staff - with the help of a steering committee of journalists, coaches, players, officials and historians - has whittled the list to a Top 100. The selections are based solely on the athletes' high school achievements. They are listed in alphabetical order:
Brock Huard / Puyallup, '95 / football, basketball
Bobby Moore / Mount Tahoma, '68 / football, basketball, track
As dominant in track as football. Changed name to Ahmad Rashad on way to career in NFL and TV
Paul Skansi / Peninsula, '79 / football
Dave Williams / Lincoln, '63 / football, track
State hurdles champ, all-state football player. Starred at UW, first-round NFL draft choice
Collecting Dave Williams?
1972 Topps #47