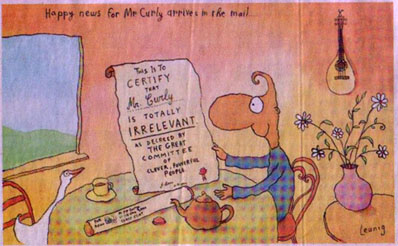 Mr. Irrelevant
If the NFL can have one, the Seahawks can, too!
On April 24, 2005, the Seattle Times declared that Doug Nienhuis was "the runner-up to Mr Irrelevant" after becoming the second-last overall draft pick in 2005.
At Becky's Place, no Seahawk has EVER been anywhere near close to irrelevant!
This web page is a celebration of the so called Mr. Irrelevants of the Seattle Seahawks ... the last guy to be picked by the Seahawks in each draft.
| | | |
| --- | --- | --- |
| Drafted | Player | What we know... |
| 2012 | Greg Scruggs | There is no better candidate for this year's pick. NFL.com doesn't even list his height and weight. Excellent article here. |
| 2011 | Malcolm Smith | . |
| 2010 | Jameson Konz | Spent 2010 on injured reserve with a hip injury; placed on injured reserve in October 2011 for an ACL tear. |
| 2009 | Cameron Morrah | . |
| 2008 | Brandon Coutu | Didn't see playing time in 2008 but remained on the squad. Released, re-signed in 2011, released a month later, signed by the Las Vegas Locomotives, then the Jags, then the Bills. |
| 2007 | Steve Vallos | Spent 2007 on practice squad; was active 16 games in 2008; played all season in 2009; went to the Browns in 2010-11 and to the Eagles in 2012. |
| 2006 | Ben Obomanu | You da Obomanu! (Hey, it's just so fun to say!) Ben is a player who was almost always on the bubble during the cuts but managed to hold on, despite injuries. On Injured Reserve 2008 with a broken collarbone. Has been a solid pick as is evidenced by spending 6 years and counting with the Seahawks! Thanks, Ben! |
| 2005 | Doug Nienhuis | 253 draft picks later, WE LIKE HIM! His NFL career spanned 3 years. Seahawks 2005, Jets 2005, Texans 2006, and Broncos 2006-2007. |
| 2004 | Donnie Jones, Jr. | Wrote a book, started a foundation to help kids, played for Miami. |
| 2003 | Taco Wallace | 4 games in 3 years; one for the Packers. Released from the Seahawks 8/29/06. Go State! |
| 2002 | Jeff Kelly | 1 1/2 years in Seattle; Head football coach at Satsuma High School, Ala. |
| 2001 | Kris Kocurek | Played for the Titans in 2001 and 2002. |
| 2000 | John Hilliard | |
| 1999 | Steve Johnson | |
| 1998 | Jason McEndoo | |
| 1997 | Carlos Jones | |
| 1996 | Johnie Church | |
| 1995 | Keif Bryant | |
| 1994 | Carlester Crumpler | With a name like that how can you go wrong?! We all loved Carlester Crumpler! |
| 1993 | Antonio Edwards | |
| 1992 | John MacNeill | Traded to NY Jets |
| 1991 | Ike Harris | |
| 1990 | John Gromos | |
| 1989 | R.J. Kors | Played 16 games in 1991 and 14 games in 1992 for the NY Jets; played 7 games in 1993 for Cincinnati |
| 1988 | Dave DesRochers | |
| 1987 | Tony Burse | |
| 1986 | John McVeigh | |
| 1985 | Louis Cooper | |
| 1984 | Theodis Windham, | |
| 1983 | Don Dow | |
| 1982 | Frank Naylor | |
| 1981 | Jeff Bednarek | |
| 1980 | Presnell Gilbert | |
| 1979 | Jeff Moore | |
| 1978 | Jeff Bergeron | |
| 1977 | I.V. Wilson | |
| 1976 | Chris Rowland | Please visit our Spirit site for info on all 1976 players! |