Season Record | Back | Home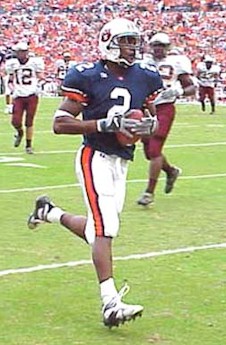 Mr. Irrelevant: Ben Obomanu
August 31, 2006 The Tacoma News Tribune lists Ben Obomanu as "on the bubble". If the Seahawks go with seven receivers as they did last year, Obomanu may be safe. Ranked as locks are Darrell Jackson, Bobby Engram, Nate Burleson and D.J. Hackett. Ranked as "looking safe" is Peter Warrick, a player who has come under criticism a bit this pre-season. The two players "on the bubble" are Ben Obomanu and Maurice Mann.
September 2, 2006 Waived by the Seahawks on their cut-down day.
September 3, 2006 The Tacoma News Tribune reports that Obomanu is "a prime practice-squad candidate."
September 4, 2006 Obomanu became one of the eight men on the practice squad with a salary of $4,700 per week ($79,900/season). He is free to sign with any team who will put him on their active roster.
January 6, 2007 Obomanu was signed to the squad for the play-offs to bolster the injured receiving corps. Itula Mili was released to make room for Obomanu.
June 15, 2007 The Seattle Times reports: Second-year WR Ben Obomanu, who got reps with the first-team offense last week because Deion Branch was on his honeymoon, is best friends with free-agent CB Kevin Hobbs. "The opportunity we have to critique each other, especially with us going one-on-one, that helps," Obomanu said. "I know that he knows me and knows my game, and vice versa.
August 2007 Following the Seahawks scrimmage, the Tacoma News Tribune reports: WR Ben Obomanu left in an ambulance after suffering a neck injury. Holmgren did not know how serious the injury was. It was later determined that it was not a significant injury.
August 13, 2007 Obomanu made a terrific showing at the first preseason game, catching the eye of all the local media and some national media as well. He caught 5 passes for 83 yards, including a one-handed receiption in the end zone for a touchdown! He also ran back punts and broke one for 22 yards. "I wanted to come back and show that I learned a lot from last year", Oboomanu said.
January 20, 2008 From the Seattle Times: Wide Receiver - One of the deepest positions on the team, but Branch and Hackett were injured often in 2007. Engram and Burleson played pivotal roles, and Obomanu and Taylor showed promise. Hackett could become a free agent and could be expendable with Obomanu and Taylor emerging, but with Branch out for an extended period for knee surgery, the Seahawks might feel the need to re-sign Hackett.
August 10, 2008 During training camp, Obomanu's receptions were chosen by the media as the Offensive Plays of the Day when he beat Marcus Trufant in coverage for a receiption, and then catching a touchdown pass during 11-on-11 red-zone drills. However in the first pre-season game, he was held to no receptions.
August 30, 2008 Oh, much sadness! It's reported today that Obomanu broke his clavicle in the final pre-season game of the year. They are considering putting him on Injured Reserve. "I feel bad for him. He was very much in our plans and knew all the [receiver] positions," said Mike Holmgren.
November 18, 2010 Great article written about Ben Obomanu in the Tacoma News Tribune.
January 7, 2011 Finally, Obomanu is getting the attention he deserves as we head to the playoffs having won the NFC West Division last week against the St Louis Rams. Great article by the Tacoma News Tribune.