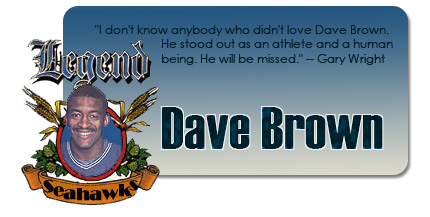 Dave Brown was there!
In fact, he played in 159 games for the Seahawks and started in 159 games for the Seahawks! It's no wonder he's in the Seahawks Ring of Honor!
Seattle Draft: 'Good Job'
Seattle players choices were sent "welcome" telegrams from Patera yesterday. Later, all will receive personal telephone calls from the appropriate Seahawk assistant coach.
As a group, the newest Seahawks did not express disappointment or disgust at joining an expansion franchise.
Dave Brown, cornerback, Pittsburgh - "I'm really glad. It will be my chance to do a lot of playing. Sure it's going to take a couple of years to get it together, but when we get good personnel and work with the coach, it will be fine. I'm very optimistic."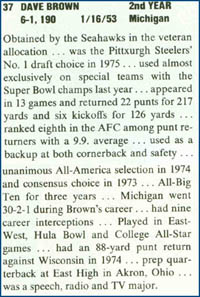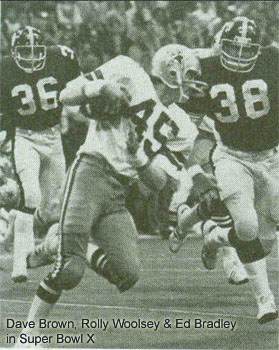 The Pocket Book of Pro Football 1976
Edited by Herbert M. Furlow
McMillan has experience and speed. If his attitude Is okay, Seattle lies a plus. Dave Brown comes from the Steelers, and may welcome the opportunity to play. He was a backup corner and safety last year as well as a kickoff-return man. With a plethora of corners on the roster, it seems likely that amongst Colbert, Crump, Davis, Taylor, and Woolsey some will be switched to safety. None is sure to Stay. Taylor is coming off a broken arm suffered in the Denver Broncos' camp.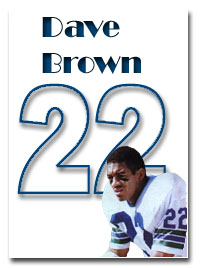 Collecting Dave Brown?
1980 Topps #317 Dave Brown
1981 Topps #167 Dave Brown
1982 Seahawks Police #5 Dave Brown
1984 Topps #190 Dave Brown
1985 Seahawks Police #1 Dave Brown
1985 Topps #381 Dave Brown
1987 Topps #182 Dave Brown