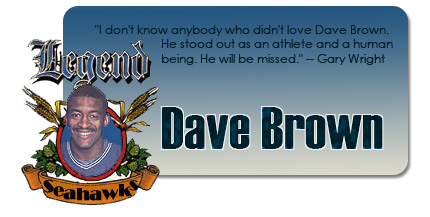 Send us your memories about Dave Brown and we'll add them to this tribute site.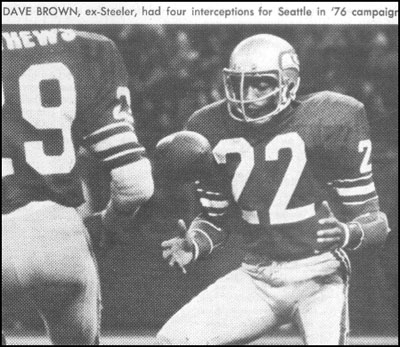 From: Marcus Boyd
Sent: Wednesday, January 11, 2006 9:09 AM
Subject: Dave Brown
Hello Becky,
I am a former player who played for Coach Brown at Texas Tech University. I was shocked when I heard of his death last night. I looked up to and respected Coach Brown not only for the way he coached, but for being the strong Christian man that he was as well. He had a great passion for the things he did and was humble at the same time. He will be dearly missed and I pray that his family can stay strong through these troubling times.
Marcus Boyd
Cornerback 2000-2003
Posted: 11 Jan 2006 03:39 am Post subject: Coach Brown
Sharpclaw(s): Coach Brown was one of the finest gentlemen you could ever meet. We are all less off tonight without him with us.
Posted: 11 Jan 2006 03:20 am
Quote Beckys-p:
But I'll bet the football teams in heaven have already called dibs!
SoiledSeahawker: The next time you see a falling star disappear from sight, you'll know Dave Brown just increased his heavenly interception record.
From: RedRaider Rox
Sent: Tuesday, January 10, 2006 8:25 PM
Subject: Dave Brown passed away today
Hello Becky,
Former Seahawk and current Texas Tech asst. Coach Dave Brown died today of a heart attack.
I live in Lubbock, and am a huge Texas Tech fan. When I heard about his death, I was searching the net for some stories and pics of him, I found your site, and really enjoyed the story you did with him, and thought I would let you know about his untimely passing.
He was at the Texas Tech Rec. Center playing basketball when he had the heart attack and died shortly after :-/
Thanks for the great story on him,
Keith Davis
What Other Say About Him
"Dave Brown was a leader. Dave Brown was a family man. Dave Brown was dedicated. Dave Brown was a man who believed in God. There's no sadness in that. Any person that believes in God is going to a better place. And that was Dave." -- Charle Young
"He's one of the greatest athletes I've ever seen. I was fortunate to play with him all through college and the pros. ... The remarkable thing is he never got hurt. I never remember him hardly being sick." -- Don Dufek
"I'm totally numb. It is really a shock. We've just lost a really good friend." -- Jim Zorn, upon learning of the death of Dave Brown
"I don't know anybody who didn't love Dave Brown. He stood out as an athlete and a human being. He will be missed." -- Gary Wright, Seahawks vice president of administration
"He lived by The Word and was a man of God. "Not one day did he ever waver from that." -- Assistant Texas Tech coach Ruffin McNeill
"He epitomized Seahawks football. I will truly miss him." -- Curt Warner
"Dave was just a great guy. And I loved Dave. All the great things said about him were true. He's going to be missed a lot. The world's a sadder place without him. He may have been a great player, but he's an even better person. I was proud to call him my friend." -- Steve Largent
Dave Brown on the Kingdome:
"We always felt like we had great fans, from all over Washington, Oregon and Alaska. The fans took great pride in being as noisy as they possibly could. I can remember the games we had on Monday nights against the Raiders and how huge those games were." -- Dave Brown
"I thought if I could get my hands on it, I would intercept it." -- Dave Brown
"Because everybody knows they don't make 'em like they used to." -- Dave Brown referring to the comparison between players of the 1984 and the 1998 Seahawks
"There were Seahawker fans who were always at the airport even though we got beat terribly. They were always there to encourage us. I get a smile on my face that someone loved us despite our circumstances." -- Dave Brown
"Trading him, was a tough thing to do. He's a great football player and a great part of Seahawks' football history." -- Coach Chuck Knox
Dave Brown on himself:
"I'm a Christian who coaches."