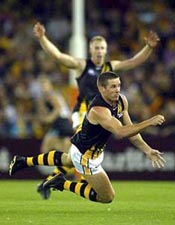 Matthew Rogers
By Chris Greenway
From the sublime to the ridiculous. Last week you got the good, this week you get the bad: Matthew 'Buck' Rogers. I didn't always have a problem with Rogers. In fact for the first few years of his career I was quite a fan. He moved across from S.A the same year as the ill fated Jamie 'Sticky' Tape.
At first he couldn't find a spot, although he always seemed to wind up in the forward line. He was frustrated for a while there, just about to cement a senior berth and he'd get a niggling injury. When he did cement his spot he started in the forward line and was then moved into the backline where his accurate disposal was a rarity and a God send. He thought about going back home and we talked him out of it with the promise of good things ahead. We delivered on that with a finals appearance in 2001.
2000 was the year everything changed for Buck. With Richo out he became the go to guy in the forward line and led our goal kicking. in 2001 he seemed to have difficulty adjusting to the fact that when Richo was in the side he was meant to pick up the crumbs not fly for the marks and spoil the big fella more often than not. He was moved into the backline and eventually played off the bench.
Things did not improve last year, he was started off the bench in most games, regularly made mistakes and played 3 good games for the season. For reasons beyond me he was not delisted. Up until the Port game on Saturday night, where he was pretty good, he'd averaged 2 goals a game, for the opposition! He'll prob'ly play his 200th, but he hasn't earned his spot for the last season and a half. Part of my animosity may stem from the fact that he wears number 4. Ever since the legendary Royce Hart only the best of the best deserve that number.
There you have it, Becky. Kind of scathing, but I get annoyed when a player with talent just wastes it in the way Rogers has ever since 2000.