Coach Holmgren & Jon Kitna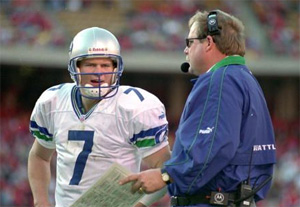 "I'm the new head coach coming in, he was the quarterback that was here. While he did lead us to the playoffs the first year, there was some things I wanted to do differently." -- Mike Holmgren, regarding Jon Kitna.
"I didn't like the way he treated me, so I wasn't going to talk to him, either," Kitna said. "Everybody on the team knew he wasn't being fair with me, so I was just going to hold onto that instead of trying to make the situation better."
Asked what he learned from his former coach, Kitna said: "A lot, how to manage a football game. That's where I really learned to win games you're supposed to win, manage the clock, field position. As a quarterback, there are times you get outside of that and get greedy. But I learned so much from that guy. He's a genius."
Coach Holmgren & Ahman Green
"If he's the man I think he is," Holmgren said, "he'll take (Saturday) night's game and make the corrections and be a better player, because he was horrible - absolutely horrible."
Source: Monday, August 30, 1999, Seahawk Notebook -- Coach Calls Ahman Green `Horrible' After Two Fumbles, By Percy Allen, Seattle Times Staff Reporter