Jay Douglas was there!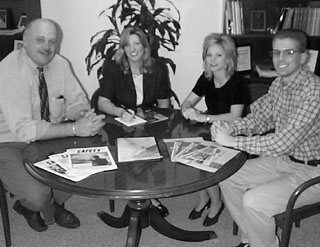 Pre-76
All-Missouri Valley Conference selection
Drafted 1973 (Chargers)
DNP 1975

Smith 'A Pleasure to Watch'
He (
Jack Patera
) again cited offensive tackles
Nick Bebout
(veteran) and Jay Douglas (free agent) for their pass blocking.
Where are they now: Jay Douglas
I am a Completions Global HSE Manager for Weatherford International Inc., a global leader in oilfield services and technology.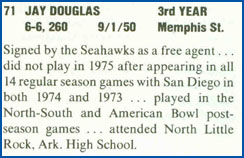 ASSE's first participant in the Organization Value Program is Weatherford International, Inc. Based in Houston, Weatherford is a leading oilfield service company that has more than 300 locations worldwide and 11,856 employees. The firm currently operates five divisions: Completion Systems; Drilling and Intervention Services; Artificial Lift Systems; Global Compression Services and Grant Prideco. Weatherford is market leader in many of its core products and service offerings, particularly fishing and well installation services, completion systems and production enhancement activities. The company continues to acquire and develop new products and services in completion systems, re-entry, under balanced drilling, lift optimization and compression services.