Nick Bebout was there!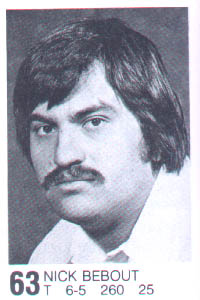 He was one of the most dependable players on the '76 squad and had a bit of a prankster streak in him! He is a member of the Wyoming Athletics Hall of Fame!
Pre-76
All-Western Athletic Conference selection (3 years)
Second team All-America as selected by UPI
Drafted 1973 (Atlanta)
A Seahawk Blueprint: from expansion to contention
Source: Norm Evans' Seahawk Report
Oct. 29 – Nov. 4, 1979
By Gary Huff
The bulk of the Seahawks first team in 1976 came, of course, from the veteran allocations draft. Many of those drafted merely filled positions until the college draft could provide quality replacements. Only four of those expansion draftees,
Nick Bebout
,
Art Kuehn
,
Sam McCullum
and
Dave Brown
remain today.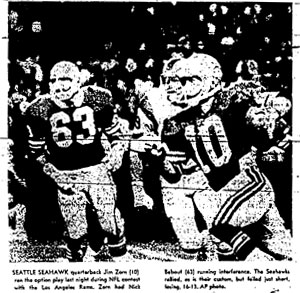 Seattle Draft: 'Good Job'
Don Kosterman, executive vice-president and general manager of the Los Angeles Rams, offered, "Seattle did an excellent job and got some veteran players who will be invaluable. For instance, (Nick)
Bebout
, (John)
Demarie
, (Rocky)
Rasley
, (Gordon)
Jolley
, (Fred)
Hoaglin
, (Norm)
Evans
, (Bob)
Penchion
are going to play to give the Seahawks an established offensive line.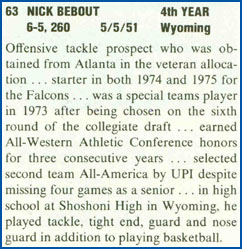 Smith 'A Pleasure to Watch'
He (Jack Patera) again cited offensive tackles
Nick Bebout
(veteran) and Jay Douglas (free agent) for their pass blocking.
Dog-day afternoons
Remembering training camps of yesteryear
Jack Patera
: "
Nick Bebout
was the toughest player for me to release. Nick was a big OT from Wyoming who was with me from our expansion season, a guy that you just liked to have around the team. Great enthusiasm, worked as hard as he could, gave his best effort. Everyone liked him. He just didn't quite have the talent that we needed to build a real good offensive line. ... After we released him before the '80 season, I knew we made a mistake. We should've kept him around for another year instead of going with a rookie (OT Andre Hines), who we thought had more talent and would eventually develop. He never did."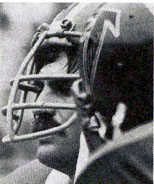 Street and Smith's Pro Football 1977
The only offensive lineman who started every game was tackle
Nick Bebout
, and that doesn't guarantee him anything in 1977. About the only thing certain for the Seahawks in this department is that August must start. The Dorsett trade just about makes that mandatory.
Street and Smith's Pro Football 1978
Norm Evans
, the durable old ex-Dolphin, still contributes at 36, but he has to be replaced soon.
Nick Bebout
is the other vet on the roster, but the eventual successor probably will be someone like the rookies drafted this season, Louis Bullard of Jackson State or Rich Grimmett of Illinois.
Pro Football 1976
by Larry Felser and Dave Klein
And if Patera really wants to stay up nights, he can think about his interior line. At the moment, the tackles will be
Nick Bebout
and
Norm Evans
. The guards are
John Demarie
and
Bob Penchion
.
Fred Hoaglin
is at center.
While this group is less than impressive, there is no passable depth. Randy Johnson is a 244-pound rookie guard from Georgia, Art Kuehn is a rookie backup (for now) center from the Redskins and Gordon Jolley is a tackle reserve.
Bebout didn't play well with the Falcons. Evans, once a Pro Bowl is a bit old and may not show his ability on a weak line. Demarie should have a few years left. Penchion played weill in spurts during his career. Hoaglin can play center and guard. Kuehn, one of George Allen's mystery names, played well at UCLA two years ago he never made the Redskins' active roster, joining the WFL instead. Johnson had good grades in college and could win a job. Jolley starting material.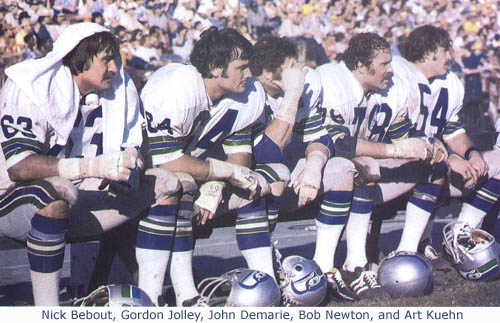 Cheney All About Concentration and Fence Mending
Source: The News Tribune
Mar 6, 1997
By DAVE BOLING, News Tribune columnist
KIRO-TV news anchor
Steve Raible
, a Seahawks receiver from 1976 through 1981, likes the notion of the team returning to Cheney - now that he doesn't have to sweat through it himself.
"I know I wasn't crazy about it when I was doing it, but now I think it's a good thing. I mean, really, over there, there is only one thing to focus on," he said. "It's a nice little town with nice people, but there's not much to do."
Except get to know your teammates.
"We used to do all kinds of training camp stunts," Raible said, recalling one nocturnal prank of jacking up coach Jack Patera's car and putting it on blocks, along with the usual fire extinguisher antics in the dorm.
"We used to go to Nick Bebout's room after curfew and throw back a few beers," he said. "Hey, it had been 100 degrees and you had to replenish your fluids. He used to sit there with a toilet seat around his neck - I have no idea why - and strum his guitar and drink beer." And the sense of shared hardship and privation pays dividends later, during the season.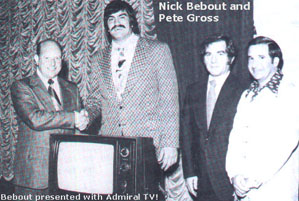 2001 Wyoming Athletics Hall of Fame Inductees Announced
Bebout, Capua, Cook, Dunn, Garnett, Jackson and the undefeated 1956 football team comprise class.
Feb. 10, 2001
LARAMIE, Wyo.
University of Wyoming Athletics Director Lee Moon has announced the Intercollegiate Athletics Hall of Fame class of 2001. This year's exceptional group includes four athletes, one team and two individuals who have contributed greatly to the University's athletic program.
The committee selected the new inductees from one of five categories: athletes, must have earned at least two varsity letters and must have been out of scohol at least five years, coaches, must have been a staff member for at least five years and no longer be active at UW, An athletic team, is considered one inductee and does not exclude separate inductions of one or more team members, athletic staff, members who must have been at UW for at least five years, and no longer are employed there, special achievement, awards those whom make significant contributions to the ideal of sports. Each nominee must receive a minimum of seventy-five percent of the committee's votes to be eligible for induction.
The following is a list of the 2001 inductees and their accomplishments.
NICK BEBOUT
Hometown: Shoshoni, Wyo.
Sport: Football
Years: 1970-72
"Quick, mobile and an overpowering blocker," describes three-year starter and letterman Nick Bebout. The native of Shoshoni, Wyoming was a pre-season PlayboyAll-American selection and Chris Schenkel's Sportscene All-American as an offensive tackle his senior year with the Cowboys. He also was a team captain that season. The first offensive lineman inducted into the Hall of Fame, Bebout was drafted by the Atlanta Falcons in the sixth round and played with them from 1973 to 1975. He played for the Seattle Seahawks from 1976 to 1980. The fact that offensive linemen are often overlooked speaks very highly of his ability and the contributions he made to the Cowboy football tradition.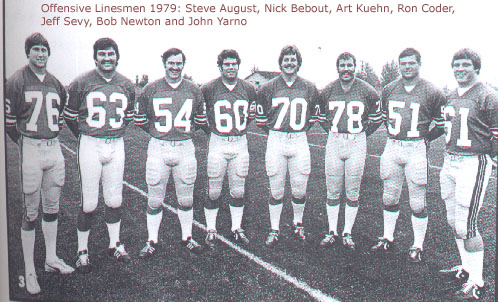 Even when Seahawks didn't win, they entertained
by Gordon Wittenmyer
Seattle Times staff reporter
Sunday, February 04, 1996
Source: Seattle Times,
The only car left in the parking lot is his. The place is quiet except for the click of his steps on the pavement and the sound of a breeze rustling in nearby shrubs.
Seahawk Coach Jack Patera climbs into his car, but something doesn't feel quite right. He can't tell what until he puts the car in gear.
The wheels spin. And the car goes nowhere.
And he realizes that wasn't the breeze he heard.
"We jacked up the back of his car one night," says Art Kuehn, former Seahawk center. "(Tackle) Nick Bebout and I did it. Then we just sat in the bushes and laughed."
It might have been the first off-the-field laughter in two decades of often laughable, sometimes lovable Seahawk football.
But it certainly wasn't the last. That one may belong to owner Ken Behring.
"There's a lot of emotion right now," says Jim Zorn, the team's first quarterback of reaction to Behring's attempt to move the club to Los Angeles. "I'm not crying or anything. But I'm disappointed. Not just for Seattle, but for every other city losing a team."
In just one year, the list of cities with teams going or gone includes Los Angeles (which lost both the Rams and Raiders last year), Cleveland, Houston and now Seattle.
"You think about what the Seahawks have done over the years with charities and the player involvement in the community," says Zorn, an assistant coach at the University of Minnesota, "and a lot of that stuff is lost, just completely lost, if this thing comes about. And that would be sad."
Says former running back Curt Warner, who owns a car dealership in Bellevue: "I don't think it's sunk in yet for me."
News of Behring's plans has sent an emotional ripple through former Seahawk players, many of whom still live in the area.
"When we first heard this . . . I was angry that this could happen," says former lineman Manu Tuiasosopo, who lives in Woodinville. "Having been out of the game, I've become a fan, and from a fan's standpoint I'm going, `This can't happen."'
The impending move seems to have brought the franchise's life flashing before the eyes of those who shared it.
"You don't remember the plays and things like that, but you remember the guys on the team," says Kuehn, football and wrestling coach at Cedarcrest High in Duvall. "The guys that kept you loose off the field. Guys like (lineman) Bob Lurtsema, who'd jump into a poker game and drop 50 bucks right away just to see the surprise of the other guys."
Or the guy who late in the Seahawks' first Monday Night Football game in 1979 mugged for the camera by holding up four fingers and shouting, "We're No. 4" - a response to Patera outlawing the "We're No. 1" yell.
Or guys like Brian Bosworth. Well, there was only one Boz - to the great relief of most Seahawk fans. "Just look at Bosworth," says Jacob Green, former Pro Bowl defensive end, who lives in Houston. "He's as off as they get.
Or guys like fullback Dan Doornink, the doctor in the backfield (now practicing in Yakima), who after one productive game said, "I may not be fast, but I don't have any moves."
Or guys like Kuehn, who on road trips entertained himself and other veterans by phoning the hotel room of a rookie and telling him a reporter wanted an interview in the lobby. "Then you watch the rookie walk around for 20 minutes and look for the guy," Kuehn says.
"It was a business then, too," he says, "but not as much as now, I believe. We had a lot of fun."
So much fun, perhaps, that Patera, the team's first head coach, can't remember the jacked-up car incident. "But I can believe they might have tried to do that, knowing both of them," says Patera, who lives in Edmonds.
Bebout, after all, was the guy who showed up at Patera's door an hour or two after the coach had offered the team instruction in autographing footballs for charity.
"I've been around a lot of teams where you get a `Tarzan' and `Batman' and so forth," Patera says of off-the-wall signatures, "so I said, `If you don't know your name or how to spell it, just put an `X."'
Knock, knock.
"Bebout's at my door, and he said, `We all got together and figured you really deserved something at the end of the year,"' Patera says. "He handed me a football that had 45 X's on it. It's one of the things I still own and get a chuckle out of every time I look at it."
The laughing didn't always end when the game started - especially during Patera's seven-year reign.
The team that boasted a mobile, left-hander at quarterback (Zorn) and a future Hall of Famer at receiver (Steve Largent) received at least as much attention for plays involving kicker Efren Herrera and punter Herman Weaver.
In a 19-17 loss to the Oakland Raiders on Monday Night Football in 1980, Herrera caught a 9-yard pass from Zorn on a fake field goal, setting up a touchdown. On another successful fake that season, he was the lead blocker.
"Of course, everybody thinks Efren Herrera was our leading receiver at one time," Patera says. "We just felt we had a guy there who could do some things."
Fake field goals, fake punts, onside kicks in the middle of the game - the unpredictable style defined the early Seahawks.
"You've got to love those Seahawks!" shouted ABC's Howard Cosell after Herrera caught the first-down pass against the Raiders.
"Jack would try it all," Green says. "We would pull out all stops."
This was a team whose punter led the team in completion percentage three times. In fact, Weaver completed 50 percent of his career passes (five for 10).
"They may not have been the soundest things to do, but we had fun doing it," says Patera, who added that his special-teams playbooks were as thick as the offensive and defensive books. "There were things we had in there that we couldn't do just because we never found the right situation for it."
One was a fake field-goal play in which Herrera would wind up throwing a pass. "Efren probably drew that one up," Patera says.
One Patera wanted to try and didn't was an onside free kick after a safety.
"Sometimes I think the fans enjoyed that more than winning," he says. "We certainly didn't win a championship, but if I talked to 10 people, I think 10 of them would tell me they loved all those things we did."
And they showed it by turning out. From the beginning and through the first 18 seasons, the Seahawks were among the NFL's top teams in attendance from the beginning. In its first year, the team reached its sales target of 59,000 season tickets in less than a month. By the time Behring bought the team in 1988, the waiting list for season tickets was said to be 30,000 names long.
Those fans and the home-field advantage created by their deafening noise were so appreciated that the Seahawks retired jersey No. 12, for their "12th man."
"The thing I remember the most was the good times when we were a contender, and the Raiders used to come in there," Green says. "Man, the stadium used to go wild, and it would be rocking, and we set all kinds of records for sellouts, and the team was winning."
When Seattle began winning - earning four playoff berths in six seasons during the 1980s - other teams complained that the noise of more than 60,000 fans screaming inside the Kingdome was an unfair advantage. Teams began experimenting with helmet transmitters for quarterbacks.
"We won a lot of games there strictly because fans were going crazy, and it was a playoff atmosphere," Green says. "The Kingdome played a big role in a lot of the games we won. . . ."
He pauses to consider the irony that the inadequacy of the Kingdome now is being used as Behring's sole reason for leaving.
"It helps you win, and now all of a sudden, it's why they're not going to be there," he says.
Perhaps the highlight of Seahawk football came in 1983, when Coach Chuck Knox's first Seahawk team upset Miami 27-20 to advance to the AFC championship game. Five years later, the team won its only AFC West title.
After that team lost its playoff opener to eventual AFC champ Cincinnati, a large crowd turned out to greet the players at the airport. Lineman Bryan Millard told the crowd, "We'll be back again next year."
He was wrong.
The Seahawks never returned to the playoffs. In fact, they appear headed back to where it began for the franchise's defining baby face of the 1970s.
"A friend of mine drove me up, towing my Volkswagen behind us," says Zorn, a free agent out of Cal Poly Pomona. "I had everything I owned shoved in my VW. And I still haven't gone back."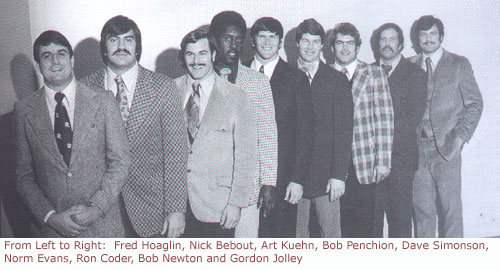 The Pocket Book of Pro Football 1976
Edited by Herbert M. Furlow
The team's strongest segment. All-Pro
Norm Evans
still likes to play. His being dumped into the expansion pool has caused resentment among the Dolphins.
Nick Bebout
was the biggest man on the Atlanta offensive line last year, and sometimes started.
John Demarie
led Cleveland in its upset win over Cincinnati last November. A ten_year man, he can play both guard and center. Fred Hoaglin is a dedicated pro with 11 years. Last season he was the backup center at Houston and played on special teams. Bob Penchion started for the 49ers in 1975.
Collecting Nick Bebout?
Mini-poster from the Seattle Post-Intelligencer, #15
1980 Seahawks Police