Art Kuehn was there!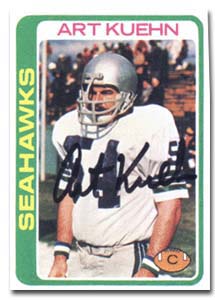 Pro!, The Official Magazine of the National Football League
Seahawks Edition
Aug. 14, 1976
Center Art Kuehn is listed as a rookie even though he played in the World Football League last year, while Jim Zorn is a first-year player after attending Dallas' training camp in 1975.
First Cut of Seahawks' Roster May Come Today
By Don Fair
P-I Sports Writer
It's hard to give rave notices off such early contact work but Patera did cite a few -- centers Art Kuehn and ex-Husky Al Kelso, plus tight ends Alvis Darby and Charles Waddell.
Seahawks' Kuehn Owes WFL Thanks
By JIM COUR
AP Sports Writer
Daily Sitka Sentinel
Sitka, Alaska
Wednesday, July 25, 1979
CHENEY, Wash. (AP) — If it hadn't been for the now defunct World Football League, Art Kuehn might be a full-time school teacher today. Instead, he's headed into his fourth season with the National Football League's Seattle Seahawks, and he's only a part time teacher.
The WFL folded Oct. 22, 1975 one year before the Seahawks were created. Kuehn played 12 games with the Southern California Sun based in Anaheim, Calif.
His WFL experience cost him in the neighborhood of $18,000 - money the Sun owes him to this day — but it also gave him some much-needed professional exposure.
"Without the WFL," Kuehn said Tuesday following the Seahawks' afternoon practice at their Cheney training camp, "I might not have gotten my chance in pro football."
Kuehn, a 6-foot-3, 255-pound center from UCLA who now lives in Palo Alto, Calif., was a 15th round draft choice of the Washington Redskins of the NFL after being named UCLA's outstanding senior player in 1974. He recalls the Redskins did not give him much of a look and he decided his future was with the 1-year-old WFL.
"I know a lot of guys are bitter at what happened," Kuehn said. "I'm still a little bitter myself although I wound up getting a job out of it.
"We resented being downright lied to. For some of the guys the money represented a big chunk of their life.
"But it wasn't an entirely negative thing. The friendships I made then will be with me the rest of my life. I'll never forget some of the guys."
Starting the Seahawks' fourth season, Kuehn is one of five men to have played in all of the club's 44 regular season games. He started at center for Seattle in its first two seasons but lost his job to John Yarno last season. However, a severe knee injury to Yarno in the 13th game gave him back the starting job for the final three games last season.
With Yarno coming back slowly in training camp, Kuehn appears set to have a regular job this season. Earl Leggett was one of the Southern California Sun coaches. After the WFL gave up, Leggett got a job with the expansion Seahawks. The Seahawks were in need of a center and Leggett, who since has left Seattle, told them of Kuehn's abilities. "It was just a matter of being in the right place at the right time. Looking back, the WFL was a great stepping stone because it gave me a chance when I was starting out. The Seahawks needed a center who could snap the ball deep and I was just fortunate I got recommended."
A Seahawk Blueprint: from expansion to contention
Source: Norm Evans' Seahawk Report
Oct. 29 – Nov. 4, 1979
By Gary Huff
The bulk of the Seahawks first team in 1976 came, of course, from the veteran allocations draft. Many of those drafted merely filled positions until the college draft could provide quality replacements. Only four of those expansion draftees, Nick Bebout, Art Kuehn, Sam McCullum and Dave Brown remain today.
Street and Smith's Pro Football 1977
The backup tackles last year were Dave Simonson and Gordon Jolley. Jolley started four games. Guard John DeMarie started 8 games, but he's 32 and shows it. Ron Coder also is on the roster. Center Art Kuehn started as many games as the 33-year-old Hoaglin.
Street and Smith's Pro Football 1978
Art Kuehn, who came from Washington in the expansion draft, is not old, but he will be heavily challenged by another younger player for the center job. It's John Yarno, who was a high draft choice last year. Bob Newton and Gordon Jolley are the reserve guards.
Porkers playing Pigskin: NFL living large with army of 300-pounders
Source: Seattle Times
Thursday, September 09, 1999.
BY Danny O'Neil
Seattle Times staff reporter
Art Kuehn remembers when everything was smaller. When the Pac-10 had two fewer teams, he played for UCLA on an offensive line nicknamed the "Huge Corporation."
"We were one of the biggest (lines) in the country," Kuehn said.
And the heaviest player was Mike Horton at 265. Kuehn weighed 245 when he was drafted by the Seahawks in 1976, little more than skin and bones compared to a big-bellied lineman like Aaron Gibson, who played at 427 pounds as a senior at Wisconsin in 1998. Gibson was a relatively svelte 387 for the draft, when he was chosen in the first round by Detroit.
"It used to be that you could play with a guard who was 6-2 and between 240 and 260," said Tom Lovat, Seahawk offensive line coach. "Now you wouldn't even look at a guy like that.
"They have to be in the 280s before you would even consider them."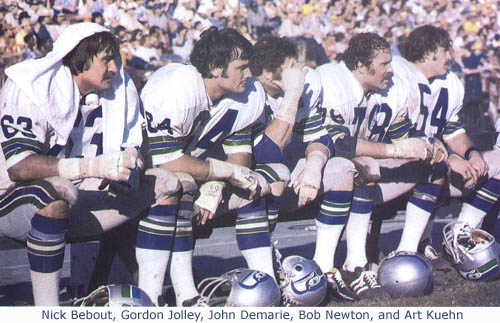 "...we just sat in the bushes and laughed."
Seahawk Coach Jack Patera climbs into his car, but something doesn't feel quite right. He can't tell what until he puts the car in gear. The wheels spin. And the car goes nowhere. And he realizes that wasn't the breeze he heard.
"We jacked up the back of his car one night," says Art Kuehn, former Seahawk center. "(Tackle) Nick Bebout and I did it. Then we just sat in the bushes and laughed."
"...you remember the guys on the team."
"You don't remember the plays and things like that, but you remember the guys on the team," says Kuehn, football and wrestling coach at Cedarcrest High in Duvall. "The guys that kept you loose off the field. Guys like (lineman) Bob Lurtsema, who'd jump into a poker game and drop 50 bucks right away just to see the surprise of the other guys."
"Then you watch the rookie walk around for 20 minutes..."
Or guys like Kuehn, who on road trips entertained himself and other veterans by phoning the hotel room of a rookie and telling him a reporter wanted an interview in the lobby. "Then you watch the rookie walk around for 20 minutes and look for the guy," Kuehn says.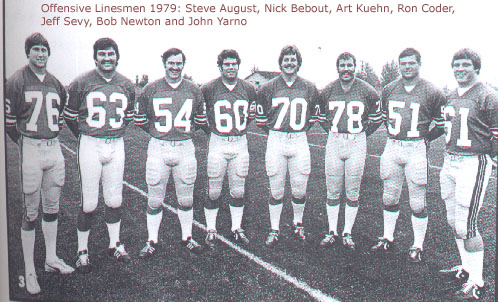 THE WORLD FOOTBALL LEAGUE'S "DIAMONDS IN THE ROUGH"
By Mark Speck
The Coffin Corner, Volume XIX
Source: footballresearch.com
While NFL teams draft and sign hundreds of players each year, many others slip through the proverbial cracks and never make it. Perhaps they are an inch too short, or a step too slow. For whatever reason, they're not stamped with the NFL seal of approval. These are the players who jumped on the WFL bandwagon, hitching their careers to a maverick league in hopes it would lead to the football promised land -- the NFL.
UCLA Center Art Kuehn lasted until Round 15 in '75, signed instead with the Southern California Sun, did well enough to get a shot with the Seahawks, and lasted seven years in Seattle.
This Week in Seahawk History:
Inside the Seahawks
Vol. 1, No. 10
October 10, 1986-October 16, 1986
By Bob Pruitt
Sunday, December 3, 1978
It was the first time the Seahawks had a real shot at the play-offs. Earlier in the year, nobody but the Seattle fans could be called believers.
On this particular Sunday, just about everything went right for the Hawks. A young and exciting Jim Zorn riddled the Cleveland secondary for 219 yards on 15 of 24 passing and one touchdown. His effort was complemented by a host of others that day.
On the negative side, Seattle's only healthy center, Art Kuehn was left injured in the first quarter and guard Tom Lynch was forced to snap the ball. Lynch was chosen because he was the only player who had some experience at center-his sophomore year of high school.
As the final moments came to pass, the Kingdome scoreboard read Seahawks 47 - Browns 24, and some 62,000 football-crazy Seahawks fans changed, "Play-offs Play-offs Play-offs!" The 8-6 expansion team was a contender to be treated with respect.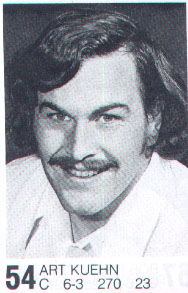 Kuehn resigns as Cedarcrest football coach after 6 years
By Danny O'Neil,
Seattle Times staff reporter
Art Kuehn resigned as Cedarcrest football coach after six years coaching the Red Wolves.
Kuehn is pursuing a master's degree in educational administration and next fall the time demands of an internship won't leave time to coach football.
"It was just going to be too much for me to do," Kuehn said.
Eric Hanson has been named new head coach. Hanson was a Cedarcrest assistant for the past two seasons and was offensive coordinator in 2000, when the Red Wolves were 4-5, matching their best record in four seasons in KingCo 3A.
Kuehn had a record of 18-37 in six seasons and earned a state-playoff berth in 1996.
He has lived in the Puget Sound area since he was acquired by the Seahawks in 1976. He played seven seasons for the Seahawks.
"We're the small fish in the big pond as we just don't have the number of kids the other schools do," Kuehn said.
But Cedarcrest will return at least eight starters from last season's team.
Hanson, 30, played offensive line at Eastern Washington from 1989-1991. He was an assistant at Eatonville and Federal Way.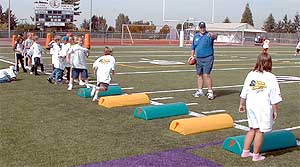 Gatorade Jr. Training Camp Wrap-up
The summer-long Gatorade Jr. Training Camp program held its final session on September 14 at Lake Washington High School in Kirkland. Over 100 kids were in attendance, all winners of a contest at Top Foods. The coaches were alumni Melvin Jenkins, M.L. Johnson, Art Kuehn, Eddie McMillan, Randall Morris and Manu Tuiasosopo, with Seahawks staffers Nesby Glasgow and Paul Johns lending assistance..
Art is a Graduate of San Jose State University with a Bachelor of Science degree in Physical Education. He attended UCLA where he was starting center for the football team. He continued his football career by playing 11 years professionally with the California Sun, the Seattle Seahawks, the New England Patriots, and the Memphis Showboats. Art was the Head Football Coach for the Red Wolves and has been involved in the football program for the last six years. Art was a very successful high school wrestler in California.
Wrestling experience and accomplishments:
1971 Central Coast Section Champion - California - Heavyweight
Assistant coach 3 years - Tolt Middle School.
Assistant coach 5 years - Cedarcrest High School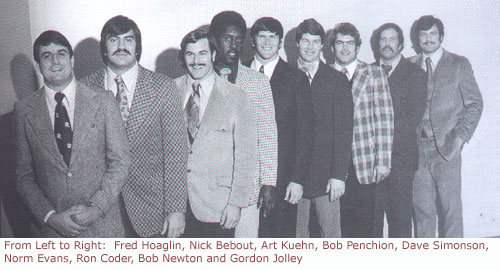 Life after football: No game, still pain
Source: Seattle Times
Sunday, December 17, 2006 - 12:00 AM
By Greg Bishop
Seattle Times staff reporter
Normal: Former Seahawk Art Kuehn, 53, lived with back pain for 20 years and still considers himself "lucky as hell" to have only had one surgery.
TEAMMATE BLASTS ZORN
SYRACUSE POST-STANDARD
Monday, April 19, 1982
Veteran center Art Kuehn of the Seattle Seahawks has lashed out at teammates
Jim Zorn
and
Steve Largent
for their stated position on a possible National Football League players' strike next season.
Zorn and Largent, the Seahawks' standout quarterback-wide receiver combination, have said publicly that they would not take part in a strike. Both Zorn and Largent are devout Christians and both have listed religious grounds for their decisions."That would hurt us (the National Football League Players Association)", Kuehn said in a recent interview.
"I don't respect them for their stand. That's hurting the union."
NFL sidelights
Chronicle-Telegram Elyria
Sat., Sept. 23, 1978
SEATTLE KICKER Efren Herrera has reasons to feel at home with the Seahawks being traded from Dallas last August. Seattle kick-center
ART KUEHN
was Herrera's college snapper at UCLA. Quarterback
JIM ZORN
, who doubles as the Seahawks' ball-holder on placements, worked with Herrera in a similar capacity as a Cowboys rookie during 1975 training camp. Herrera, born and raised in La Experiencia, Mexico, is wearing jersey No. 1. The only other Seahawk to have that number was
LAURIBERTO IGNACIO
, another South of the Border native, who was born in Brazil and failed a 1976 Seattle kicking tryout.
Collecting Art Kuehn?
1977 Topps #437