Jim Zorn was there!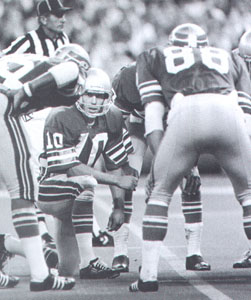 When I put my website on-line in 1996, I received e-mail messages from Seahawks fans who asked, "HOW can you have a Legends page and not include Jim Zorn???" Well, I can't!
I'll admit that my memories of Zorn as a player are vague as that was the time when I was just getting into NFL football. However memories are alive and well in the hearts and minds of fans, and there's no doubt that Jim Zorn deserves his place as a Seahawks legend!
I had the opportunity to speak briefly with Mr. Zorn at the Seahawks training camp in 2001 and I found him to have a wonderful sense of humor and a very patient demeanor. He signed autographs as long as fans wanted him too, and he smiled kindly as he answered the questions I asked of him. He made a fan of me for life!!
Source: Seattle Times
Sunday, August 04, 1991
Hawks' Ring of Honor Welcomes Zorn
By Tom Farrey
Source: Seattle Times
Sunday, August 04, 1991
More than 350 players have given the Seahawks and their fans memories in the franchise's 16-year existence. Only two of them give the club a history.
Steve Largent, and now, Jim Zorn.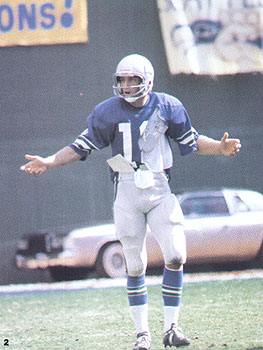 "I look out on the turf and think, `That's where Steve Raible got a punctured lung,' " Zorn said. "There's where Lyle Alzado knocked the wind out of me."
In a brief ceremony minutes before the exhibition-season kickoff last night against the Phoenix Cardinals, the Seahawks honored their inaugural quarterback, entering him into the team's Ring of Honor.
On an evening when the Seahawks introduced their new No. 10, rookie quarterback Dan McGwire, their old No. 10 took his place aside the banner for Largent on the 200 level, a few yards south of the 50-yard line.
The Seahawks' starting quarterback from 1976 until midway through the 1983 season, when Dave Krieg succeeded him, Zorn, 38, looks almost as young as he did when the left-hander was initially the most popular player of the expansion club. Only the haircut, no longer the floppy mop he wore in the early years, distinguishes him from the old Zorn.
But Zorn is a part of much of the Seahawks' history.
On the Kingdome's big screen during the ceremony, many memories came rushing back for longtime Seahawk fans. Zorn to Largent, his favorite receiver. Zorn taking the ball on a fake field-goal attempt and throwing downfield to kicker Efren Herrera.
Zorn passed for 20,122 yards during his nine years with the club, and had 107 touchdown passes. Krieg, who took over for him eight games into the 1983 season, holds the club all-time lead with 24,052 yards and 184 touchdowns.
Zorn became only the third quarterback in NFL history to pass for more than 10,000 yards in his first four seasons, joining Joe Namath and Norm Snead.
"I'm just happy to be a Seahawk as long as I was," Zorn said. "I wish it would have been longer."
Zorn did not fade from football gracefully, playing briefly with the Green Bay Packers and in the Canadian Football League after the Seahawks released him in 1985. He considered playing for the club again during the strike year of 1987, but instead signed with the Tampa Bay Buccaneers.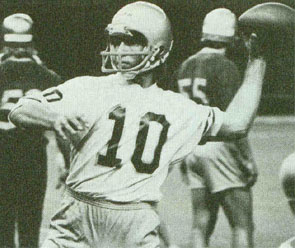 Zorn said that going into coaching finally rid him of the playing bug.
"Before that it was very difficult for me, seeing the people you played with and knowing that you have the ability," he said.
Now in his third year as quarterback coach at Boise State, Zorn wants to become an NFL coach. He received encouragement in that job pursuit from two varied sources - Seahawks' Coach Chuck Knox and a career-matching company.
Zorn is also now fully the family man, as his wife and three daughters joined him in the ceremony last night.
But his life as a Seahawk quarterback almost does not seem as if it is from another era.
"All those vivid memories looking down there," he said.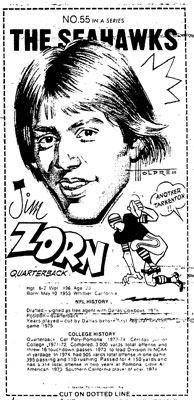 Collecting Jim Zorn?
1977 Topps #65