Larry Lilja was there!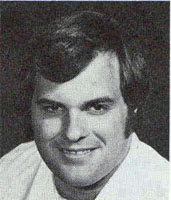 Smith 'A Pleasure to Watch'
Center Larry Lilja, who came to camp with a lower back problem retired, and free agent defensive tackle John Neuman simply quit the camp and football.
Northwestern's student-athletes have the opportunity to train and improve their strength in one of the finest weight rooms in the nation. Renovated most recently in 1999, the 12,000 square foot, glass-encased Byron S. Coon Center houses a large array of free weights and state-of-the-art weight machines for the Wildcats to utilize.
Former Northwestern football star Larry Lilja is the long-time director of the Strength and Conditioning Center. Lilja, who played for the Wildcats from 1973-75, graduated from the Evanston campus in 1976. He played briefly with the Atlanta Falcons and the New York Giants of the National Football League (NFL).
Nick Zostautas and Jason Pullara are the assistant directors of the Coon Center and help Lilja oversee the strength and conditioning for all of NU's 19 varsity sports.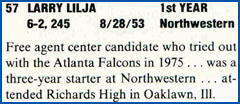 The Coon Center is conveniently located in the Nicolet Football Center, adjacent to Ryan Field, Welsh-Ryan Arena/McGaw Hall, Rocky Miller Park (baseball) and Sharon J. Drysdale Field (softball). However, it is the strength and conditioning hub for all of Northwestern's varsity student-athletes -- step inside the glass walls during any afternoon and the center is a hive of activity.
Best Conditioned Athletes
Strength coach Larry Lilja is legendary at NU for the grueling workouts that he puts the Wildcats through. His top five conditioned players with their bench and 40-yard dash statistics are:
1) LB Barry Gardner: Bench (435), 40 Yard Dash (4.68)
2) DL Jeff Dyra: Bench (425), 40 Yard Dash (4.88)
3) FB Sean Bennett: Bench (375), 40 Yard Dash (4.51)
4) TE John Cerasani: Bench (404), 40 Yard Dash (4.97)
5) FS Rashad Morton: Bench (335), 40 Yard Dash (4.54)

Web Author's Note:
Ron Coder, Norm Evans, Larry Lilja and Steve Largent were all there! They are members of Life Athletes, "committed to living lives of virtue, abstinence, and respect for life." There are so many reasons to be proud of our Seahawk pioneers!
HEROES
The dictionary defines a hero as someone who is a central figure in any event or time. Life Athletes are heroes because they give witness to the truth of human dignity which is the most pressing issue of this new millenium.
We thank all of the following heroes for their participation in the Life Athletes mission.
The Life Athletes Commitment

1. I will try to do what is right, even when it is difficult.
2. I will give myself only to that special person I marry as my partner for life.
3. I will respect the lives of others, especially the unborn and the aged.
4. I will not quit or make excuses when I fail. I will try again.
Five more Seahawks depart
Walla Walla Union-Bulletin
Thursday, July 15, 1976
CHENEY, Wash (AP) – The Seattle Seahawks placed two players on waivers Wednesday, two more left the National Football League expansion team's training camp here and another announced his retirement. Kickers
Lauriberto Ignacio
from Brazil and
Johnny Masters
from Hawaii were put on waivers, and offensive center
Larry Lilja
retired because of a back ailment.