Brett Deledio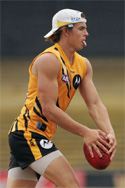 Nathan Foley

Just for fun through the 2008 footy season, I'm going to chronicle the seasons of these two players through my own personal opinions listening to the game and via media outlets. Your feedback is welcome!
Regular Season
Round 9 - Richmond 16.14.110 - Essendon 10.12.71
Yes! We finally got another win!!

Brett Deledio - The Fairfax site gave a review of key players before the game. Regarding Deledio, they wrote: "Now into his fourth season, the former No. 1 draft pick is set to show the football world just how good he is. Coach Wallace has given Deledio a varied apprenticeship by playing him all over the ground, but it is as a forward-cum-midfielder that he will shine. Strong overhead, accurate by foot and able to win his own contested ball, Deledio will be a big part of Richmond's future success."

FOX reports: "Midfielders Nathan Foley and Brett Deledio were standouts for Richmond throughout the night, winning plenty of the ball as well as kicking a goal each, while Matthew Richardson put in another strong-marking performance."

Nathan Foley - The Fairfax site reports: "Two weeks ago, the dasher who was just pipped by Richo in last year's best-and-fairest voting, wore the Big V with distinction. Currently, Foley is top six in the AFL for contested possessions, hard-ball gets and clearances. If he maintains his standards tonight, Essendon won't win."

The Richmond Football Club site reports: "Nathan Foley (32 disposals) was terrific in the centre for the Tigers, leading the game in clearances with five, and won the Yiooken Award for best on ground in the Dreamtime game, while Brett Deledio also got a lot of it and used it as well as ever."

The ABC site was no less complimentary towards Nathan Foley, reporting: "Yet again, Nathan Foley was supreme out of the middle for Richmond with 32 possessions, his superior leg speed and ball use giving his forwards every opportunity leading out of the square and earning him the best-on-ground Yiooken award."