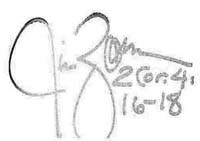 Washington Post
compiled by Norman Chad
September 28, 1980
INTERCONFERENCE: Seahawks (1-2) at Redskins (1-2) . . . Redskins favored by 4 . . . Redskins, who desperately need this win, need more offense than two-minute drill that QB Joe Theismann deftly directs . . . Seahawk QB Jim Zorn, who has climbed Mt. Rainier and played viola in Seattle Symphony, hit 20 of 36 passes last week for 812 yards . . . Seahawks known for fake field goals, fake punts and other assorted trick plays . . .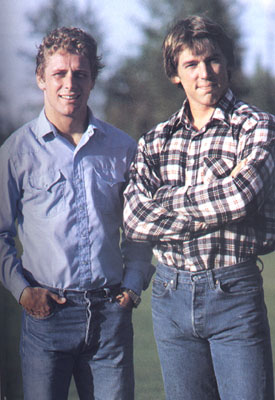 With Stabler gone, Zorn is pro football's best lefty
Source: www.mvonline.com
FLASHBACK - AUG. 4, 1981
CHENEY, Wash. (AP) - About the only thing quarterbacks Jim Zorn and Ken Stabler have in common - besides a lot of talent - is that they're both southpaws.
"He just had his style and I have my style," the Seattle Seahawks quarterback said.
Zorn is a deeply religious, milk-drinking, devoted father and husband. He has been referred to as the Seahawks "Magic Christian."
Then there was Stabler, the National Football League's fabled "Snake."
There was a certain rakishness Stabler demonstrated that was unmatched in pro football.
Stabler had charisma. Zorn is recognized as a nice guy, but he might be considered bland.
While Zorn, 28, prepares at the Seahawks' training camp here for his sixth NFL season, Stabler, 35, presumably is enjoying the nightlife in Gulf Shores, Ala.
Stabler's lawyer announced last month that his client was retiring from the Houston Oilers. He was with the Oilers last season after spending 11 years with the Oakland Raiders.
"I can't believe he retired," Zorn said. "He was a great quarterback. I don't know what his motives were in his retirement, but I know I loved to watch him and I'll miss him."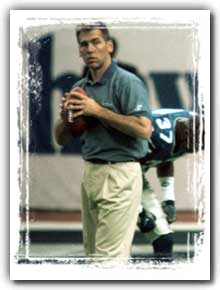 "What am I worth? Where is my value in the business world? How can I bring what I have learned on the football field too the marketplace? Am I really done with football altogether? What else can I do? Can I handle the change?
Questions like these come easily at a time like this when the prospect of a future with any professional football team looks bleak. I have played the game for over 12 years and have loved the whole experience. I have had the privilege of getting to know some fine people--players, coaches, owners, and others associated with football. I have also enjoyed the challenge of being faced with a long field, a few seconds left, and the game on the line.
The emotions associated with leaving the game are hard to handle. Thirty-four and over the hill? Come on, retire? You're kidding, aren't you? Wait a minute guys! Don't you realize who I am? I've got my statistics right here! Watch me throw! Look at what good shape I am in!
In these last few seasons I have come to realize that the game will go on without me, even with players on the field with less ability than I have. My friends on the team didn't even quit when I got cut!
True self worth...
The game goes on and so does my life. In fact, my family depends on me to get on with my life and to keep the commitments I have made to them as husband and father. Even more than that, I have the responsibility before God to productively use the gifts and abilities he has given me. As a Christian, I believe everything that happens in my life has purpose. Because of that, I know when my football career is over, God will have something else for me to do. My relationship with Christ continues in all of my life's circumstances.
My life with Christ has shown me that His truth is more important than my circumstances. God has said in His Word, the Bible, that I am a creation of His. I have value because He created me. My self worth is based solely upon what He has said. It is not based upon what a coach or a team thinks of me and my ability. There is a treasure in that thought because if my self worth is based on my circumstances, I must live like a slave to those circumstances. But if my self worth is based on what God has said, then I am free, free to live my life knowing that He has things under control, and that I can trust Him for guidance.
All is well!
There are many decisions I must make in the near future. These decisions will help determine the next step of my life. It would be frightening to think of making this next step without a relationship with Christ. Because of Christ's presence in my life, I know that I have the resources I need to make the best decision.
I have expressed some of the emotions and thoughts going on inside of me to show how I am dealing with this time of transition and also to encourage those of you who find yourselves in a similar position. For myself, I can truly say all is well! Whatever the future holds for me I can use all that I have experienced, put it in perspective, and use it to my benefit in the new opportunities that will come my way. I am open to listen and learn.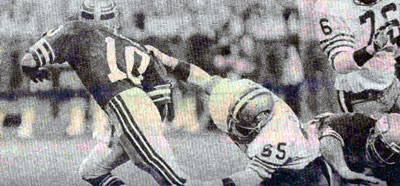 Jim Zorn
Most remember Jim Zorn for the nine seasons he played quarterback with the Seattle Seahawks. From 1978 to 1980, the left-handed QB passed for more than 3,000 yards each year and was the third player in NFL history to throw for more than 10,000 yards in his first four seasons. He played in 126 games with Seattle, where he became the club's all-time leading passer with 20,122 yards. He also holds franchise records for the longest pass completion (82 yards to David Sims in 1977) and the highest yards per-rushing attempt (4.87).
After nine years in Seattle, Zorn spent 1985 as a backup in Green Bay. He then moved to the Canadian Football League's Winnipeg Blue Bombers in 1986 and his last year was with the Tampa Bay Buccaneers in 1987.
In 1989, Zorn embarked on his second career -- coaching -- where his first stop was Boise State University as an offensive assistant. He then had stints at Utah State and the University of Minnesota as the offensive coordinator and quarterbacks coach, respectively. Zorn returned to the Seahawks as an offensive assistant in 1997, and a year later he went to the Lions to be the quarterbacks coach. That year, he received accolades for the great success of rookie quarterback Charlie Batch.
Zorn is one of six individuals to be inducted into the Seahawks' Ring of Honor, where he is joined Steve Largent, a former teammate and Hall of Fame wide receiver, who is now a U.S. Congressman.
Zorn is currently working with quarterbacks Charlie Batch and Gus Frerotte.(AP)
Who in the game do you most admire?
There are many people that I admire and several who I've wanted to take pieces of their game and of their lives to study and to emulate. The first guy who had a strong influence on me was Roger Staubach. He was the first starting quarterback in the NFL that I was a teammate of. What I remember was his strong work ethic in practice that created opportunities for him during games. I tried to remember that and play like that.
If I asked who was your mentor, would Staubach be that person?
Not necessarily my mentor because I didn't get to spend enough time with him. Jerry Rhome was my mentor because of his competitiveness. I felt he was very innovative at that particular time in the NFL. What Jerry did was break away from the norm. He was the receiver's and quarterback's coach and he created a lot of plays utilizing the talent he had with myself, Sherman Smith, David Sims and Steve Largent. In the early inception of the team, he allowed us to be successful when on paper we had no business being successful.
What was it like to play with and help develop a great wide receiver in Steve Largent?
We both had a strong desire to work extra because we had set backs early in our careers. I had made the team in Dallas but was let go and fought for a position to start in Seattle. And he was drafted by Houston, let go and then fought to regain confidence and he had that sense of 'Hey, I can play this game.'
So both of us were caught into that and worked extremely hard to improve our skills. We were committed not only to our team but to making each other better. We were like-minded which made it easy to work hard and communicate well. It was the communication that allowed us to be successful and Steve took it a step further and created an opportunity for himself to be in the Hall of Fame.
Are you still in touch with him?
Oh yes. Often. Our families vacation together.
What was the highlight of your career?
The first time we beat the Oakland Raiders because that established a rivalry and a tradition for the Seahawks. We weren't very old and had no idea who was going to be our rival. We thought it was going to be the Tampa Bay Buccaneers because they were an expansion team with us. It didn't turn out to be that way because that focus turned directly to the Raiders right from the start.
The thing I remember most about playing the Raiders and this truly was a highlight, was how spent everyone was after those particular games. Every time we played them it was an absolute fight to the finish. There wasn't much left when you came into the locker room. Everyone expended their energies onto the field and it was very grueling type of game mentally and emotionally. Physically it was just a real battle.
What was the low point of your career?
Obviously getting cut was a low point, but the very low point was being replaced and having to back up. That was a very difficult time for me.
How did you deal with that?
This was midway through the 1983 season and up until that time, I had been very public in the papers and very public in my faith as a Christian. This was an opportunity for me to live out my faith. It was very trying because I wanted to get back at Chuck Knox. 'How dare he replace me,' I thought. I didn't want to be a team player inside and I really had a sense that this was my opportunity to express my convictions in my Christianity. I tried as hard as I could to support Dave Krieg, who replaced me, support Chuck Knox, who made the decision which I thought was a mistake, and then support the Seattle Seahawks, which was my calling at that time because I was a Seahawk player.
I wanted to go the playoffs as bad as anybody on that football team. That year we went to the playoffs which was bittersweet for me because for the first nine games of that season I was the starter. When I was replaced, we ended up making the playoffs. Then Dave Krieg really led us through the playoffs. It was Dave and Steve Largent, who was my receiver. Then I ended up getting to play in the AFC Championship game and threw a couple touchdown passes, but we ended up losing that game. That was the Raiders again and they went on to the Super Bowl to play the Redskins and won. It was a bittersweet season for me.
Do you remember your first touchdown pass?
It was to Sam McCullum in the Kingdome. That was my first regular season touchdown pass and it was a post-route.
Do you remember your first interception for a touchdown?
I block those out. But I will say this about interceptions: When the Detroit Lions came to town during my rookie year. I started throwing interceptions and after my third interception, coach [Jack] Patera kept me in and said, 'I don't care how many interceptions you throw, we're going to keep throwing the ball.' I ended up throwing six that day, three of them to Lem Barney. He is still a part of the Lions organization and never lets me forget that I made him an All-Pro that year.
Were you a speed skater in college?
I started skating recreationally my senior year of high school and then I got a job at an ice skating rink. I never got to the senior A men, who were the guys that were world-class skaters but I was amongst the group that was the senior B men.
During three seasons at Cal Poly you set 10 school records in three seasons from 1973-75. How did you get to play football?
I played four sports at the same time in college and I had a job as well. I speed skated indoor, which really helped me develop for the NFL. I played football, inter-collegiate badminton, because I really wanted to have great feet. It's a great sport for hand-eye coordination and also for efficiency with your feet. I played on the Badminton team and I also threw the javelin for track team.
What in your life are you most grateful for?
There's nothing better than having a strong family. I've got a tremendous wife and we've been married almost 21 years now. I have four kids and they are all enthusiastic about our family. They are all out-going and I'm really proud of what Joy does with our family. She's a tremendous woman who really ties things together very nicely and is very committed to me and my job. I can't possibly live up to what she has given to our relationship.
Are any of your children lefties?
No. Thank God. I just think it's harder for a lefty and we're just a little odd.
With Barry Sanders gone did you feel there was additional pressure on you, with the focus away from the running game?
Probably. When we went to training camp and Barry didn't show and then resigned, we really didn't believe it was going to be that way. I figured one day he was going to show up. As it soaked in, I think what everybody did was they cinched up their belts and tighten everything up. We gritted our teeth and gutted it out. We were successful because we began to switch the concentration from how can we get Barry the ball to where is the talent and how can we utilize that talent? Kind of what the Seahawks did when I was playing -- just using every possible bit of talent we had.
Most people thought that without Barry, this team was in trouble. There's a lot to be said for what the Lions have done this season. I can't take any credit for it. I absolutely know who should get the credit for it and that's Bobby Ross. He's been a tremendous leader and you can't imagine what he's put together and how he has stayed focus. Also, he's brought into focus a real vision for this season and not only that, but he didn't spend his time talking about his vision -- he's living it out and he's actually implementing the things he foresaw as this whole thing began to unfold. Our wins could've been a lot more, but even being where we are, you can see on his face, that he's not satisfied. We were all excited about our future and our focus has not changed.
How did you handle the quarterbacks?
This is a good story that explains what happened: At the beginning of the football season, we starting talking about as quarterbacks what would be our goal. You know when players sometimes come together and hold up their arms and say, 'win' or 'focus?'. Gus Frerotte, who is a back-up quarterback when he came to the team said, 'I don't want to get into a group and say, win or score. I want to always focus on what our ultimate goal is and that is the Super Bowl. So when he break down, let's break down and call out Super Bowl just to keep us focused.' That's the beat we use when we break down as a quarterback group. I don't know if we'll attain it. It's so difficult to win, but it's something that everyday we are very conscious of.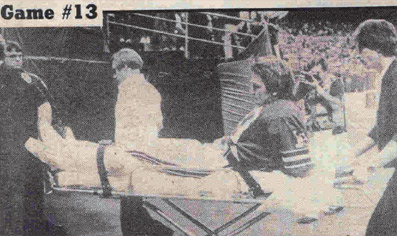 What's the most important piece of advice you pass along when working with quarterbacks, specifically Charlie Batch?
One of the things, and there are many, is never forget the details in which you are playing with. It has do with the details of your own fundamentals. How you take from walking up to the line of scrimmage, from letting the ball go. Everything has to be in sequence and everything has to be dealt with in a detailed fashion and you can't forget anything. So what that includes is your techniques and fundamentals. It involves the details of the play mentally and the toughness it takes to do it over and over again emotionally.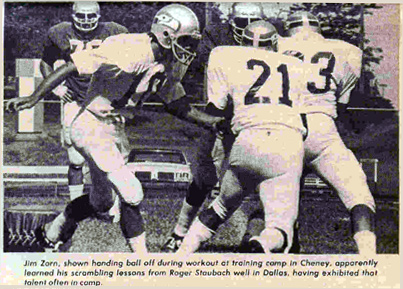 Having been an offensive coordinator in college, what would you like to be your next step?
I want to coordinate because I want to call plays. Even in college, I was never in a hurry. I went from being a coordinator for three years to a quarterback coach for a couple of years. I don't derive my self worth of having to be the focus or the instigator of all this stuff because this game is such a great game and it takes everybody working together. I feel when Sylvester Krum is calling plays, I feel that I'm a piece of that.
What lesson did you take away from the game?
How important it is not to waste an opportunity.
Do you follow the Seahawks?
Yes and it's my passion to see them be successful until we play them.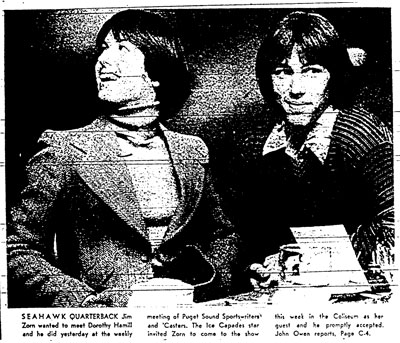 Seattle's Zorn married
Waterloo Courier
April 9, 1979
SEATTLE (AP) - Seattle Seahawks quarterback Jim Zorn married Christine Joy Sturton Saturday in Bellevue, Wash. Seahawks wide receiver
Steve Largent
was best man, and his wife was the matron of honor at the church wedding. The ushers included other members of the National Football League club — running back
Sherman Smith
, tight end
Ron Howard
, guard
Ron Coder
and former linebacker
Ken Hutcherson
. About 20 Seahawks, including office personnel, were among those attending.
The Zorns planned a week's honeymoon before moving into a home Zorn recently bought on Mercer Island.