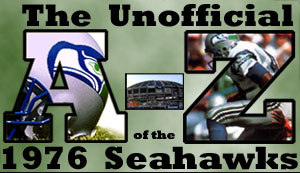 No longer a child, not yet middle-aged, and still finding their place in the NFL world.
He recommended Jack Patera enthusiastically for the Seahawks...
The letter C is coming soon!
The average Seahawk selected in the veteran allocation is 6-2, 222 pounds, just under 26 years old and is entering his fourth NFL season.
The Seahawks played the Rams...facing off against future Seahawk coaches Chuck Knox, Tom Catlin and Ken Meyer.
...management decided early to pursue coaches with no NFL head coaching experience.
Patera had the boldness to recruit 3 coaches with no NFL service...
...why was there no place for one of the ultimate local heroes of the early 1970s – Sonny Sixkiller?
Thompson may have looked on paper like a conservative and safe manager for a new team with first-time owners, but...
...reports from the camp are unclear as to who did the special team evaluations.
As a defensive coach, Jack Patera valued his linebackers.
Maybe we'll come up with something soon!
...nobody else on the Seahawks squad took their dislike quite to the extent of Ahmad Rashad.
The Nordstroms were an obvious possibility because of their wealth and local presence.
Approximately 14 members of that squad would never play for the Seahawks again.
A simple lesson in draft history is to list the fate of quarterbacks for several years before 1976.
Jack Patera was unable to take a single Redskin veteran from the allocation list.
...the Seahawks' offense would be directed by 3 men who had 2 years of NFL experience between them
Terry Brown's Seahawk career lasted less than 24 hours.
...we think this story might just have been a good Patera Prank!
While Patera had an inside edge on stocking his team with Vikings, he only chose one Viking from the allocation...
Character would clearly play a part...
Patera lived up to his code of we will tolerate you until we can replace you...
Yes! We will have something for Y eventually!
What more need we say?

B is for Bud Grant
Bud Grant was head coach of the Minnesota Vikings during its most successful era. His achievements deservedly took him to the Hall of Fame, but he had an equally important role as a mentor and inspiration to players and coaches. He recommended Jack Patera enthusiastically for the Seahawks, even knowing that it would cost him a line coach who had helped produced 6 outstanding defensive seasons in his 7 years with the club.
He was also a key influence in the management thinking at the Seahawks. While it was a no-brainer to look to powerhouse teams like Dallas and Minnesota for management models, Minnesota clearly stood out for John Thompson (an ex-Viking employee) and his staff as an example of how to "do" football well.
In an interview with American Football Monthly magazine in June 1999, Grant outlined some of his coaching philosophies. His answers on training camps and the selection of assistants seem to have echoes in Jack Patera's handling of the 1976 Seahawks.
Q:
Why did you always have such a short training camp?
A: The Vikings always went to camp late under me. The longer you are in the business, the more comfortable you become. You can't be insecure, although there are many insecure coaches. And you can't be second guessing yourself. The longer you coach the more you are comfortable with what you are and how you are doing it. You recognize you are not going to win every game and there are things you can't control. All of those things become important in working with what you are doing. So going to training camp is a matter of basically a personnel thing; you are looking at people. I always told our coaches I don't think it takes more than four or five days to tell who the football players are, at least it did not take me that long. We can make the personnel evaluations pretty quickly, and I did not want my coaches coaching players that weren't going to play. In other words, we are getting paid good salaries, we wanted to coach the players that are going to play, that is our job. Second, we did not want the liability of having players in camp who were not going to make our team. We did not want somebody to just knock around or to practice against, that doesn't make any sense either. So, we told our players to come in shape and we will have a short training camp, get on with our business and then we would be saving something for the end of the season rather than trying to expend it all in training camp to have a lot of players around just to keep the coaches busy. The players appreciated a shorter training camp. I think that is more and more the vogue today, as opposed to what they used to do years ago. Bring in 120 players and go there for three or four weeks before your first preseason game? What a waste of time effort and money and liability. I think more teams have come around to our way of thinking.
Q: What specific things did you look for in young assistant coaches you were looking to hire on your staff?
A: When you are in the personnel business, you rely on your instincts. When you talk to somebody, it is not like you have a teaching or coaching job that has to be published and advertised and then you have to interview so many people. In our business, all you had to do was if you saw somebody you liked or interviewed somebody you liked, then it was all over. You hire them then you are done. I can't tell you what that is because so much of it revolved around your instinct in an interview that tells you that this is the right person for the job. I can't put it any other way again. So many people try to document everything and do it on paper, I never did any of that. My decisions were all mostly from my impressions and my instincts of what was the right thing to do. In fact, sometimes people would ask why I did something and my only answer was 'it just seemed like the thing to do.' That was the best answer I could ever give.
Source: AmericanFootballMonthly.com
Patera followed Grant's example in the evaluation of the first Seahawk squad.
Patera's quick personnel decisions and very early cuts may look premature to non-players. It does seem hard to understand how key position players could find themselves on the way out within a week or so of arriving at camp. But Bud Grant's explanation fits well with Patera's own long experience: once Patera saw (or did not see) what he wanted, the consequences were quick and efficient.
As for the selection of coaches, Patera showed the first taste of his willingness to gamble when he recruited an exceptionally diverse group rather than looking for traditional coaches. His instincts would carry him a long way in the early years of the team.
Almost Hall

We invite you to visit our special feature, the Almost Hall of Fame, where we honor those Seahawk players who won our hearts even if they haven't won Hall of Fame honors.




Spirit of '76

We invite you to visit our in-depth feature on the 1976 expansion team, where we honor every known player who had a chance at becoming Seahawk on the 1976 squad!