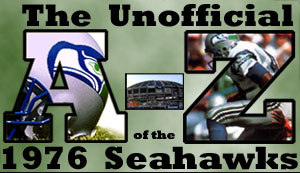 No longer a child, not yet middle-aged, and still finding their place in the NFL world.
He recommended Jack Patera enthusiastically for the Seahawks...
The letter C is coming soon!
The average Seahawk selected in the veteran allocation is 6-2, 222 pounds, just under 26 years old and is entering his fourth NFL season.
The Seahawks played the Rams...facing off against future Seahawk coaches Chuck Knox, Tom Catlin and Ken Meyer.
...management decided early to pursue coaches with no NFL head coaching experience.
Patera had the boldness to recruit 3 coaches with no NFL service...
...why was there no place for one of the ultimate local heroes of the early 1970s – Sonny Sixkiller?
Thompson may have looked on paper like a conservative and safe manager for a new team with first-time owners, but...
...reports from the camp are unclear as to who did the special team evaluations.
As a defensive coach, Jack Patera valued his linebackers.
Maybe we'll come up with something soon!
...nobody else on the Seahawks squad took their dislike quite to the extent of Ahmad Rashad.
The Nordstroms were an obvious possibility because of their wealth and local presence.
Approximately 14 members of that squad would never play for the Seahawks again.
A simple lesson in draft history is to list the fate of quarterbacks for several years before 1976.
Jack Patera was unable to take a single Redskin veteran from the allocation list.
...the Seahawks' offense would be directed by 3 men who had 2 years of NFL experience between them
Terry Brown's Seahawk career lasted less than 24 hours.
...we think this story might just have been a good Patera Prank!
While Patera had an inside edge on stocking his team with Vikings, he only chose one Viking from the allocation...
Character would clearly play a part...
Patera lived up to his code of we will tolerate you until we can replace you...
Yes! We will have something for Y eventually!
What more need we say?
J is for John Thompson
It was March 6 1975 when the Seattle Seahawks named their general manager. It was no surprise however. The choice was easy.

(Seattle Seahawks 1976 Media Guide, page 7)
John Thompson was the director of the NFL Management Council, which coordinated the collective bargaining process between the NFL clubs and the League. He had been a football administrator since 1960, starting with the Minnesota Vikings and moving to the NFL itself in 1970. He was a highly respected administrator and negotiator, with the bonus of local management experience at the University of Washington.
The choice may have been easy, but it still took the new owners 3 months to get their man behind a desk. And a valuable opportunity had been missed: with the NFL well into pre-season preparations by the time of Thompson's appointment, there was no longer any chance of securing a head coach before the end of the 1975 season.
Thompson, Herman Sarkowsky, the Nordstrom family and the other owners put together an unusual but effective working alliance.
Thompson may have looked on paper like a conservative and safe manager for a new team with first-time owners, but he soon showed that he was willing to take dramatic steps. His decision to sign Dave Williams before a coach had been appointed was shrewd PR but also a recognition that the franchise would not waste time setting itself up. Had the NFL been less protective of the existing teams when the World Football League folded (see Allocation), Thompson would no doubt have pursued more signings at the end of 1975.
Where Thompson may have been hampered most was the inability to pursue a head coach in 1975.
The time lost between December 1974 and Thompson's appointment in March 1975 was crucial if the Seahawks had any plans to bring in a coach early to plan the 1976 campaign. With a management strategy focussing on hiring a young rising coach rather than an experienced head coach, Thompson might have been able to make a bid before the start of the 1975 season to give the coach as much time as possible to get started: but the time taken to get him into position killed any chance of that.
It can be argued that the cost was huge. While a coach-in-waiting is not a guarantee of success (as the revived Cleveland Browns discovered), there is an obvious difference between a coach who has almost a year to research, scout and prepare for a season and Jack Patera having just 3 months to assemble his coaches and prepare for the draft and the veteran allocation.

Almost Hall

We invite you to visit our special feature, the Almost Hall of Fame, where we honor those Seahawk players who won our hearts even if they haven't won Hall of Fame honors.




Spirit of '76

We invite you to visit our in-depth feature on the 1976 expansion team, where we honor every known player who had a chance at becoming Seahawk on the 1976 squad!