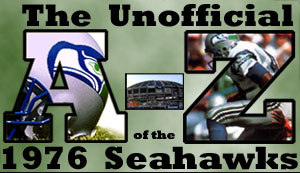 No longer a child, not yet middle-aged, and still finding their place in the NFL world.
He recommended Jack Patera enthusiastically for the Seahawks...
The letter C is coming soon!
The average Seahawk selected in the veteran allocation is 6-2, 222 pounds, just under 26 years old and is entering his fourth NFL season.
The Seahawks played the Rams...facing off against future Seahawk coaches Chuck Knox, Tom Catlin and Ken Meyer.
...management decided early to pursue coaches with no NFL head coaching experience.
Patera had the boldness to recruit 3 coaches with no NFL service...
...why was there no place for one of the ultimate local heroes of the early 1970s – Sonny Sixkiller?
Thompson may have looked on paper like a conservative and safe manager for a new team with first-time owners, but...
...reports from the camp are unclear as to who did the special team evaluations.
As a defensive coach, Jack Patera valued his linebackers.
Maybe we'll come up with something soon!
...nobody else on the Seahawks squad took their dislike quite to the extent of Ahmad Rashad.
The Nordstroms were an obvious possibility because of their wealth and local presence.
Approximately 14 members of that squad would never play for the Seahawks again.
A simple lesson in draft history is to list the fate of quarterbacks for several years before 1976.
Jack Patera was unable to take a single Redskin veteran from the allocation list.
...the Seahawks' offense would be directed by 3 men who had 2 years of NFL experience between them
Terry Brown's Seahawk career lasted less than 24 hours.
...we think this story might just have been a good Patera Prank!
While Patera had an inside edge on stocking his team with Vikings, he only chose one Viking from the allocation...
Character would clearly play a part...
Patera lived up to his code of we will tolerate you until we can replace you...
Yes! We will have something for Y eventually!
What more need we say?

E is for Experience
The average Seahawk selected in the veteran allocation is 6-2, 222 pounds, just under 26 years old and is entering his fourth NFL season.

(Seattle Seahawks 1976 Media Guide, page 81)
Although the team's averages looked promising, a breakdown of the figures shows some of the problems that Jack Patera and his coaches would face in the 1976 season.
Looking at the veteran allocation and the free agents with NFL experience, Patera had the most age and experience at center and linebacker, and a bit less across the offensive and defensive lines, but he was under the average for experience at some important positions.
Position
Veterans
Average age
Average NFL experience
QB
Neil Graff
Gary Keithley

26

2

WR
Don Clune
Sam McCullum
Bob Picard
Ahmad Rashad
Dave Williams

26

3

TE
Ron Howard
John McMakin

25

3

RB
Gary Hayman
Bill Olds

25

2

C
John Didion
Fred Hoaglin

30

8

T
Nick Bebout
Norm Evans
Gordon Jolley

28

5

G
John Demarie
Solomon Freelon
Bob Penchion
Rocky Rasley

28

5

DB
Lyle Blackwood
Dave Brown
Rondy Colbert
Dwayne Crump
Jerry Davis
Eddie McMillan
Al Matthews
Rolly Woolsey

24

2

DT
Wayne Baker
Carl Barisich
Larry Woods

25

3

DE
Stan Lewis
Joe Owens
Dave Tipton

26

4

LB
Ed Bradley
Mike Curtis
Ken Geddes
Don Hansen
Ken Hutcherson

28

6
The positive for Patera as he came into the season was that he and Bob Hollway had age and experience in the defensive positions they knew best from their successful Vikings days. However, he had an inexperienced offense under inexperienced NFL coaches.
Neither the average of age nor the average of experience would help Patera in some of the key positions. At quarterback, wide receiver, running back, center and defensive end, half or more of the original veterans failed to play out the full season in a Seattle uniform. Some of that is the usual good and bad luck of a football squad, but it also reflects the difficulty of finding players through the veteran allocation.
Patera acknowledged that the team would have to make improvements by picking up players released by other teams, with the running back position identified as a key as early as the 1976 Media Guide itself. However, that path would wind up adding little to the position as players like Hugh McKinnis and Ralph Nelson became backups to second-round draft pick Sherman Smith. The majority of the later signings added to Patera's existing strengths in the lines, while it is harder to see the value added by his signings at the other positions.

Almost Hall

We invite you to visit our special feature, the Almost Hall of Fame, where we honor those Seahawk players who won our hearts even if they haven't won Hall of Fame honors.




Spirit of '76

We invite you to visit our in-depth feature on the 1976 expansion team, where we honor every known player who had a chance at becoming Seahawk on the 1976 squad!