And the 2006 winner of the GRAFFY is ...
... BEN JOPPRU!!!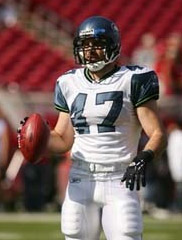 Why did Ben Joppru get this year's prize? Well, you tell us! Who is Ben Joppru?!
My guess is that the only thing you know about him is that he's that one guy who bums a sleep-over at the home of another player! Am I right?
Let me refresh your memory! Remember the 20-17 loss to the Chargers? Remember Burleson's 96 yard touchdown on a kick-off that was taken back because of a flag? Who was the guy with the hold? Our very own Graffy Award winner, Bennie Joppru! And for the record, that holding call is a little iffy!
We chose Ben Joppru as the recipient of the Graffy Award before the Seattle papers picked up on the vagabond story and ran with it, and we chose him in spite of the questionable holding call that brought the touchdown all the way back. We picked him knowing he's a 2nd round draft pick of the Texans in 2003 and that his career has been hampered with injury.
When we went through the roster of players to determine who was eligible, it occurred to us that with so many injuries, the players whose names we came up with had already been acknowledged. In this year of injuries, many players who otherwise would have remained obscure became starters and therefore received their dues!
So as we went through the list, we saw the name Joppru and thought ... WHO???
As near as I can tell, we signed him in late November, no doubt when everyone else we had on the roster was trying to recover from injury. I believe he played on special teams for the entire month of December and into the playoffs. I saw him in on at least one play in the play-off game against the Bears. I can't honestly say I saw much of him in other games.
Ben Joppru epitomizes the spirit of the Graffy Award! He is an unsung hero because when we needed a player to fill a gap, he stepped in without fanfare and did what was asked of him. Did he get star billing? No. Was he a fan favorite? No. Will he go high in fantasy rounds next season? No.
It doesn't matter. The Graffy is about solid contributions to our team from players who don't make the headlines. Joppru, a relatively unknown Seahawk player, is that guy! In a season of signing people off the street mid-season to suit up because even our back-up squad has been depleted, Joppru signed on with the Hawks and played the latter part of our season including the play-off games! It's our hope he'll be back next season! Read more.

First Runner Up: Safety John Howell. Signed 1/2/07 to play for the Seahawks in the play-off game; waived 1/10/07. Eight days. It's a harsh business.