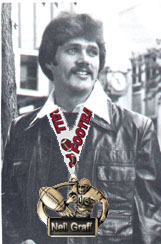 The Unofficial Selection Committee awards the Neil Graff Trophy at the end of each season to the most underrated Seahawk. The one who does the hard work without getting the public or fan recognition he deserves.
This is a very subjective criterion, but the selection is safely in the hands of experts who know all about being underrated. (Us! The fans!)
The inaugural winner of the Trophy in 2001 was Mack Strong who went on to win the Graffy again in 2004! Congratulations to all the winners (shown below), and our thanks to those of you who voted in our poll!
The Trophy is named in honor of
Neil Graff
, who played through the Seahawks' 1976 pre-season at quarterback only to be released just before the regular season. Whatever his future may have been, his name has largely been forgotten today in the shadow of Jim Zorn. He represents to us the cruelty of being overlooked - which this award tries to overcome.

Neil Graff? WHO'S NEIL GRAFF?!?!
And what's this award about?!?
Of all the 1976 Seahawks - all 54 players on the roster in the year - Graff is the only one who didn't play in a single regular-season game.
That's right - zero starts and zero appearances while on the active roster.
[Note: He had one pre-season start which went like this -- "When the 49er lead rose to 24-0 in the third period, Patera lifted the starting quarterback, Neil Graff, and sent in Zorn."]
It occurred to me that if we ever wanted a definition of an under-appreciated footballer, Neil Graff is our man.
Thus we implemented an award for the Seahawks' best kept secret player. The guy who's doing the hard work without getting the recognition.
You are welcome to send your nominations for the Graffy each year! Email your suggestions!